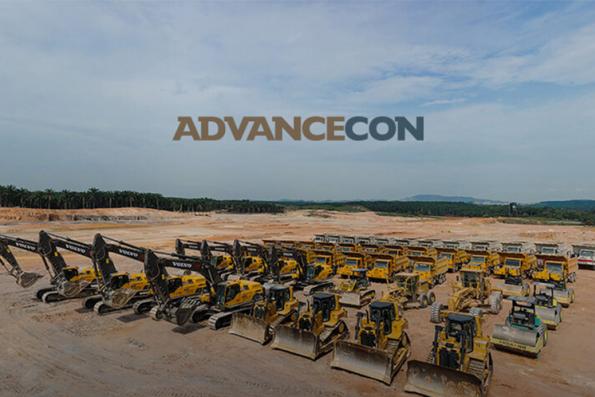 KUALA LUMPUR (Jan 7): Earthworks and civil engineering services specialist Advancecon Holdings Bhd is looking to make strides forward in Sarawak, as new opportunities beckon after the state government indicated major plans for the infrastructure scene there.
Speaking to The Edge Financial Daily recently, chief executive officer Datuk Phum Ang Kia shared the group's plans to bid for jobs in the state with a combined value in excess of RM2 billion this year, on top of the RM750 million worth of contracts it submitted last December alone.
Added Advancecon's chief operating officer Yeo An Thai: "We see quite a lot of opportunities in Sarawak as there are plenty of green areas where our specialty in earth- and road-works can be applied to. Many remote areas there, such as in Sibu, Sarikei and Miri, still have limited accessibility to roads or are dependent on water as the mode of transport."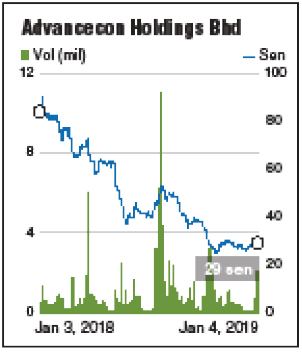 Yeo said the group is also encouraged by the record allocation of RM11 billion by the state government for the construction of road-related and utility infrastructure throughout Sarawak within the next two years.
"In fact, our Sarawak unit is actively engaged with the tender process in the state. We have so far submitted bids for seven out of the 19 projects under the Public Works Department (JKR) that we intend to submit for. These projects mainly involve bridges and road works," he said.
Advancecon is also getting ready to tender for the Sarawak coastal road and second trunk road projects. These projects have an estimated combined value of RM11 billion.
"We foresee a good future in Sarawak given the many new and coming tenders, such as the coastal and trunk road projects," said Phum.
"Including the 19 JKR projects mentioned earlier, we are quite confident of securing a few projects in Sarawak. I believe we will do better [in 2019 than in 2018] in terms of top line and margins," added Phum, who owns a 24.02% direct stake in the group.
With a market capitalisation of just over RM100 million, Advancecon has certainly been taking on big jobs.
The group has in hand, among others, contracts for two mega infrastructure projects — Pan Borneo Highway (its maiden Sarawak project) and the West Coast Expressway (WCE) — which its management sees as a "major breakthrough" for the group. The contracts have an aggregate value of some RM400 million.
Together with its other contracts, which include Eco Ardence mixed development in Shah Alam, river upgrading works and Serenia City works for Sime Darby Bhd, the group has an order book totalling RM870 million in hand, ensuring earnings visibility for at least two years.
For the nine months ended Sept 30, 2018, Advancecon's net profit more than halved to RM7.73 million, from RM17.66 million a year earlier. Revenue slipped by a marginal 0.5% to RM201.28 million from RM202.24 million previously.
Phum attributed this to high costs and depreciation, which dragged down its profit margins from nearly 11% to around 3% to 4% currently.
"The diesel component makes up about 10% of our cost structure. With oil prices now coming down, we expect margins to slowly recover. I think it will be good for the next few quarters," he added.
Phum said the group is not planning any more purchases for now and will instead focus on bumping up its utilisation rates.
This is because the group's utilisation rates are currently down to 70% from 90% before, which according to Yeo, was mainly due to delays in parts of the WCE project site handover by landowners, hampering progress for its intended scope of works.
"This has yet to be resolved but is beyond our control that the land is still partially held. It (the project) is still in progress, but that (the delay) is why we have to keep looking for new jobs," he said.
The group is eyeing an order book replenishment of at least RM300 million per year, to help boost its top line to RM1 billion in five years' time, he shared.
Analyst: Sarawak is the next place to be
Advancecon might be in the best position, not only thanks to its niche but also because of the group's ability to identify Sabah and Sarawak — or more specifically Sarawak — as its next area of focus at an opportune time.
As crude oil markets pulled back, sparking concerns of a federal budget recalibration, construction players who have shifted their focus to Sabah and Sarawak may find shelter there as state-funded projects are insulated from the risk of reduction of the federal government spending.
In a recent note, Hong Leong Investment Bank (HLIB) Research said Sarawak was "the next place to be" for construction players, since job flows for the industry players have slowed down "significantly" in Peninsular Malaysia following the change in the federal government.
"We understand that industry players are aiming for jobs in Sarawak as the state government has allocated circa RM9 billion for development expenditure under state budget 2019, which is the biggest in the history of the state.
"Funding for those projects is expected to come from Sarawak's state reserves (circa RM31 billion) which may insulate the projects from the risk of a reduction in federal government spending," HLIB Research said.
As at Jan 4, Bursa Malaysia's construction index has declined by 43.9% to 157.82 since May 8, 2018, the day before the 14th general election that saw the stunning defeat of the Barisan Nasional coalition.
In comparison, the benchmark FBM KLCI is down 9.6% in the same period.
Most, if not all, construction stocks fell sharply as investors feared these companies would face margin cuts or a job loss amid the new government's mega project reviews and prudent budgetary measures.
Yeo said all of Advancecon's projects are ongoing with no impact from the government change.
Advancecon shares debuted on the Main Market of Bursa Malaysia in July 2017 at 63 sen. The stock closed at 29 sen last Friday, down 53.1% from 61.8 sen on May 8 last year.
This article first appeared in The Edge Financial Daily, on Jan 7, 2019.