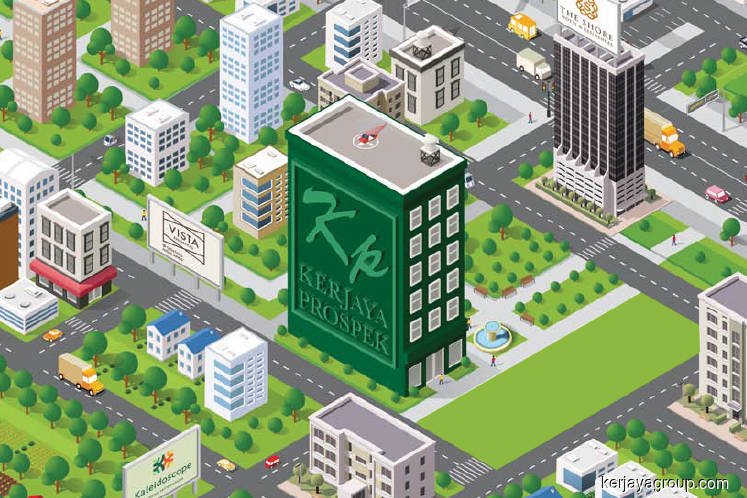 Kerjaya Prospek Group Bhd (Jan 18, RM1.28)
Downgrade to market perform with an unchanged target price (TP) of RM1.20: Last week, Kerjaya Prospek Group Bhd announced that it had been awarded a construction contract for a proposed development project in Cyberjaya worth RM155 million from Aspen Entity Sdn Bhd, a subsidiary of HCK Capital Bhd.
This is Kerjaya's first job win in 2019. The scope of works comprises two blocks of 11-storey serviced suites on top of a five-level car park podium, plus two levels of common area and facilities as well as one block of 25-storey serviced suites on top of a five-level car park podium and two levels of common area and facilities. The construction work is expected to commence on March 1 and to be completed within 24 months.
We are neutral about the job win as the replenishment is within our financial year 2019 (FY19) target of RM1.2 billion.
Assuming a conservative pre-tax margin of 15%, we expect the project to contribute approximately RM8.7 million per annum to bottom line over the next two years. The replenishment will bring its outstanding order book to approximately RM3.1 billion with two to two-and-a-half years of visibility.
Despite the lack of major infrastructure projects moving forward, we believe that Kerjaya would be the least affected contractor in town as it has zero exposure to government-related jobs as all of their construction jobs are from the private sector.
Moving forward, we believe this contract win showcases the confidence HCK Capital, a reputable developer, has towards Kerjaya's delivery, which could result in more job wins.
In the near term, we are still anticipating another replenishment worth approximately RM400 million from Datuk Tee's (Kerjaya's major shareholder) private property arm as it is looking to launch a mixed development in Old Klang Road with a gross development value of RM1 billion.
As for the longer term, we believe that Kerjaya stands a good chance of winning more contracts in Penang mainly from E&O Bhd's Seri Tanjung Pinang 2 (STP2) project as we believe more bridges are required to connect Penang Island to STP2.
Post contract award, we make no changes to our FY18-FY19 earnings estimates of RM145.5 million-RM154.5 million.
We downgrade Kerjaya to "market perform" from "outperform" with an unchanged sum-of-parts-derived TP of RM1.20 pegged at the unchanged valuation of 10 times price-earnings ratio (PER) on FY19 construction earnings estimate.
The downgrade in our recommendation is mainly due to the recent share price rebound while we remain comfortable with our valuation basis at this juncture.
Nonetheless, the valuation ascribed to Kerjaya is at the higher end of our small to mid caps' PER range of six times to 11 times due to their excellent track record in project delivery without a single delay, better margins compared to the other players and total non-reliance on government jobs. — Kenanga Research, Jan 18