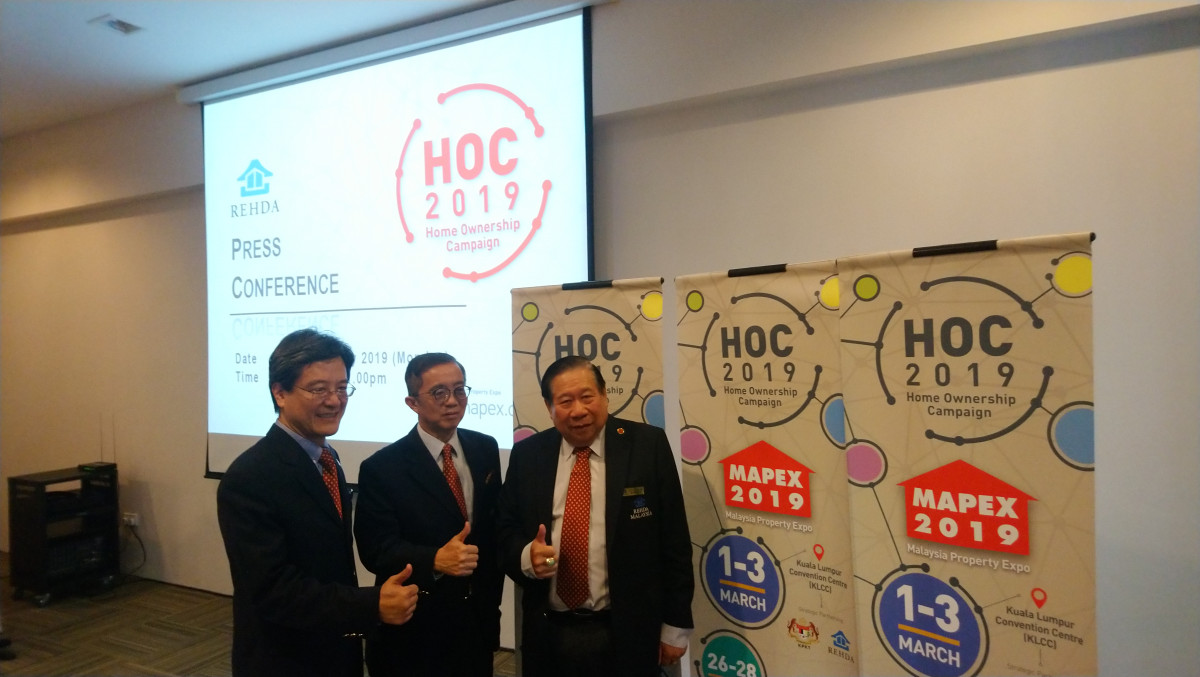 KELANA JAYA (Feb 25): Some 51 developers will be showcasing their residential properties in the upcoming Home Ownership Campaign (HOC) 2019 Expo to be held at the Kuala Lumpur Convention Centre this weekend. The three-day expo runs from March 1 to 3.
To date, there are some 17,000 residential units which have been registered for sale under the HOC, HOC 2019 organising chairman Datuk N K Tong said at a media conference today.
*Stamp duties waived for properties under HOC 2019
"We have a total of 180 booths and all have been fully taken up by 51 developers. We are still in the midst of finalising the projects and units for sale in the expo. But as at today, there are more than 17,000 units with a total value of RM11.8 billion that will be on sale this weekend," said Tong.
He said the participating developers will be offering a wide variety of properties at varied price ranges to prospective buyers.
Also taking part in the expo are five financial institutions that will offer a selection of financial schemes to meet the buyers' needs. They are Maybank, RHB Bank, Public Bank, Hong Leong Bank and Standard Chartered Bank.
Also featured at the HOC Expo is a government pavilion showcasing affordable housing projects and schemes under KPKT, Perbadanan PR1MA Malaysia, Syarikat Perumahan Nevada Bhd, Permodalan National Bhd and UDA Holdings Bhd, among others.
The HOC 2019, which runs from Jan 1 to June 30, 2019, is a collaborative initiative between the Real Estate and Housing Developers' Association (Rehda) and the Housing and Local Government Ministry (KPKT) to encourage home ownership amongst Malaysians.
During the campaign period, all homebuyers of participating projects will get a minimum 10% price discount and stamp duty waivers on the instrument of transfer and on loan agreement.
HOC Expo 2019 at the KL Convention Centre is the flagship expo of the campaign while other expos around the country will be held during the campaign period.
Prime Minister Tun Dr Mahathir Mohamed will officiate the opening ceremony of HOC Expo 2019 this Friday.
Rehda president Datuk Soam Heng Choon said it is hoped that the HOC could achieve at least RM3 billion in sales.
"People will take time to decide and confirm their purchases so, it is difficult to gauge the expected sales. However, for the entire campaign period, I think it will be good if we can achieve RM3 to RM4 billion sales," said Soam.
He urged the public to visit the expo and make their purchases as there are many benefits for buyers during this HOC period.
"It is just like a property supermarket, we have something for everyone and every budget. Besides the stamp duty waivers, all participating developers have committed a minimum 10% discount on the approval selling price, and on top of that, the government has also allowed developers to give rebates and freebies to attract buyers," Soam noted.
On whether Rehda would ask the government to extend the HOC period, Soam said it will depend on the response to the HOC currently.
"We haven't talked to the government yet on HOC period extension. We will see how the response is by the end of June. If the response is good, Rehda will try to talk to the government for the campaign to be extended.
"However, we hope serious homebuyers will grab this opportunity to buy in the remaining four months of the campaign and not miss the boat," he added.
Meanwhile, MAPEX (Rehda's own annual property exhibition) organising chairman Datuk Ng Seing Liong hopes that current lending guidelines will be relaxed.
"Getting a housing loan is the biggest challenge to homebuyers. There is very little we can do about it. We hope Bank Negara could consider relaxing the lending guideline," Ng said.