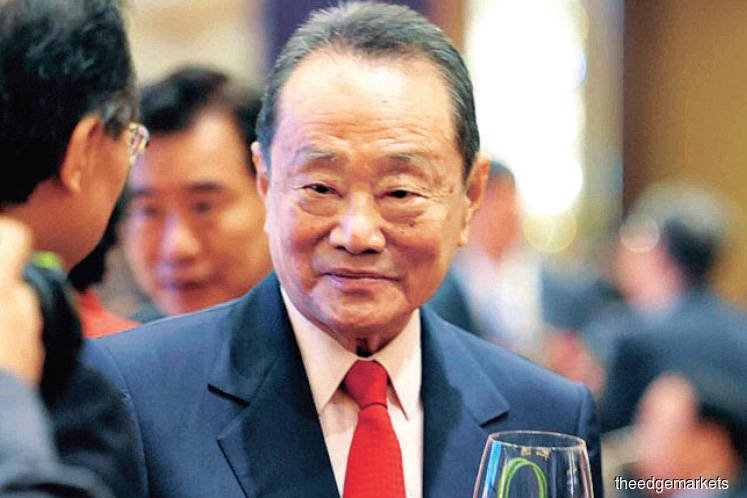 KUALA LUMPUR (March 6): The richest man in Malaysia, Robert Kuok has slipped from 96th place in the world's top 100 richest people, to the 104th place.
"Sugar King of Asia" Robert Kuok's estimated net worth is now US$12.8 billion, falling from US$14.5 billion that Forbes lists him as being worth in 2018.
The overall numbers showed a decrease in the net worth of billionaires, with a total net worth of US$8.7 trillion, down from from US$9.1 trillion in 2018, marking the first decrease in the billionaires' combined wealth since 2016 and only the second decrease in the past decade.
"Altogether 11% of last year's list members, or 247 people, dropped out of the ranks, the most since 2009 at the height of the global financial crisis," said Forbes.
The Malay Mail reports that the next richest Malaysians are Tan Sri Quek Leng Chan of Hong Leong group fame, with an estimated net worth of US$9.4 billion. Tan Sri Teh Hong Piow (Public Bank, US$6.7 billion), T. Ananda Krishnan (Astro, US$6.2 billion), Tan Sri Lee Shin Cheng (IOI, US$5.4 billion), Tan Sri Chen Lip Keong (Nagaworld, US$5 billion), and Tan Sri Lim Kok Thay (Genting, US$4.4 billion).
Next are Tan Sri Lau Cho Koon (Hap Seng, US$3.4 billion), and Kuan Kam Hon (Hartalega, US$2.4 billion), and in joint place for tenth are Tan Sri Syed Mokhtar Al-Bukhary (MMC, US$1.7 billion) and Tan Sri Koon Poh Keong (Press Metal, US$1.7 billion).