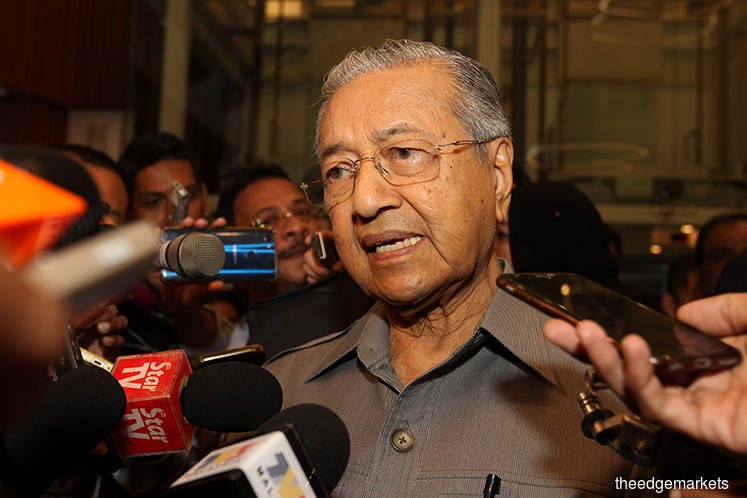 KUALA LUMPUR (March 11): Prime Minister Tun Dr Mahathir Mohamad said there are certain policies by the China government that are beneficial to Malaysia.
Speaking to reporters at Parliament today, Dr Mahathir said Malaysia should take into consideration China's policies in decision making as not everything coming from there are bad.
"Whether you like it or not, China is a big power, and we have to take into consideration that they have policies and find out how we can benefit from those policies. Not all the policies are bad for us, some can be very good, and it is up to us to find what is good for us and make use of it," he said after sending off Yang di-Pertuan Agong Al-Sultan Abdullah Ri'ayatuddin Al-Mustafa Billah Shah from the Parliament.
His Majesty was in Parliament today for the opening of the first meeting, second session of the 14th Parliament.
Dr Mahathir was also unfazed by the political collaboration between UMNO and PAS, which sought to protect ethnic Malay rights in the country.
"It is up to them whether they want to be united or married, this is a free country, unless it is same sex marriage, which this country does not allow yet," he quipped.
Dr Mahathir said the Pakatan Harapan (PH) coalition is protecting the Malays' rights as well.
"We are also looking after the interests of the Malays, except that we do not shout [about it]. They try to separate the Malays and other races; that is very bad for a multi-racial country.
"The interests of the Malays will be looked after by the PH, we want to make sure, that it is not only equal, but fair, our relation must not be just equal without fairness," he said.
"So we will look after the interests of the Malays, and we have stated that we want equitable share in the wealth of this country," he added.
Dr Mahathir also conceded that there are occasions where certain Cabinet members make public statements that reflected badly on the government.
"I must admit that many of us are very new, sometimes we said things which may reflect badly on us, but you have to give us time, because they had a 60-year lead against us, we are in the first year, not even the first year yet, two months more to be first year.
"But I don't think everybody in BN are experts, some of them make some silly mistakes, including the Prime Minister," he said.
On the new Economic Action Council, Dr Mahathir said the government is still in the process of gathering all its members, in order to hold a meeting as soon as possible. — theedgemarkets.com
Click here for more property stories.