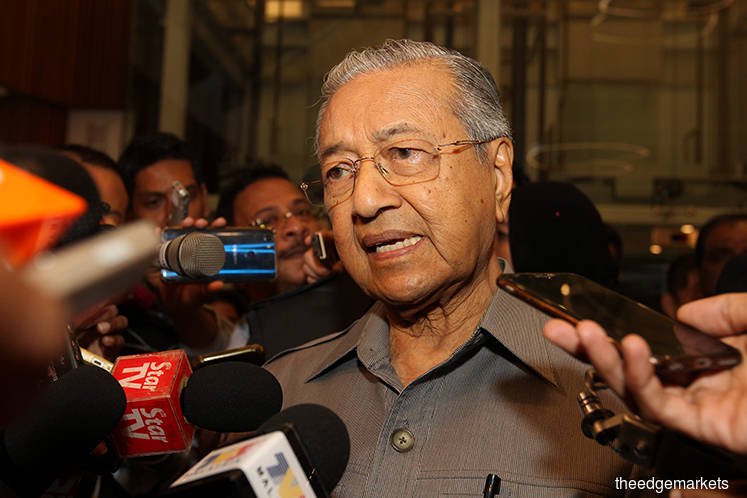 KUALA LUMPUR (March 12): The government is evaluating various options on the fate of national carrier Malaysia Airlines Bhd and a decision will be made "soon", according to Prime Minister Tun Dr Mahathir Mohamad.
Speaking to reporters at Parliament lobby today, Dr Mahathir said the options include shutting the airline down, divesting its assets, or refinancing its debts.
"This is a very serious matter, to shut down the national airline. We have to decide soon.
"We will nevertheless study the situation whether we should shut it down or we should sell it off, or whether we could refinance it, all these (options) are open for the government to decide," he said.
Separately, Minister of Economics Affairs Datuk Seri Mohamed Azmin Ali told reporters at the Parliament lobby today that the matter has been deliberated in the last Khazanah Nasional Bhd board meeting, which was attended by the management of Malaysia Airlines as well.
"Tun Mahathir has given his view on how we should manage the situation now. Both Khazanah and MAB (Malaysia Airlines) are taking up this matter seriously and hopefully they will find a solution for that," he said.
Azmin added that one of the ways that has been done in an effort to turn Malaysia Airlines around is the airlines' recently-launched special charter service Amal, which caters specifically for Haj and Umrah pilgrims to Saudi Arabia.
"Hopefully we can explore new markets from Indonesia and Thailand — I think that would support the progress," he said.
The going concern of Malaysia Airlines came into question of late after its losses had caused a massive impairment to sole shareholder Khazanah Nasional Bhd's account, resulting in the latter reporting a loss in 2018 — its first since 2005.
When asked about the prime minister's comments to shut the airline down, Azmin said, "Well that is something that the management must look into."
Meanwhile, the national airline has scooped the Best Airline in Asia Award at this year's International Council of Pacific Area Travel Writers Association (PATWA) International Travel Awards at ITB Berlin, Bernama reported.
Malaysia Airlines group chief executive officer Izham Ismail said the award is dedicated to its employees who focus on delivering a world-class travel experience for its passengers every day.
"It is testament to our commitment to offering passengers a fantastic experience both in the air and on the ground," he said in a statement yesterday. — theedgemarkets.com