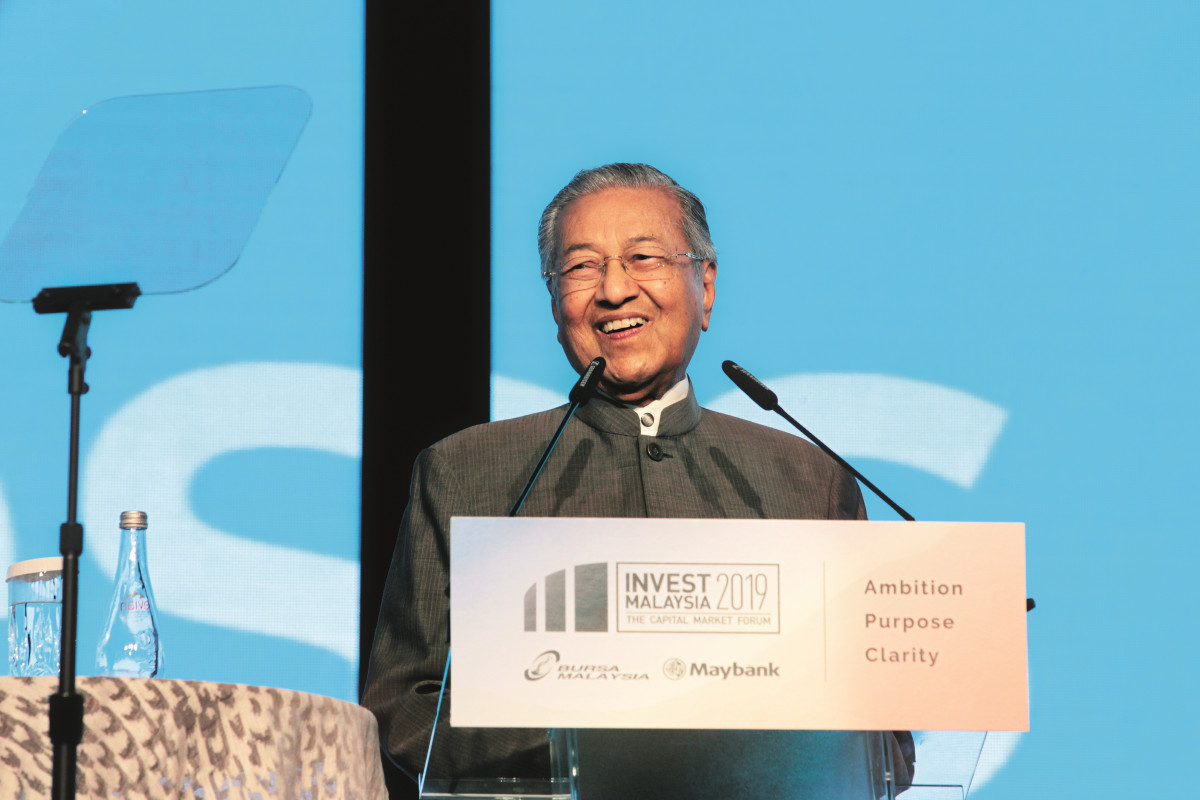 KUALA LUMPUR (March 20): While expectations were high after the 14th general election on May 9, 2018, Prime Minister Tun Dr Mahathir Mohamad highlighted that most of the administration's efforts for the past year have been to "plug the almost bottomless pit created by the 1Malaysia Development Bhd (1MDB)" scandal.
"Even though the task has yet to be concluded and in fact, it will take several years to solve it, we have to move on to start developing the nation," Dr Mahathir said at the Invest Malaysia 2019 forum, themed "Ambition. Purpose. Clarity."
"Our goal is clear — to be a developed nation in every sense of the word. It is a development that must benefit everyone, where prosperity is shared and growth is sustainable. We are committed to economic growth with social justice," the 93-year-old leader told the investing fraternity yesterday.
While his administration is unearthing new damages on an almost daily basis, he pointed out that it has made many changes and introduced many reform measures.
Moving ahead, the prime minister said the country's growth focus is on digital economy, high-tech and high-wage manufacturing, and the services sector, emphasising that the focus on the manufacturing sector would be on the aerospace, chemicals and chemical products, machinery and equipment, medical devices and electrical and electronics industries.
Dr Mahathir added that the services sectors of tourism, private healthcare and professional services, retail as well as food and beverages will be given more attention.
Here are the five main takeaways from yesterday's forum.
1. No political appointees for GLCs
There will be no more appointment of politicians as heads of mission for Malaysia or government-linked companies (GLCs), Dr Mahathir said.
"The ministry of finance is preparing a clear guideline on the criteria for the appointment of chairmen and board of directors in GLCs and subsidiary companies. Only those capable, with integrity and high moral values will be selected to lead these entities," he said.
"Those who are in the wrong will be removed," Dr Mahathir added.
"The Prime Minister's Office is also finalising the guidelines on remuneration of directors and key senior management of government entities. We find that some of the remuneration packages are obscenely high. From now on, rewards will be based on performance," he said.
Dr Mahathir added that GLCs are not meant to crowd out the private sector but to "play certain catalytic roles to support the economy".
"I must stress here that there is an important role for those in the investment community in helping eradicate corruption. And the least you can do is not to buy shares or make deals with directors or companies that are involved in corrupt practices," he said.

2. A clean government better than a corrupt one
With the implementation of reforms to ensure a clean government, Finance Minister Lim Guan Eng is "100% confident" that the Pakatan Harapan government will do better than the former Barisan Nasional administration.
"It has been proven in history that a clean government will always perform better than a corrupt government.
"This government is clean. And we intend to implement reforms that ensure future governments will also be clean," Guan Eng added.
"If we give you our reports, they will be credible. There will be no creative accounting. There will be no hidden files, no falsification of assets. What you see is what you get.
"I would say the most effective mechanism, apart from disclosure and whistle-blowers, is the internal control system that we implement," he said.

3. Adequate pay for shared prosperity
Dr Mahathir stressed that adequate pay is also important in the private sector, urging all business leaders in the room to adopt a stakeholder mindset.
"We notice that the pay for CEOs (chief executive officers) has been increasing multiple folds, but workers' wages have been slow to rise, if not stagnant. This is not right. Pay your workers better if you make more profits," he said.
"We don't want a thoroughly unequal society where capital owners take too much a chunk of national income, leaving the workers or low-income households with scraps," Dr Mahathir said.
He added that disparity that is left unchecked will create tension and hostility, and eventually lead to confrontations.

4. Flexible in lending or windfall tax
"Be flexible [with giving out loans], unless you prefer windfall tax," said Guan Eng.
The minister pointed out that there have been many complaints with regard to the difficulties in obtaining financing, even as banks record huge profits — with some registering their largest ever — last year.
"So, I think it's time for you to start lending or unless you prefer windfall tax," he said.
Having said that, earlier yesterday, Dr Mahathir announced that the government has no intention to introduce new tax on top of what was announced during Budget 2019.
"I think there should be some positive news for the business community. There is a lot of interest in taxes and of course we are still fine-tuning the imposition of the sales and services tax," Guan Eng noted.

5. Friendly international relationships
Tensions between Malaysia and its closest trading partners — China and Singapore — have run high ever since mega infrastructure projects such as the East Coast Rail Link and high-speed rail came under review.
However, Dr Mahathir laid these fears to rest, saying that even though there are problems between Malaysia and both countries, they are being resolved in a rational way.
"We have a good relationship with China," he said.
Guan Eng pointed to the interest of Japanese investors as a "bonus" to Malaysia.
"If you look at Japanese investors, previously they were very worried about our standing issues such as 1MDB. But after the new government came to power and they saw our commitment to complying with international laws, implementation of institutional reforms and promotion of transparency, they said that they wanted to come back," Guan Eng said.
"We hope that local investors would also follow suit," Guan Eng added.
Guan Eng acknowledged, however, that external factors are affecting investors' decisions more than the domestic landscape. Thus, he hopes that this will be resolved soon.
This article first appeared in The Edge Financial Daily, on March 20, 2019.