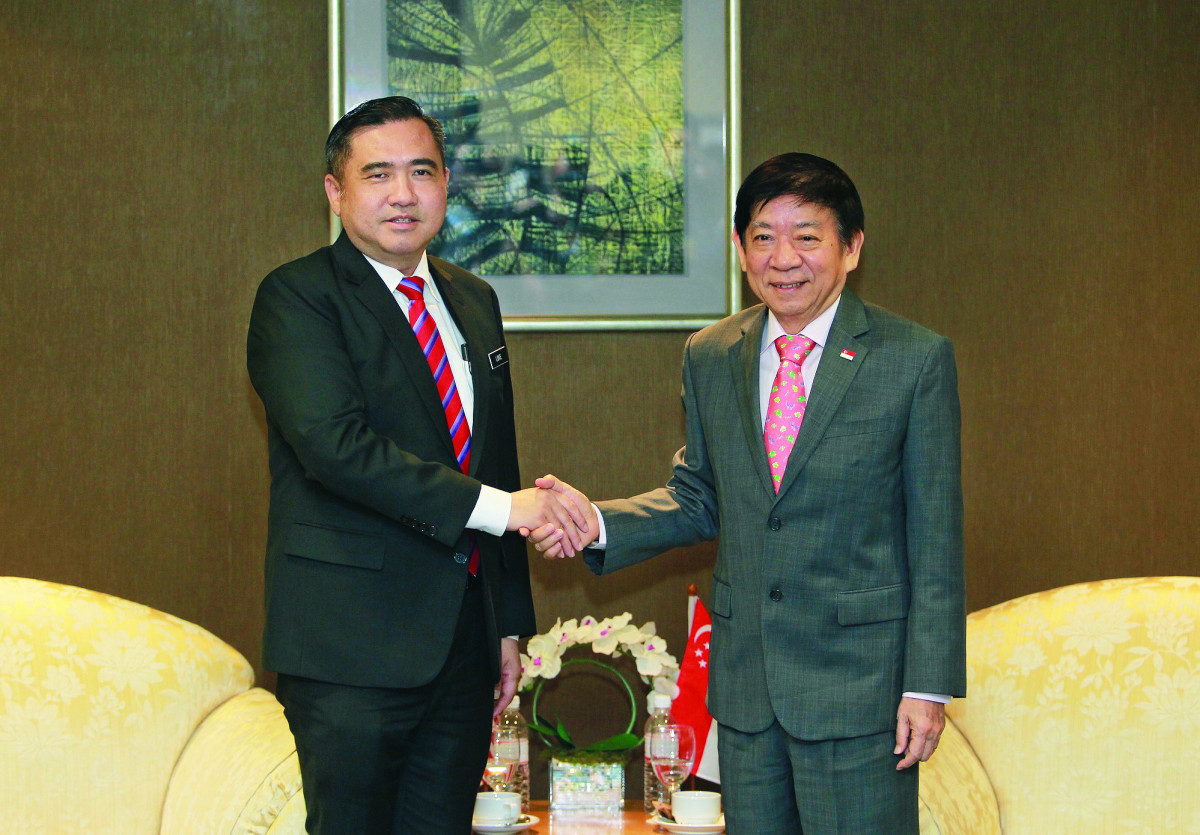 SEPANG (April 9): Malaysia is ready to manage its airspace over southern Johor after delegating the task to Singapore 45 years ago, said Transport Minister Anthony Loke.
"We are ready in terms of technical readiness as we have invested a lot of money over the years in terms of equipment and also for air traffic control readiness," he said.
"It is our sovereign airspace and it has been an outstanding issue. We wish we can manage the airspace; that is our desire," he told a joint press conference with his Singapore counterpart Khaw Boon Wan at the Kuala Lumpur International Airport (KLIA) yesterday.
"As you know, we are building a new Kuala Lumpur Air Traffic Control [Centre], which will be based in Sepang. With that, we think we are ready to manage our own airspace," he added.
Loke said it is therefore time to review the relevant agreement with Singapore after 45 years of delegating the airspace to the republic.
Putrajaya announced earlier yesterday it would be seeking to reclaim its airspace in phases between 2019 and 2023, even though Malaysia has allowed Singapore to use the delegated airspace since 1974.
Loke said the government will give priority to reviewing the Operational Letter of Agreement Between Kuala Lumpur and Singapore Area Control Centres Concerning Singapore Arrivals, Departures and Overflights 1974 (LOA 1974).
Under the agreement, Singapore air traffic controllers manage airspace over southern Johor.
He said both countries have agreed to set up a high-level committee to review the LOA 1974. They will work out a schedule and set up a timeline to move things forward.
In response, Khaw said both sides can forge an amiable solution with some creativity and goodwill, adding Singapore will negotiate with its neighbour in good faith and be open minded on the issue.
Meanwhile, both countries will also work together to develop Global Positioning System (GPS)-based instrument approach procedures for the Seletar Airport in Singapore.
This is to replace the Instrument Landing System (ILS) procedures which were recently withdrawn after the two sides reached an agreement on Saturday to end their months-long airspace dispute.
Under the deal, Singapore will halt ILS procedures at the Seletar Airport, while Malaysia will open up a restricted area near the countries' border.
Khaw described this as a "win-win situation" for both countries.
"We will introduce GPS-based instrument approaches from both the north over Pasir Gudang and south over Singapore island. This is because airplanes take off and land into the wind. With north-east and south-west wind directions at different times of the year, we need both approaches," he said.
Following the agreement, Firefly will resume flights to Singapore starting April 21.
"Besides Firefly, the other Malaysian airline that is interested in flying to Singapore via Seletar is Malindo and they have already applied to airport authorities in Singapore to fly to Seletar. So hopefully, more flights [to Seletar] will resume in the near future," said Loke.
"In the spirit of bilateral relations, I think this is good for our cooperation and the way forward," he added.
This article first appeared in The Edge Financial Daily, on April 9, 2019.