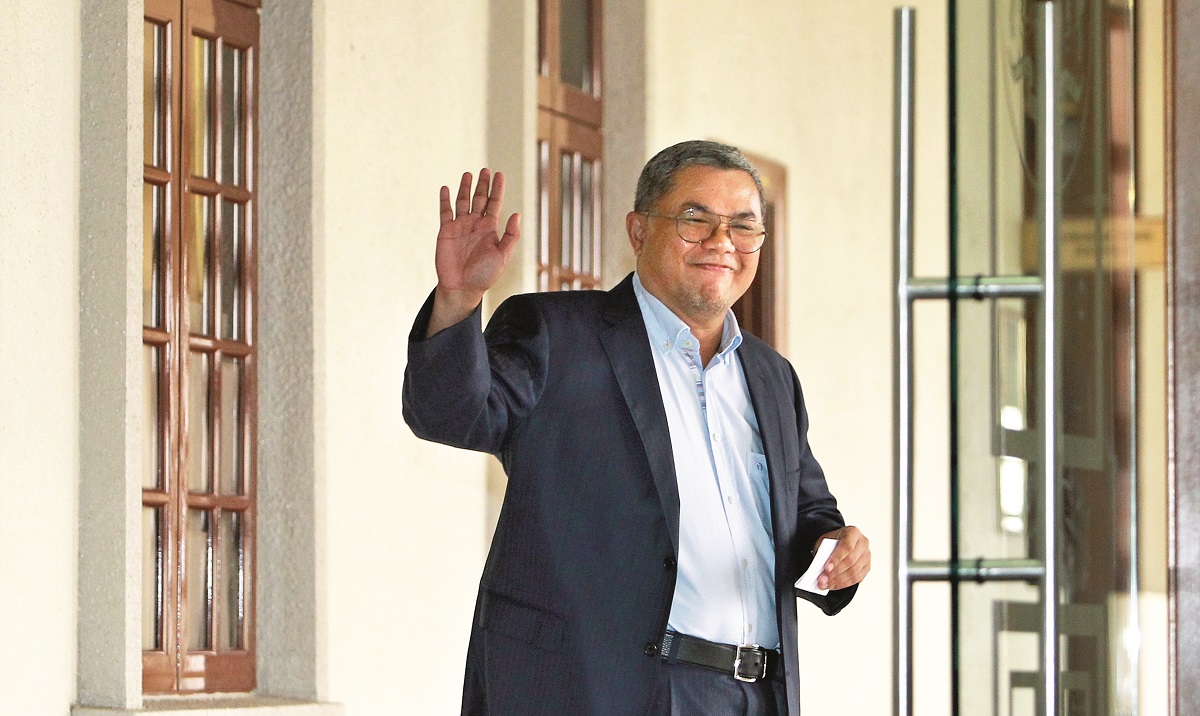 KUALA LUMPUR (April 23): Johor Baru Umno division secretary Abu Talib Alias (pictured) created chuckles during his testimony in Datuk Seri Najib Razak's SRC International Sdn Bhd trial yesterday, when he referred to the former premier using his famous nickname Malu apa bossku? (What's there to be ashamed my boss?).
This happened when Deputy Public Prosecutor Muhammad Saifuddin Hashim Musaimi asked Abu Talib to identify Najib in court.
Abu Talib then looked around and upon seeing Najib sitting at the accused dock said Malu apa bossku?, prompting laughter in the public gallery.
Earlier, Abu Talib told the High Court that he had received a cheque dated Feb 12, 2015, for RM300,000 from Najib, from the Prime Minister's Office (PMO)
He testified that he received a call on a Friday in February 2015, from the late Datuk Azlin Alias who was the principal private secretary to Najib, to come and pick up the cheque.
After getting the go-ahead from the division's chief, Tan Sri Shahrir Samad, Abu Talib said he went to the PMO to pick up the cheque from Azlin and deposit it at Maybank Putrajaya.
"Our account is in Maybank's Taman Suria branch and I deposited it. The amount is credited," he said.
The witness said in reply to Muhammad Saifuddin that RM300,000 was insufficient as the division needed RM600,000 annually for its expenses.
On cross-examination by Najib's lead counsel Tan Sri Muhammad Shafee Abdullah, the Johor Baru Umno division secretary said he had received cheques from the former premier on three occasions, and the one received in 2015 was the last from the former Umno president.
"This has been the practice where the headquarters and sometimes the president would give funds to the various divisions. Even Shahrir donated for the division's expenses and all this is entered into the division's account," he said, adding that he did not question the source of the money.
Azlin died along former minister Tan Sri Jamaluddin Jarjis in a helicopter crash at April 2015.
Najib is facing seven counts of criminal breach of trust, abuse of power, and money laundering involving RM42 million from SRC.
Money deposited in personal, not division, account
Earlier, Padang Serai Umno division chief Datuk Asmadi Abdul Talib also testified that he received RM50,000 from Najib at a meeting.
"The cheque was addressed to me and not the division. I deposited and cashed it in my account." he said, adding that he used the money to conduct programmes in schools and finance non-governmental organisations which sought assistance.
Asmadi said the money was not deposited in the Padang Serai Umno division's account as it would have to be used by the division during the party's annual general meeting.
The witness noted that the amount was insufficient, and that then menteri besar Datuk Seri Mukhriz Mahathir did not provide any assistance to his division.
There were other witnesses or recipients who testified yesterday, including Manisah Othman — a widow whose late husband worked at Boustead Holdings Bhd and was attached to the PMO — who testified that she received more than RM52,000 after her husband passed away of colon cancer in 2013.
She testified that she had received the cheque from Najib and that the former premier visited her husband in hospital when he was suffering from cancer.
The witness painted a picture that Najib is a caring individual who cares about the welfare of his former staff.
In the afternoon, Bank Negara Malaysia investigating officer Ahmad Farhan Sharifuddin testified, under cross-examination by lawyer Harvinderjit Singh, that he had seized AmBank customer relationship manager Joanna Yu's BlackBerry Bold and Samsung Galaxy 4 phones.
Ahmad Farhan, however, was unable to verify the transcript of the BlackBerry conversation that took place.
The trial continues before Justice Mohd Nazlan Mohd Ghazali today.
This article first appeared in The Edge Financial Daily, on April 23, 2019.