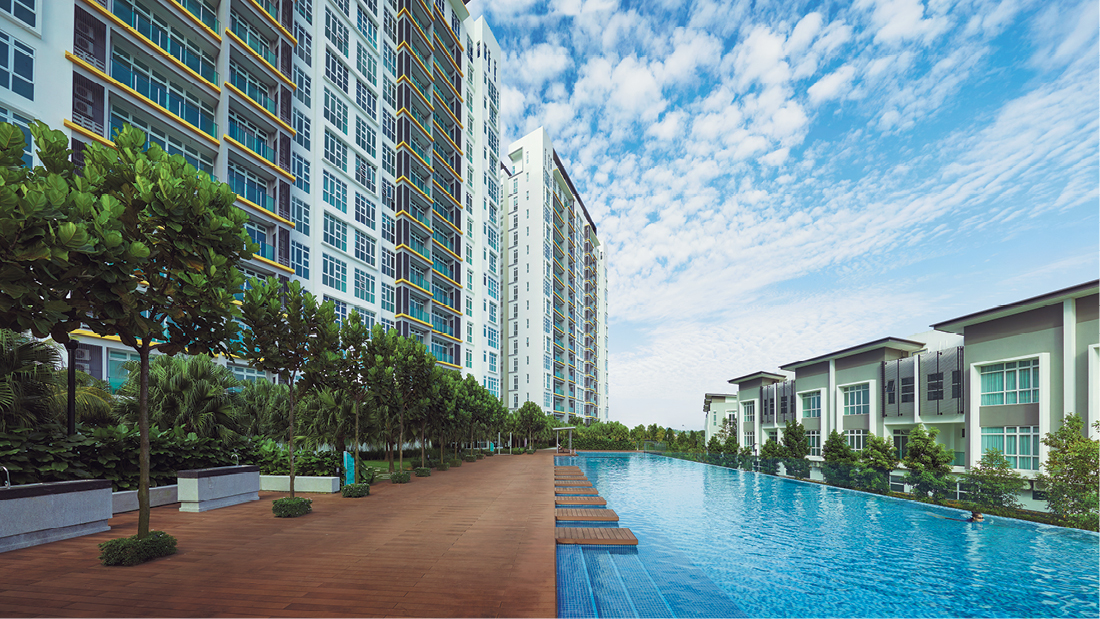 Below 10 Years Multi-Own Strata Residential: Gold: D'Suites @ Horizon Hills
Property maintenance is not just about managing a specific parcel of a development. Totality must be looked at including the maintenance of the overall surroundings. At D'Suites @ Horizon Hills (D'Suites), its property manager Horizon Hills Property Services Sdn Bhd's philosophy of maintenance is to focus on the entire township as it will eventually contribute to the value of each individual parcel.
This approach has paid off with D'Suites winning the Gold at EdgeProp Malaysia's Best Managed Property Awards 2019 in the below 10 years multi-own strata residential category.
The 9.6-acre freehold project comprises 356 condominium units and 24 villas that were completed in October 2016.
It is part of the 1,200-acre Horizon Hills township in Iskandar Puteri, Johor which is jointly developed by Gamuda Land (the development arm of Gamuda Bhd) and UEM Sunrise Bhd.
Horizon Hills was first launched in 2007 and about 70% of the development has been completed to date. The township management team Horizon Hills Property Services is a subsidiary of Gamuda Land.
Most of the projects in Horizon Hills are landed homes with individual titles. With D'Suites, its developer wanted to see how well the people in Johor Bahru would receive a strata development, says Horizon Hills general manager Jim Woon.
Hence, it was critical to educate the new owners of D'Suites about the laws governing strata developments.
The developer also works closely with residents and owners providing advice and guidance to ensure a smooth handover of the management in future. Woon stresses that as a responsible developer, it will continue to support the Management Corporation (MC) when it is formed later. Even now, vendors who are selected to maintain the project were chosen carefully so that they do not cause problems to the MC when they take over in future.
"In any case, we are always reachable to the community through our township management team. On top of that, direct purchasers of Gamuda Land's developments are members of GL Friends where they can also stay in touch or send us feedback through their assigned relationship associates," says Woon.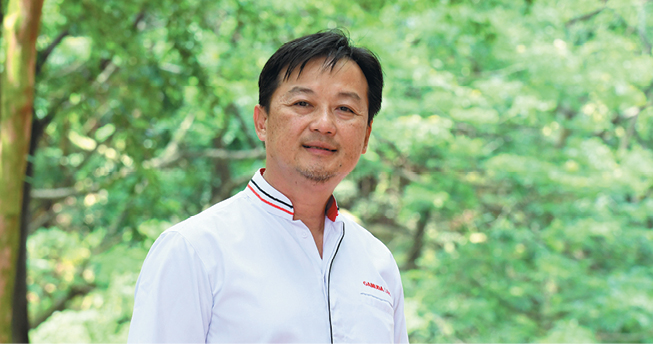 Towards quality maintenance
"To ensure the quality of the maintenance, engineering and building services, we have in place a robust and consistent standard operating procedure (SOP) to govern our mechanical and electrical (M&E) schedule which the township management team adheres closely to. This allows us to better plan M&E activities to reduce cost and increase efficiency," offers Woon.
"Gamuda Land has various projects and township developments in Malaysia. We learn from what we have developed over the years and we make improvements as we go along. We also draw from our experience in managing other premium projects such as Madge Mansions and The Robertson in Kuala Lumpur.
"We constantly look at ways we can incorporate technology to our existing approaches to township and building management, particularly to reduce cost and increase efficiency such as optimising energy and water consumption as well as to improve security," Woon shares.
Indeed, security is among the management's top priority and D'Suites has put up electrified perimeter fencing to deter intruders including wildlife, given the fact that the project is located next to a forest.
"Other security features we have in place include a guard house and security patrols, restricted access via access cards, CCTV and dome cameras as well as two-way intercom between the guard house and residents," Woon shares.
Budget planning
Horizon Hills Property Services has set in place a five-year budget plan for D'Suites to estimate future expenses. Such projection allows for better planning in order to achieve financial sustainability.
"Procurement is monitored by a centralised finance team to verify and ensure purchases are within the approved budget. When managing cost, it is important to have a well-defined authority limit chart to curb mismanagement. Formal approval is required from key people such as the chairman, secretary, treasurer and another member of the Joint Management Body (JMB) based on the authority limit chart to have proper check and balance," says Woon.
Among the cost optimisation initiatives put in place are the use of LED lights and a rainwater harvesting system that lowers water consumption by 30%.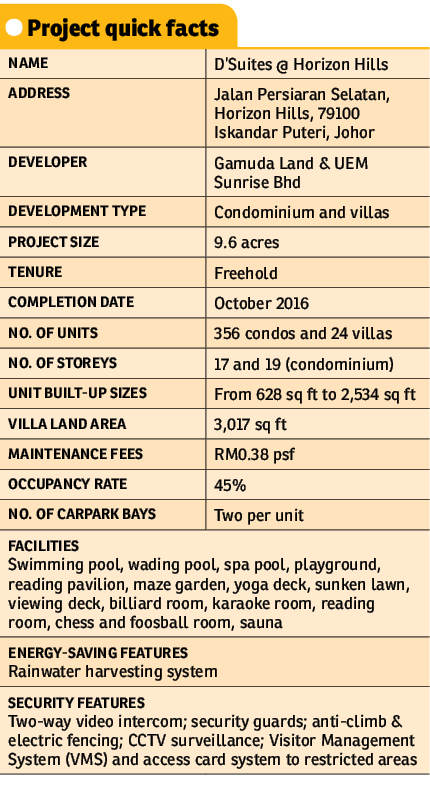 At the end of the day, Woon highlights that property maintenance must be looked at on an overall scale as the surrounding landscape and environment play a crucial part in determining the value creation of a project.
"We believe that as a responsible town-maker, we must from the very beginning, be thoughtful in master-planning each township.
"When we adopt a piece of land, we look at its natural topography, how we can respect nature and the environment. We study the neighbouring sites as well to create a symbiotic ecosystem for the town.
"Even though Horizon Hills is almost 12 years old, it doesn't feel worn because we are constantly striving to meet the needs of the residents and because we take care of the overall township," says Woon.
D'Suites, he concludes, benefits from the work the developer puts into the township.
"At Gamuda Land, we centre our development principles to create value for the community over time," he adds.
The highlights of the Awards:
Housing and Local Government Minister Zuraida Kamaruddin on good property management:
For an overview of the winners at the Awards: Tan Sri Jeffrey Cheah named Malaysia's Exemplary Leader of Sustainable Development 2019
For more information about the Awards night and the winners, click here.
This story first appeared in the EdgeProp.my pullout on April 26, 2019. You can access back issues here.