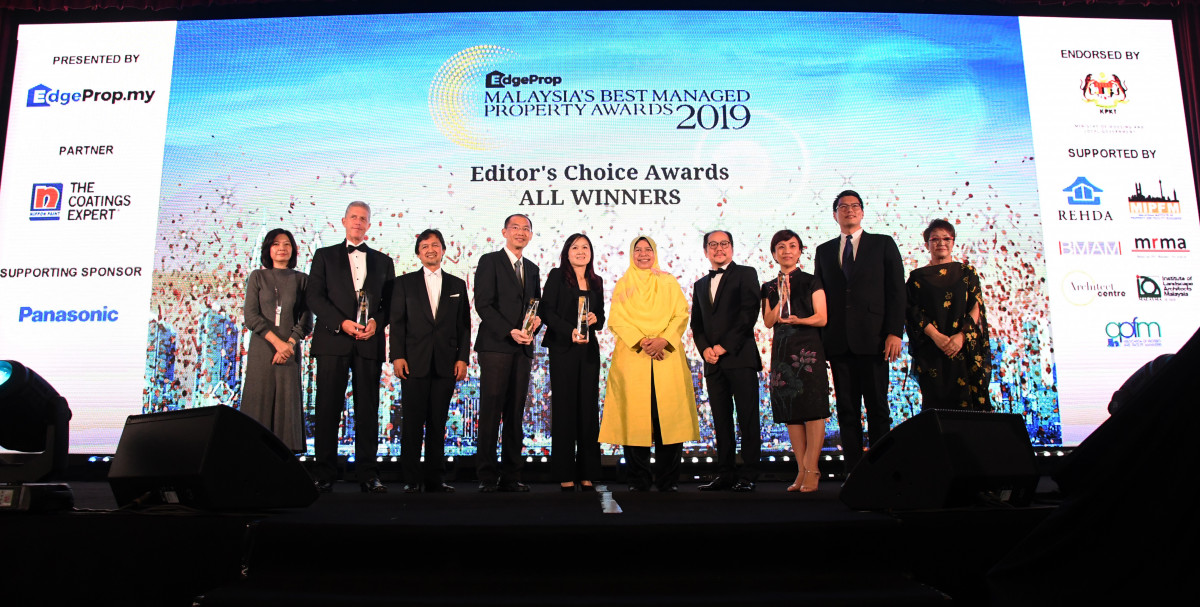 PETALING JAYA: Tan Sri Dr Jeffrey Cheah AO of Sunway Group was named Malaysia's Exemplary Leader of Sustainable Development 2019 by editors of EdgeProp.my at EdgeProp Malaysia's Best Managed Property Awards 2019 held on the evening of April 21.
The inaugural Editor's Choice Award — Malaysia's Exemplary Leader of Sustainable Development was the only personality award of the evening which saw the who's who in the property industry gathered to celebrate excellence in property management in Malaysia.
Jeffrey is the founder and chairman of the Sunway Group, one of Malaysia's largest conglomerates with 12 established business divisions spanning 50 locations worldwide.
He is also an international icon in championing sustainable development over the last four decades, not just in Malaysia but throughout the region.
Although he could not be present that night to receive the award from guest-of-honour Housing and Local Government Minister Zuraida Kamaruddin, a pre-recorded acceptance speech by Jeffrey was aired while Sunway Bhd managing directior of property division Sarena Cheah accepted the award on his behalf.
"I would rather not take this award as a personality award. It is an effort of the entire Sunway Group and the shareholders. Building sustainably is no longer an option but a must and we can't rely on solely the government. It requires the contribution of all sectors," Cheah said in his acceptance speech.
Held at a hotel in Petaling Jaya, EdgeProp Malaysia's Best Managed Property Awards 2019 recognises real estate that is managed with excellence and sustainability. Introduced in 2017, the annual Awards is the first of its kind in Malaysia and in the region.
The Awards is endorsed by the Housing and Local Government Ministry and supported by the Real Estate and Housing Developers' Association (Rehda), Malaysian Institute of Property and Facility Managers (MIPFM), Building Management Association of Malaysia (BMAM), Malaysian REIT Managers Association (MRMA), Architect Centre Sdn Bhd, Institute of Landscape Architects Malaysia (ILAM) and the Association of Property and Facility Managers Singapore (APFM).
"Property is not just about the structure and facade design. It is about how easy it will be to upkeep so that it lasts and stays in good shape. High-rise living is increasing so it is very important for a project to move beyond just the structure and be liveable and comfortable," Zuraida said in her speech at the awards night.
Meanwhile, EdgeProp.my managing director and editor-in-chief Au Foong Yee in her welcome speech said quality property management practices are no longer an option, but a must in communal living.
"Let us not wait for a tragedy to strike before we do the right thing… By raising the bar on the nation's property management practices, we hope Malaysia will be a global destination of properties with top class management," Au added.
Editors of EdgeProp.my also awarded Encore Melaka by Yong Tai Bhd with the Editor's Choice Award — Exemplary Real Estate Contribution to the Nation 2019 for putting Malaysia on the world cultural tourism map.
The theatre complex features Southeast Asia's only state-of-the-art 360 degree rotating audience platform designed and built specifically for the Encore Melaka
Impression Series show — the only famous Impression Series show outside China.
Another recipient of the Editor's Choice Award is Sutera Mall. The retail mall in Johor Bahru was accorded the Editor's Choice Award — Exemplary Retail Mall 2019. More than its retail offerings, the suburban mall was recognised for its community and green initiatives.
The suburban mall allocated 35,000 sq ft of retail space to run a free-to-use public library stocked with 60,000 books. It also runs the Kuru Kuru Shop where the public can drop off pre-loved items, as well as a food recycling programme that turns food waste into organic fertiliser for its community farm.
Meanwhile, the recipient of the Editor's Choice Award — Exemplary Convention Centre was Kuala Lumpur Convention Centre. The 14-year-old convention centre located in Kuala Lumpur City Centre has contributed RM8 billion in economic growth to the country.
Meanwhile, Sunway Property and Perdana ParkCity Sdn Bhd were accorded the prestigious EdgeProp Malaysia's Responsible Developer: Building Sustainable Development Award 2019.
In the sustainable landscape category, winners of EdgeProp-ILAM Malaysia's Sustainable Landscape Awards 2019 were Gold winners Lepironia Garden at Setia Eco Glades, Cyberjaya by S P Setia Bhd and The Mansions @ ParkCity Heights in Desa ParkCity as well as Silver winners Valencia, Sungai Buloh; and Sri Penaga Condominium, Bangsar.
Meanwhile, for the anchor awards, EdgeProp Malaysia's Best Managed Property Awards 2019 recognised 15 projects for their excellent property management. The awards were given in two
divisions — properties below 10 years and 10 years and above.
Among the winners of the night were properties developed by Gamuda Land, KLCC Property Holdings Bhd, Bandar Utama City Centre Sdn Bhd, Selangor Dredging Bhd, Naim Holdings
Bhd, and UEM Sunrise Bhd.
D'Suites @ Horizon Hills, Johor won the Gold in the below 10 years multi-own strata residential category while Silver went to Verdi Eco-dominiums, Cyberjaya. Taking the Bronze were Dedaun Condominium at Jalan Ampang and The Pearl @ KLCC. Naim Bahagia Residences in Miri, Sarawak received a Special Mention in this category.
In the 10 years and above division, there were two Gold winners in the multi-own strata residential category, namely Mont'Kiara Astana and Mont'Kiara Pelangi.
Jade Hills in Kajang, Selangor received Gold in the non-strata residential category while the Kuala Lumpur Convention Centre took home the Gold in the Specialised category. In the retail category,
1 Utama Shopping Centre took the Gold while Sutera Mall received the Silver.
Bronze winners in this division were Kompleks Dayabumi and Menara ExxonMobil in the non-strata office category as well as Aman Sari 18, Puchong under the non-strata residential category. Kato Manufacturing, a factory located in Petaling Jaya received a Special Mention under the Specialised category.
The Awards were organised in partnership with Nippon Paint Malaysia and supporting sponsor Panasonic Malaysia.
The judges for this year's awards were Au, Rehda deputy president Datuk Khor Chap Jen, MIPFM president Faizal Fuad, BMAM member and research committee member Lum Youk Lee, MRMA chairman Datuk Jeffrey Ng, Architect Centre accredited architect and trainer Anthony Lee Tee, Chur Associates founder and managing partner Chris Tan and APFM president Dr Lim Lan Yuan. Au was also a judge for the EdgeProp-ILAM Malaysia's Sustainable Landscape Awards 2019 along with ILAM's assistant hon secretary Siti Maisarah Salahudin.
Results of the awards have been audited by Deloitte Malaysia.
* More done with less
* Focused on the big picture
* Harnessing nature's bounty
* Lessons in maintenance culture
* Landscaped with love
* Returning the shine to The Pearl
* Jeffrey Cheah: "Start by picking up rubbish…"
* So much more than just a mall
* Harnessing the power of dreams
* Carving an oasis out of rocks
* Committed to creating a 'lovable' township
* People, planet and profit
* Inspired by a humble plant
* A self-sustaining and world class convention centre
* A hidden gem in Mont'Kiara
* An MC that puts safety first
* A mall that embraces change for growth
* Living up to its name
* Striving for sustainability
* Trust that binds a community
* Dayabumi for the future
* Embracing challenges in strata living
* Loyalty to global standards