Editor's Choice Award 2019: Exemplary Retail Mall
​10 Years And Above Retail: Gold
Sutera Mall
Sutera Mall is a neighbourhood mall in Taman Sutera Utama in Skudai, Johor. Opened since August 2008, the 1.2 million sq ft mall is developed and managed by Tanah Sutera Development Sdn Bhd. It is unlike any other mall as the shopping centre offers more than the usual retail and F&B, notably its community building and green initiatives.
In recognition of its efforts, Sutera Mall received the Editor's Choice Award 2019 — Exemplary Retail Mall and won a Silver in the 10 years and above retail category at EdgeProp Malaysia's Best Managed Property Awards 2019.
Located in Sutera Mall is the first full-fledged mall library in Johor Bahru. Called My Library, it was created to foster the reading habit within the community. My Library is filled with 60,000 books and reading materials. During pre-exam periods, school holidays and weekends, the 35,000 sq ft library is packed and to date, it has registered as many as 10,000 members.
"Tanah Sutera Development is a township developer and we want our community to be a complete one, hence we introduced different elements that benefit the community," says Lau Teck Ching, Tanah Sutera Mall Development Sdn Bhd assistant general manager (properties) for property management.
It also spearheaded The Good Earth Project in 2014 with a mission to create a zero-waste township by eradicating the use-and-throw habit among urbanites. Food waste composting was one of the initiatives under this project.
"We installed two food waste composting machines to recycle 500kg of daily food waste from our tenants at Good Earth Centre which is located in the mall. Subsequently, to recycle a higher amount of food waste, we changed our recycling method to natural composting. So in July 2018, we set up our SuteraFOLO (Sutera Feed Our Loved Ones) farm to grow not just vegetables but also beneficial microbes. Today, the SuteraFOLO farm has successfully converted 300 tonnes of food waste into compost collected mainly from F&B outlets in Sutera Mall. All compost will be used for landscape maintenance and the community farm," says Lau.
The farm is located just five to 10 minutes away from the mall. During EdgeProp.my's visit to Sutera Mall, we were served fruits and fresh salad leaves harvested from the community farm.
Another unusual green effort is the Kuru Kuru Shop. A retail space in the mall has been dedicated to this "shop" where the public donate items in usable condition such as books, clothing and household items to benefit someone else who may need them — all for free. The beneficiary can pick up to three items in a day.
Getting it right from the start
When it comes to the mall management, maintenance and cost efficiency, Lau says, the key is to always be mindful that prevention is better than cure.
"A comprehensive maintenance programme must be carried out. Try to reduce ad hoc troubleshooting and allocate sufficient budget to ensure the equipment and facilities are well maintained. We have a maintenance service schedule which we adhere to for the respective systems in the mall," Lau explains, adding that they have to work hand-in-hand with operation staff, especially the technical team, to understand the issues and resolve them together.
However, balancing income and expenditure can be a challenge.
"We must be prudent in our expenses and be creative and innovative to reduce expenses. For instance, in 2017, we entered into a Chiller System Energy Saving programme where no capital expenditure was involved but we shared the amount of energy saved with the appointed company. We were able to improve the Building Energy Index (BEI) by 18%.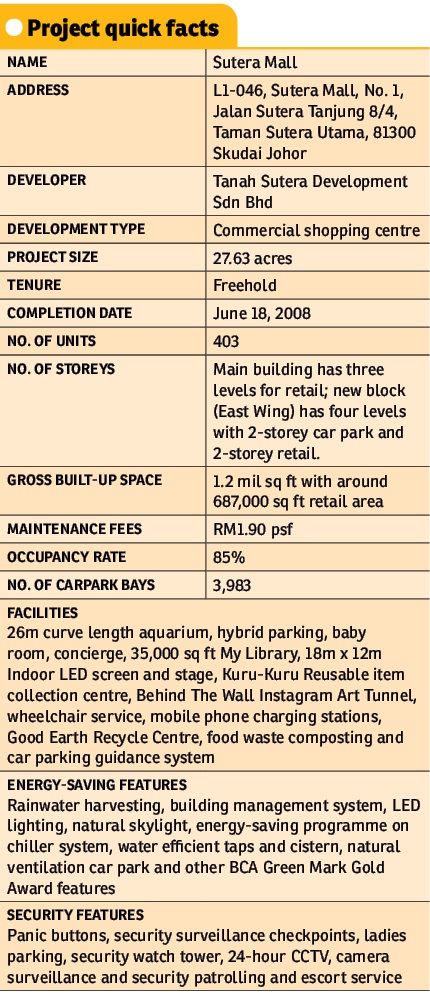 "We are planning to install solar panels on our roof as Sutera Mall has a large flat roof. This is to promote renewable energy use and reduce carbon emissions," says Lau.
As safety is a top priority for the management, a Company Emergency Response Team (CERT) was set up in August 2017 comprising 15 members chosen from various departments who are physically fit and willing to be trained as a member of the Fire Fighter and Rescue Team.
"We want our customers and tenants to feel safe while they are in Sutera Mall. Every fortnight, the CERT members will carry out physical fire-fighting training under a retired Singapore Civil Defence Force member and Fire Prevention Council Malaysia trainer. We hope that the CERT can act as first responders while waiting for the fire brigade to arrive. The CERT is also being trained to assess fire scenarios and carry out search and rescue of any missing persons in the event of a fire outbreak. We also purchased a full set of fire-fighter suits and equipment for our CERT members," Lau explains.
Ultimately, when it comes to property maintenance, there needs to be continuous improvement and to approach obstacles positively.
"We have to continuously adapt to changes especially with the emergence of e-commerce and steep competition within the retail industry. Creating a conducive and well-maintained shopping environment will help to increase footfall. A clean, comfortable and safe mall experience will enhance the intangible value of the mall.
"We also have a group of young, energetic and creative members to create excitement for the mall so that shoppers will not be able to have the same experience at other malls, making Sutera Mall their first destination choice."
The highlights of the Awards:
Housing and Local Government Minister Zuraida Kamaruddin on good property management:
For an overview of the winners at the Awards: Tan Sri Jeffrey Cheah named Malaysia's Exemplary Leader of Sustainable Development 2019
For more information about the Awards night and the winners, click here.
This story first appeared in the EdgeProp.my pullout on April 26, 2019. You can access back issues here.