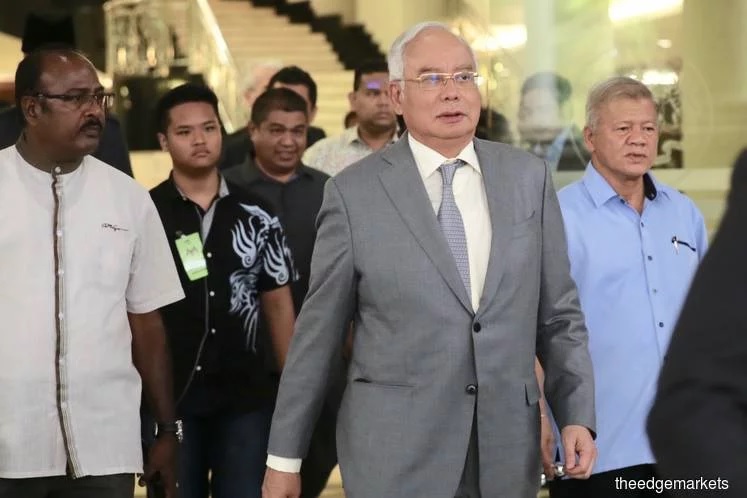 KUALA LUMPUR (April 30): The defence brought up its argument that large sums of money received by Datuk Seri Najib Razak were a donation at the former premier's SRC International Sdn Bhd trial today.
The matter came about during the cross-examination of AmBank Raja Chulan branch manager R Uma Devi, by lawyer Harvinderjit Singh, where based on documents, she was asked about Najib's five accounts, two of which were opened in 2011.
Harvinderjit's observation that the two accounts were for receiving large sums of money, was agreed to by the witness based on the bank's records.
The lawyer further mentioned Prince Faisal Al Turki as the alleged donor, adding that money was also received from Blackstone (Asia Real Estate Partners Ltd), when asking questions to Uma Devi.
An amount totalling US$681 million was allegedly deposited into Najib's accounts, and sometime later as seen from the bank documents, US$620 million was remitted back on instructions by the former premier, following a letter of authorisation issued, to which Uma Devi agreed.
Najib had maintained that the amount was a donation from the Prince Faisal Al Turki, while prosecutors have charged him with 25 counts of money laundering and abuse of power in relation to 1Malaysia Development Bhd funds.
Uma Devi agreed that the two accounts which were later closed in Aug 30, 2013, had the balance deposited into three accounts which Najib opened a month earlier on July 31, 2013.
Uma Devi was asked as to why some of the transactions have authorisation letters and some do not have, and to this, the bank manager said she had not searched for the others.
"I agree that in some of the transactions, it was customer relationship manager Joanna Yu, Krystale Yap and Daniel Lee who manage the accounts and oversaw the transactions," the witness added.
Earlier today, High Court judge Justice Mohd Nazlan Mohd Ghazali dismissed Najib's application to strike out the seven charges involving RM42 million of SRC International Sdn Bhd funds that he is facing, on the ground that they are in order and not defective.
Justice Nazlan said the three criminal breach of trust (CBT) charges faced by Najib are not defective, as an offence of money laundering and CBT charge is found to be valid, following a Court of Appeal decision where in a similar case, the accused is charged with money laundering and CBT.
"There is no ambiguity on the positions of Najib being prime minister, finance minister and advisor emeritus of SRC, as stated in the charge sheet," he added.
"The money laundering, CBT and abuse of power are distinct offences and there is no duplicity.
"The charges also comply with Section 165 of the Criminal Procedure Code. There is no legal impairment in the charges and in the end, it is the duty of the prosecution to present the charges and the court would evaluate it," Justice Nazlan stressed in his ruling.
Najib's lawyer in the striking out application, Datuk Yusof Zainal Abiden, told theedgemarkets.com that his client has directed an appeal of today's decision.
"Yes, we will appeal," the former solicitor-general II said.
Najib, during a break in the trial, also indicated to some that he will appeal. — theedgemarkets.com