Don't buy a home that you will regret later. To avoid this, there are some things you need to take note of before you sign on the dotted line, said National House Buyers Association honorary secretary-general Datuk Chang Kim Loong.
"If you flip through magazines or advertisements, you will be bombarded with picture-perfect and too-good-to-be-true products. The advertisers' aim is to entice, and to do so, advertisements have to be impressive. What if you have bought a property because you are attracted to the artist's impressions on the brochure but found out later that it is not up to expectations?" Chang asked the audience during his talk titled "Creativity vs sustainability: Buyers don't be fooled" at the EdgeProp.my Symposium on Excellent Property Management 2019 "Is your investment future-proof?" held in a hotel in Petaling Jaya on Saturday, April 27.
* Your questions on crucial property management answered
The symposium was organised by EdgeProp.my with partner Nippon Paint Malaysia and supporting sponsors Gamuda Land and Panasonic Malaysia. The event was also supported by The Edge Malaysia.
Purchasers must demand to see the Schedule of Parcels and Certificate of Share Unit Formula (more commonly known as SiFUS) before they commit themselves to buying the property. Almost all developers never display them although the Strata Management Act 2013 (SMA 2013) requires developers to do so, he said.
"Purchasers must know what they are buying especially the common facilities in a strata development. Some facilities, like the car park, may belong to the developer to be rented to the residents in future," he warned.
If in doubt, said Chang, ask. Also check whether there is or are provisional block(s) in the strata scheme which may give rise to problems in future if the developer abandons or delays the construction of such provisional blocks. Residents could also unwittingly be paying for the cost of maintenance covering these provisional blocks.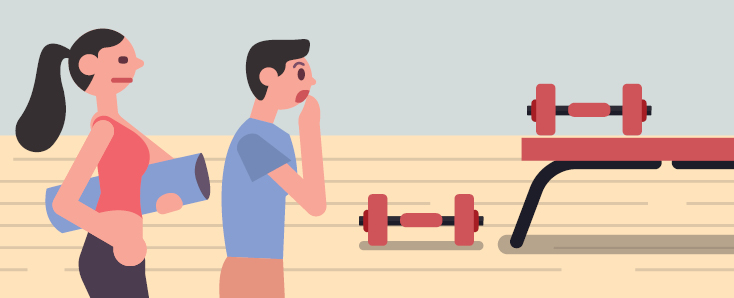 "Effective August 2014, it is mandatory to attach the Approved Drawing Plans: layout, site-plan, building (front and rear elevations) to the Sales and Purchase Agreement (SPA)," Chang noted, hence purchasers should scrutinise them.
He also advised those buying into commercial developments to not sign separate agreements to relocate or reallocate the car park bays that were earlier allocated in the Schedule of Parcels.
"Otherwise, it may entail endless disputes especially when it comes to the issuance of strata titles and share units' identification. There are developers who may qualify that the car park bays on the basement floor(s) are exclusively theirs and retain sole ownership," said Chang.
Meanwhile, he also cautioned potential homebuyers against offers of free maintenance charges in a property development.
"This may be promised at the time of sale but the reality is that the SMA 2013 says that the developer must form the Joint Management Body (JMB) within 12 months from date of Vacant Possession (VP). Accordingly, the developer must pay the maintenance charge to the JMB for the second and third year, after the developer's management period in the first year has lapsed," said Chang.
The developer presumably, is able to honour offers such as free maintenance charges because of factors such as no big capital expenses since it's a new building and only the bare minimum expenses are incurred during this period.
"Thus, it is not wrong or misleading for a developer to offer to pay the maintenance charges in the first year (developer's managing period) but in the second and third year, it becomes apparently difficult when the JMB takes over with the developer contributing minimum charges. The JMB is an entirely new set up. Can they sustain without maintenance fee charges?" Chang questioned.
Chang also warned of numerous facilities being indicated by the developer for a project despite a lack of definition of the facilities. For instance, a gym or library may not be what the homebuyer imagines it to be when the development is completed.
"We think of a library as being stocked with books and magazines catalogued properly and managed by a librarian. Well, a library is an empty room — named and tagged 'Library'. Books may be stocked later. Similarly, you may think that a gym will be fully equipped with 'cardio packages' of treadmills, chest press, cable row machines for biceps and triceps like those in a fitness club but instead you may find the gym in a completed project has only two dumbbells. Does that constitute a gym?" asked Chang.
He also highlighted the definition of a gated-and-guarded community and stressed that strata titles must be issued simultaneously with the VP. He also added that a JMB or MC should not inherit debts and liabilities from developers. Potential property buyers of green buildings should also understand the true cost of maintaining them. Last but not least, he advised JMBs and MCs to always appoint a licensed property manager.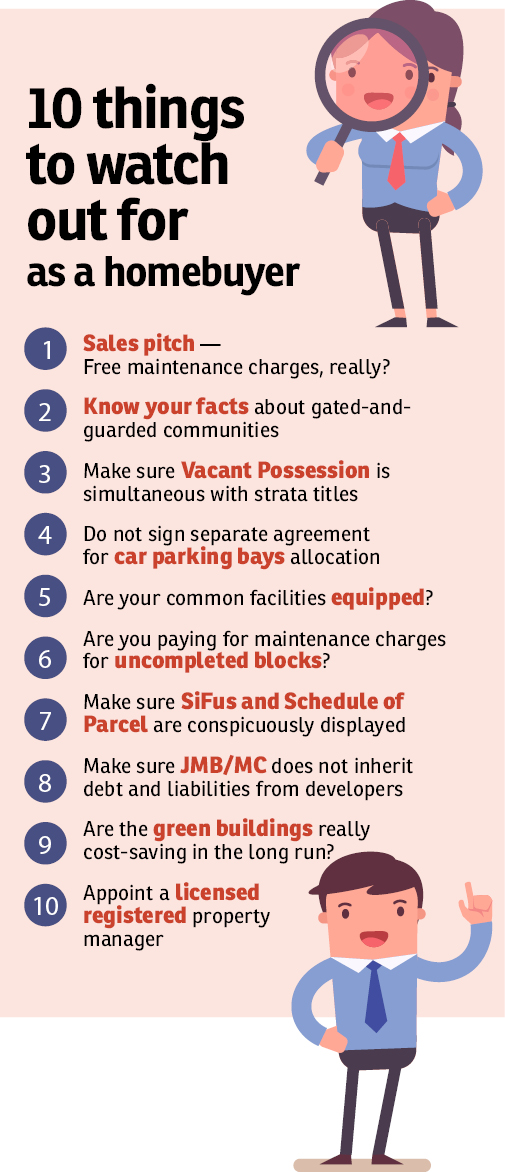 This story first appeared in the EdgeProp.my pullout on May 3, 2019. You can access back issues here.