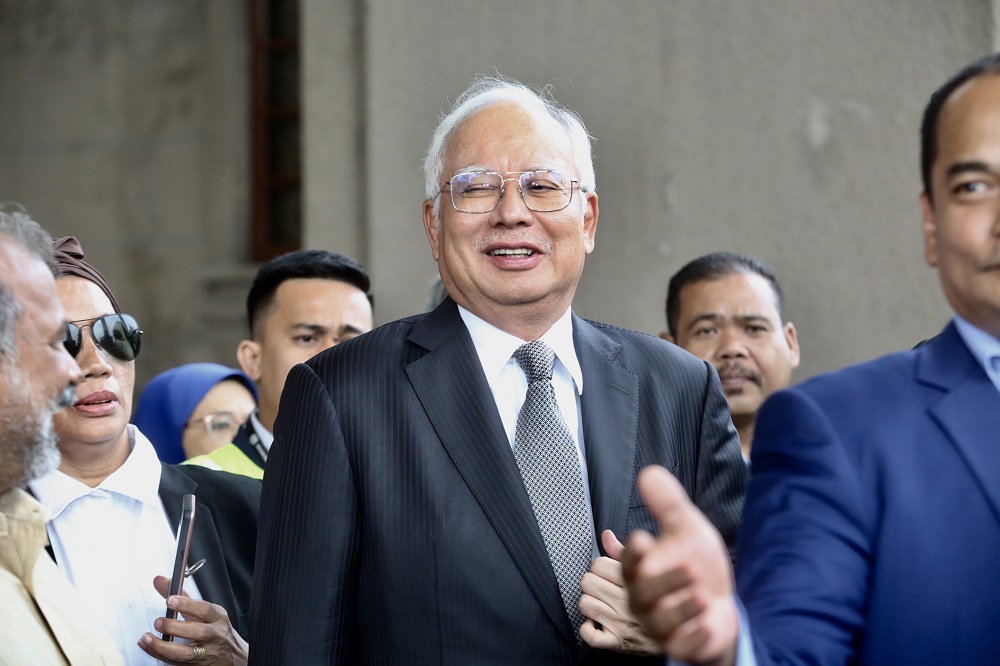 KUALA LUMPUR (May 15): A former senior account executive with Ihsan Perdana Sdn Bhd (IPSB) testified in the High Court that she was asked by the company's managing director Datuk Dr Shamsul Anwar Sulaiman to transfer three tranches of payments to two separate AmBank accounts on Dec 26, 2014 and Feb 10, 2015.
While the witness, Aishah Ghazali, mentioned that a total amount of RM42 million was transferred from IPSB to the two accounts, she did not name the owner of the accounts.
However, from testimonies of previous witnesses it is apparent that the accounts belonged to former premier Datuk Seri Najib Razak (pictured).
Aishah, 37, said she worked at IPSB from December 2011 to March 2015, and that the company, which was previously named Gem Horizon Sdn Bhd, was tasked with undertaking corporate social responsibility programmes.
Aishah, who is the 36th prosecution witness, told the court that between June 1, 2012 and July 29, 2015, the company's account at Affin Bank recorded deposits of RM40 million on Dec 24, 2014 and RM5 million each on Feb 5 and Feb 6, 2015.
When responding to questions from deputy public prosecutor Mohd Ashrof Adrin Kamaril, the witness said she was asked by Shamsul on Dec 26, 2014 to prepare a remittance form for the transfer of RM27 million from IPSB to an AmBank account with its number ending 880.
"The reason for the transfer is recorded as 'CSR (corporate social responsibility) programmes'. I recognised the remittance form as I prepared the document," the witness said.
"Another RM5 million was transferred from the IPSB account to an AmBank account with the number ending 906 and is recorded as CSR programmes. I took the prepared remittance form to get Shamsul's and the company's finance director Datuk Abdul Aziz Ismail's signatures and went to our bank at Affin Bank at the Curve branch in Mutiara Damansara to hand over the remittance form," she said.
On Feb 9, 2015, she was asked by Shamsul to prepare a remittance form for another transfer of IPSB funds to the amount of RM10 million to an AmBank account with its number ending 880 and noted that the "fund transfer is for CSR Programme".
"With the three remittance forms sent to Affin Bank, the bank verified that the transfers of the funds were completed on Dec 26, 2014 and Feb 10, 2015," Aishah said.
Based on previous testimonies, Najib owned these accounts.
Table: Amount credited into Najib's AmBank accounts from IPSB
| | | |
| --- | --- | --- |
| Date | Amount | Account no. |
| Dec 26, 2014 | RM27 million | 211-202-2011880 |
| Dec 26, 2014 | RM5 million | 211-202-2011906 |
| Feb 9, 2015 | RM10 million | 211-202-2011880 |
Aishah also replied to questions from Ashrof, saying that in those transactions, Shamsul would get information about the accounts they were depositing funds into from one Ung Su Ling, who she knows is a representative from Yayasan Rakyat 1Malaysia.
The witness said that on Dec 26, 2014 when Shamsul directed her to make the deposits, he showed her a printed copy of Ung's email and the transfer of funds was done based on the particulars given in the email.
Aishah verified the printed email that she saw and it was marked as evidence.
Najib is charged with three counts of money laundering, three counts of criminal breach of trust and one count of abuse of power involving RM42 million of SRC funds between Dec 26, 2014 and Feb 10, 2015.