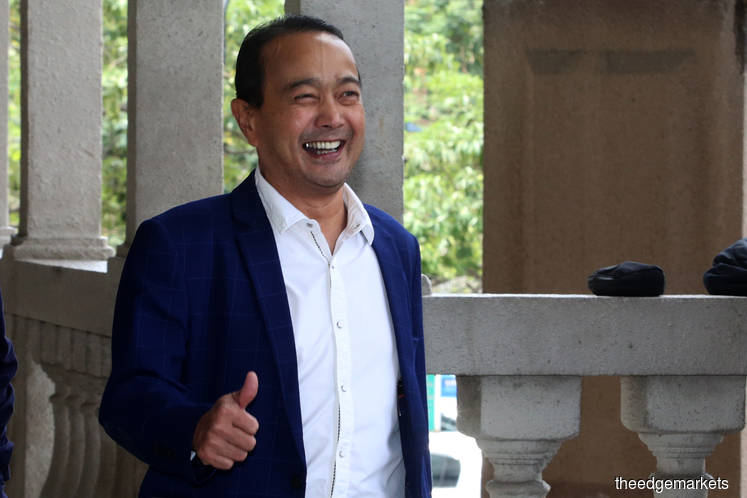 KUALA LUMPUR (May 28): Ihsan Perdana Sdn Bhd (IPSB) managing director Datuk Dr Shamsul Anwar Sulaiman (pictured) said he was only following orders when the company's Affin Bank account was used as a transit account to transfer money to a company known as Mail Global Resources.
During cross-examination by Datuk Seri Najib Razak's lawyer Harvinderjit Singh, Shamsul revealed that he had a discussion with Yayasan Rakyat 1Malaysia (YR1M) project director Dennis See after he was notified that YR1M would be "borrowing" IPSB's account to transfer funds.
"How did the transaction transpire? What led you and Datuk Aziz [IPSB finance director Datuk Abdul Aziz Ismail] to sign the cheque for Mail Global Resources? You must have had a rough idea what the money was for," asked the lawyer.
"I didn't know what the money was for and I didn't know that the money was coming into IPSB's account," responded the witness, adding that he was not informed of anything about Mail Global Resources.
"Did you escalate the matter?" asked Harvinderjit.
Shamsul said he did escalate the issue and had asked See why IPSB's account was being used to make a RM20 million transaction.
"I asked him, why us? We are only doing CSR (corporate social responsibility) projects so why use our account? He said he was just following orders and I followed his instruction," said the witness, clarifying that he has to follow the orders issued by See and former YR1M CEO Ung Su Ling, given that they were the funders for IPSB's CSR programmes.
He only found out that the money came from SRC International Sdn Bhd's accounts from the media, when the Wall Street Journal had published the 1Malaysia Development Bhd (1MDB) money trail documents.
Shamsul was then arrested by the Malaysian Anti-Corruption Commission (MACC) and was in remand for five days and four nights.
After he was released, he asked former SRC managing director Nik Faisal Ariff Kamil why he was not told of the source of the money.
While Nik Faisal confirmed that the money was indeed from SRC, Shamsul said he was not given any further explanation.