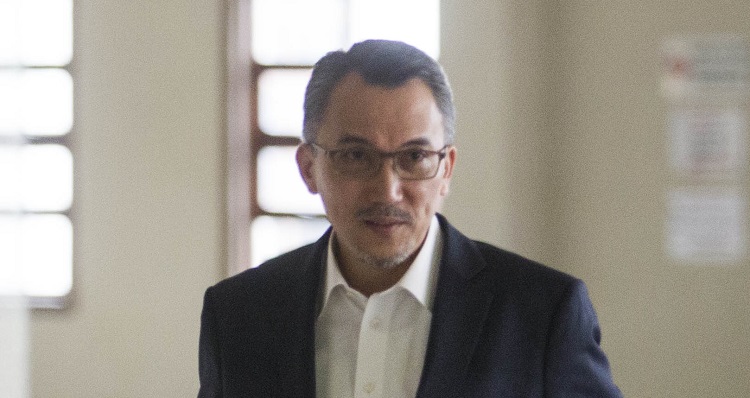 KUALA LUMPUR (June 14): The SRC International Sdn Bhd trial was cut short yesterday after the defence sought time to look into alleged contradictions in the company's former chairman Tan Sri Ismee Ismail's (pictured) oral evidence and written statement.
During cross-examination, defence counsel Harvinderjit Singh referred to Ismee's six-page witness statement to the Malaysian Anti-Corruption Commission (MACC).
In the statement, Ismee said SRC's board of directors will give their approval to any matter brought to them for discussion by the special purpose vehicle (SPV) chief executive officer Nik Faisal Ariff Kamil, who is responsible for the company's daily operations.
Ismee also said in the statement that the SRC board acted under the advice of [former prime minister Datuk Seri Najib Razak] as SRC's adviser emeritus.
However, Harvinderjit pointed out that this contradicts with Ismee's oral evidence in court that the SRC board had acted on the advice of a shareholder's resolution.
"In paragraph nine of your witness statement, there is no mention that the SRC board of directors will act upon the shareholder resolution," Harvinderjit said, to which Ismee agreed.
"The [then] prime minister was never the shareholder of SRC," the lawyer said, and again Ismee agreed.
"I put it to you that what you have in your witness statement does not cover what you have told the court, because there is no mention that the SRC board has to act upon its shareholder resolution," Harvinderjit told Ismee.
Ismee, however, disagreed with this, and said that he did mention to the MACC that the SRC board has to act according to the SPV shareholder resolution.
Harvinderjit then turned to lead defence counsel Tan Sri Muhammad Shafee Abdullah for further instructions.
"He disagreed," he told Muhammad Shafee, before making a request to Justice Mohd Nazlan Mohd Ghazali for a five-minute break.
Both prosecution and defence lawyers went into the chamber during the break, and the trial resumed with Muhammad Shafee filing an application for adjournment for the defence to study the witness' oral evidence transcript.
Appointed deputy public prosecutor Datuk V Sithambaram supported Shafee's request for an adjournment until today morning, before deciding on the next course of action.
Earlier yesterday, Harvinderjit was going through with Ismee on the SRC board's decisions during the witness' tenure as chairman.
The lawyer asked Ismee whether a shareholder resolution was required for these decisions, to which the witness said that in some cases, such as fund transfer to overseas, there was a need for SRC shareholders' approval. But for other matters, like administrative matters and treasury management, the shareholder resolution is not required.
This came after Ismee was asked about the decision-making process at the SRC board, when he stated that Najib was his "ultimate boss" in his tenure as the SPV's chairman.
"You have to understand how 1MDB (1Malaysia Development Bhd) works; I was also the CEO (chief executive officer) of Tabung Haji, so he (Najib) was my ultimate boss," he said.
Nevertheless, Ismee insisted that the fiduciary duty of the board back then was still the interest of the country and its citizens.
Ismee agreed with Harvinderjit that the SRC board needed to follow not only instructions from its shareholder 1MDB, and instructions from 1MDB's shareholder, MoF Inc.
However, Ismee said the SRC board could still make its own decision if an instruction from the shareholder was "not right".
"When we were instructed to transfer money to an account, we didn't see anything 'not right'. At that point in time, there is no reason to doubt these instructions," Ismee said.
Harvinderjit also cited SRC's Sept 13, 2011 board meeting minutes and its appendix, and a director's circular, and suggested there was no shareholders' involvement in approving RM1.8 billion of loan funds from KWAP to be transferred offshore.
However, Ismee said the fund transfer was done according to a shareholder resolution, but he could not recall where the resolution was.
Najib faces seven charges of abuse of position, criminal breach of trust and money laundering over RM42 million of SRC International's funds.
This article first appeared in The Edge Financial Daily, on June 14, 2019.