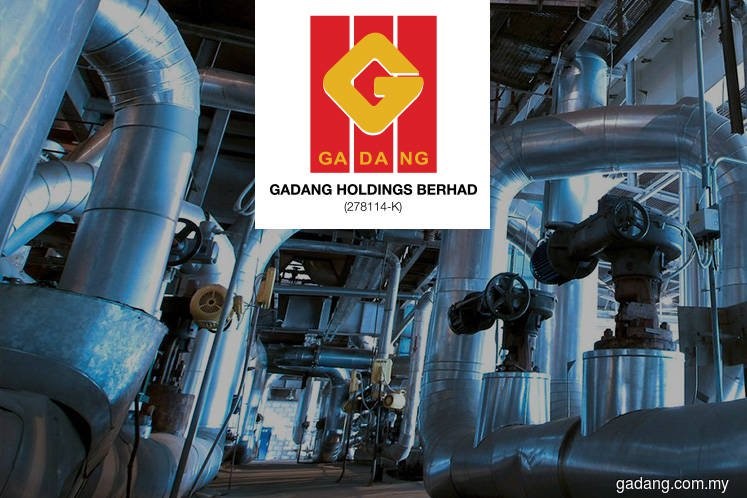 KUALA LUMPUR: Gadang Holdings Bhd is set to see some light at the end of the tunnel a year after Malaysians voted for a change in government, with the revival of some large infrastructure projects like the East Coast Rail Link (ECRL) and Bandar Malaysia.
"During the first one year since Pakatan Harapan took over the government, nothing was exciting as many things were put on hold," said Gadang executive director and chief financial officer Kok Pei Ling. "A lot of construction companies' contracts were put on hold or being reviewed by the new government, and a lot of cost-cutting measures were being implemented by the government."
"But moving forward, we will see some light at the end of the tunnel after the revival of ECRL and Bandar Malaysia. Hopefully, things will move a bit (better)," she told The Edge Financial Daily.
The revival of the projects have had a favourable impact on Gadang's share price, which rose to a one-year high of 94.5 sen on April 22, although it has since pulled back, closing at 87.5 sen last Friday, for a market capitalisation of RM636.91 million. Still, the counter has gained 22.45% from a year ago.
Pei Ling, who is the daughter of Gadang managing director and chief executive officer Tan Sri Kok Onn, said that besides the ECRL and Bandar Malaysia, the group is also interested in participating in the light rail transit 3 (LRT3) project.
She said the group is in the process of preparing and submitting pre-qualification documents after the government announced that 40% of the civil works portion of the RM44 billion ECRL project will be awarded to local contractors. She is expecting the government to call for official tender sometime in the second half of this year.
Last week, Malaysia Rail Link Sdn Bhd and China Communications Construction Company Ltd announced that more than 1,000 construction companies nationwide are eyeing the 40% civil works portion following a pre-qualification exercise to identify potential subcontractors.
Prior to this, Gadang had announced that its unit Gadang Engineering (M) Sdn Bhd had formed a consortium with Million Rich Development Sdn Bhd, a unit of DWL Resources Bhd (formerly known as Spring Gallery Bhd), to jointly tender for and undertake infrastructure projects such as ECRL.
As for Bandar Malaysia, she noted that many details have yet to finalised.
For LRT3, Pei Ling said the group is waiting for the official tenders call from the government, adding that re-assessment work for the project will be needed after changes in pricing and work scope. In July, the government had slashed the cost of the project by 47% from RM31.45 billion to RM16.6 billion.
"We had submitted a few tenders for LRT3, but that was before the change of government. With the new government taking over, we will look at that again [re-tendering for LRT3 work], but we have not gotten any official tenders yet," said Pei Ling, stressing that Gadang had previously been qualified to tender for the project.
As for now, she said the group is bidding for about RM500 million worth of projects, including the TRX project in Kuala Lumpur and an earthworks related job in Johor Bahru.
The construction division's order book now stands at RM1.5 billion, of which RM900 million is from the second mass rapid transit line (MRT2), followed by RM400 million worth of contracts for the TRX project, as well as projects in the Refinery and Petrochemical Integrated Development (Rapid) and construction work for a hospital in Cyberjaya.
Gadang's net profit for the nine months ended Feb 28, 2019 (9MFY19) fell 47.09% to RM13.3 million from RM25.14 million a year ago. Revenue rose 34.48% to RM205.33 million from RM412.29 million.
RHB Research Institute Sdn Bhd had upgraded Gadang to "buy" with a higher target price of 95 sen (from 89 sen), saying prospects have improved with the revival of public infrastructure projects, which constitute 100% of its current outstanding order book.
The research house has raised its FY20F-FY21F earnings by 5% as it assumed higher new order wins of RM500 million (from RM200 million), it said in a note last month.
It said Gadang is taking a more aggressive stance in bidding for new projects, raising fresh capital and enlisting a new partner to jointly bid for upcoming tenders.
On the property front, Gadang is planning new launches with a total gross development value (GDV) of RM400 million this year. The new launches consist of phase 2 of Maple 2 in Cyberjaya, phase 3 of The Vyne at Sungai Besi and phase 1 of Putra Perdana at Puchong.
Maple 2 is a guarded linked-house project, with the selling price starting from RM800,000 to RM1 million. Putra Perdana is a townhouse concept development with a selling price of between RM430,000 and RM500,000, while The Vyne is a condominium project with pricing between RM500,000 and RM800,000.
Ling Hock Hing, managing director at Gadang's property division, opined that the property market has bottomed at this junction due to the reduced supply in the market.
"The main hiccup now is still the end-financing because of the tight lending condition from the banking (sector)," he said.
The group's unbilled sales stands at about RM100 million, together with an undeveloped land with a remaining GDV of some RM5 billion.
This article first appeared in The Edge Financial Daily, on June 17, 2019.