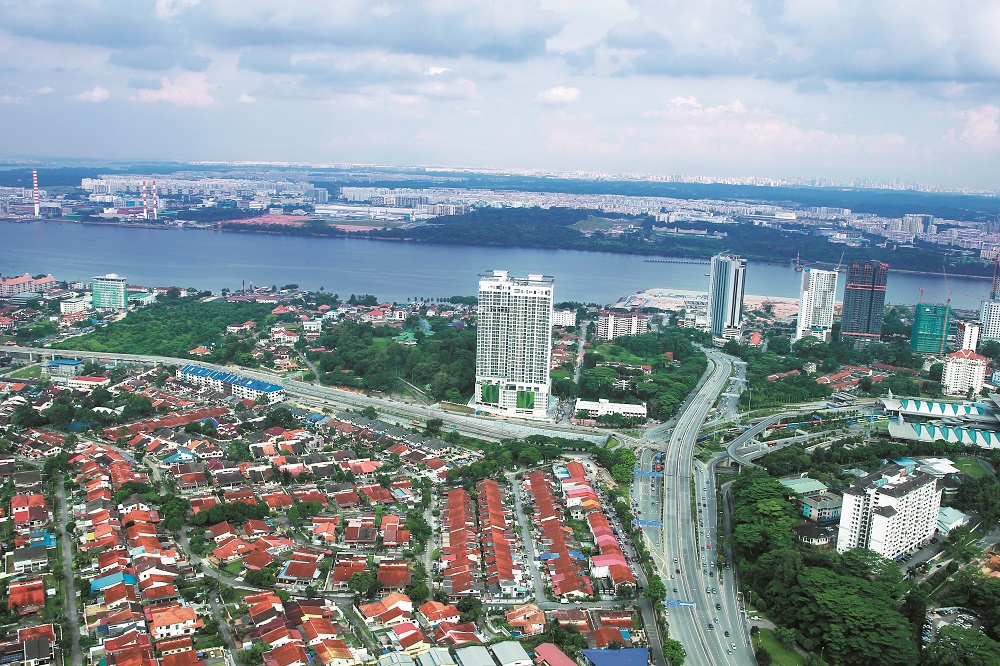 No news is good news, right? Well, that's the comment we get from Johor property consultants when asked about the current property market in the state. Despite their cautious stance, it is interesting to note that the southern state has seen property transactions there pick up last year (2018).
The 2018 Property Market Report released by the National Property Information Centre (Napic) revealed that Johor recorded 41,653 transactions worth RM19.33 billion in 2018, an increase of 7.8% in volume and 3.8% in value from the previous year.
The residential sub-sector constitutes 64.5% of the state's overall transactions with 26,885 homes worth RM8.77 billion, 8% more in volume and 1.5% more in value than the previous year.
The agriculture sub-sector was next with 20.7% market share, followed by the commercial sub-sector (8.4%), development land (4.3%) and industrial sub-sector (2.1%).
Rahim & Co (Johor) International Sdn Bhd director Loo Kung Hoe says although the market is not as active as it was during the boom in 2013, local Johoreans are still keen to own homes, hence some projects have attracted purchasers with some even seeing overnight queues.
"Landed homes remain the preferred choice for Johoreans. They will buy if the property meets their budget, is in a location of choice and comes with facilities or lifestyle features," he adds.
For instance, S P Setia Bhd's Elata Vita @ Setia Tropika launch in June 2017 saw buyers queuing up a day before the launch for the double-storey terraced houses which were selling from RM588,588. According to a news report, the 138-unit project was 90% taken up on the launch day itself.
In February, 2018, Serimbun, a landed residential development by UEM Sunrise Bhd in Iskandar Puteri was launched and 74% of its units were taken up within a month.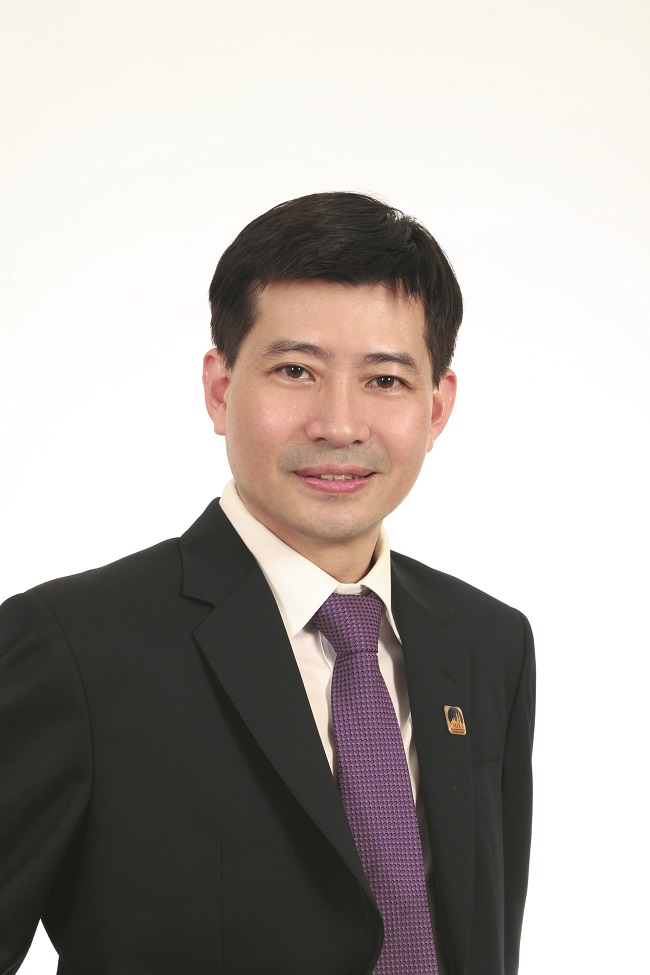 Serimbun features 215 units of double-storey terraced homes with built-ups ranging between 1,993 sq ft and 2,117 sq ft with prices from RM630,000. The project had received 1,500 registrations of interest before the launch.
Early this year, UEM Sunrise unveiled Aspira Park Homes in Gelang Patah with built-ups ranging between 1,931 and 2,012 sq ft. According to news reports, the 162-unit, double-storey freehold terraced houses were priced from RM599,000 and they have been 80% taken up so far.
Growth supported by Johoreans
Oregeon Property Consultancy director Kok Chin Yee concurs that the Johor property market is being supported by local buyers for their own occupancy.
Meanwhile, property investors are shying away from the high-end segment, he observes, noting that high-rise residential prices are fluctuating in an unpredictable trend in terms of asking prices and market value.
"Some developers who need cash will bring down the average selling price of their high-rise homes. For example, a high-rise residential development in Johor Bahru which was selling at RM650 psf a few years back is now offering the units there at a big discount of around RM300 psf for cash buyers," he says.
KGV International Property Consultants Sdn Bhd executive director Samuel Tan says buying sentiment has remained sluggish, with a majority of developers trying to clear existing stocks. There were only a few exciting launches in 2018, he laments.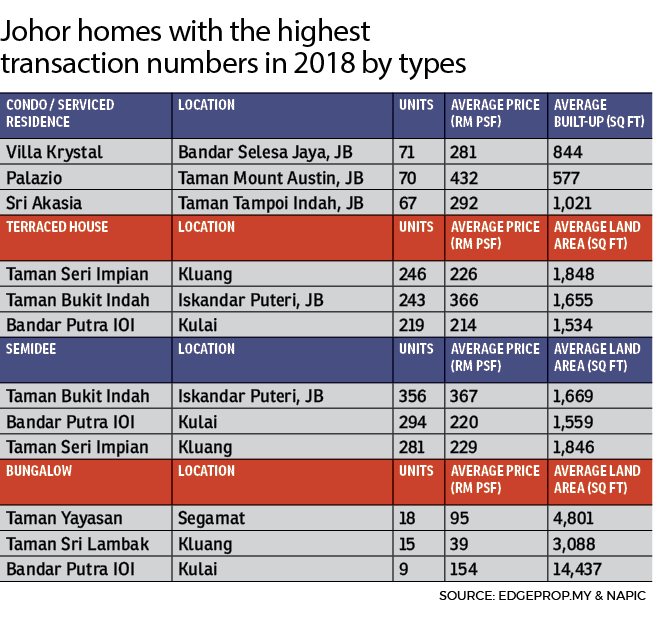 Nevertheless, on the secondary market, there were more transactions last year compared with the previous year comprising mainly landed houses. Most buyers were Johoreans or Malaysians working in Singapore, he says.
"The good news is we didn't see significant increase of new auction cases or fire sales. This means that the owners still have strong holding power," adds Tan.
Terraced houses: the best sellers
According to Napic's data, terraced houses dominated sales, making up 50.7% of total residential transactions in the state last year (6,048 single-storey terraced houses and 7,596 double-storey terraced houses).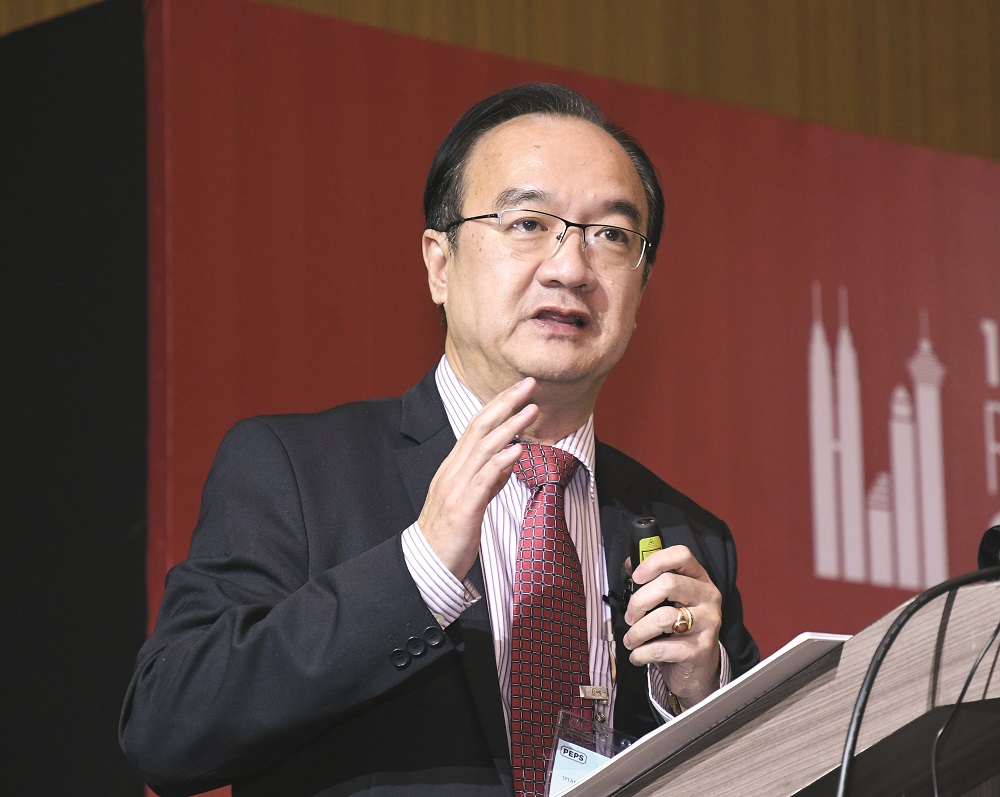 In terms of new launches, two- to three-storey terraced houses formed the bulk, accounting for 63% or 5,859 units in total.
The performance of the primary market was promising as the numbers of newly launched homes increased to 9,294 units in 2018 compared with 7,926 units in 2017. Sales achieved were also encouraging at 45.5% compared with 44.2% in 2017.
However, the residential overhang continues to increase. Last year, there were 6,066 completed but unsold units worth RM4.61 billion, an increase of 38.6% in volume and 61.2% in value from 2017.
Affordability is the issue, says Oregeon Property's Kok. "Most local buyers are looking for properties priced between RM250,000 and RM450,000 so, areas like Skudai, Plentong, Masai and Taman Johor Jaya with offerings in this price range did well last year," he says.
New tourist attractions needed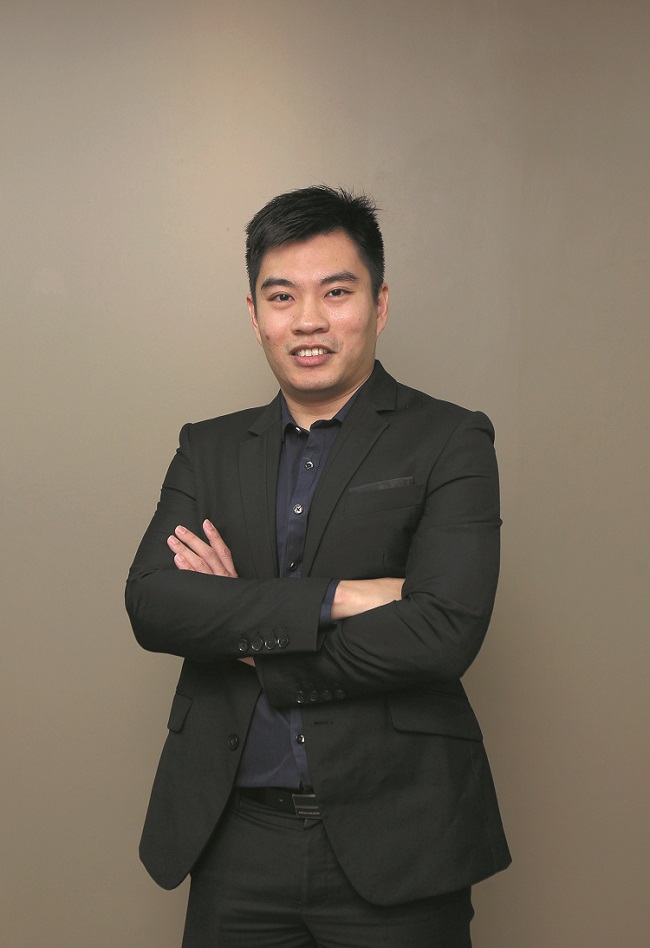 The cancellation of the Kuala Lumpur-Singapore High Speed Rail (HSR) and the deferment of the Rapid Transit System (RTS) Link to September this year have dampened investor interest in properties in Johor, the real estate consultants say.
In terms of tourism activities, Tan of KGV International opines that besides Desaru Coast, existing theme parks such as Legoland in Iskandar Puteri and Sanrio Hello Kitty Town in Nusajaya are losing momentum, hence the state needs new attractions or activities to draw tourists.
With the market in limbo, lacking fresh catalysts, some property developers are taking the opportunity to expand their landbank for future development, says Tan.
Areas that developers are looking at include Tebrau, Plentong, Iskandar Puteri and Pengerang where there are high demand for landed houses and commercial units.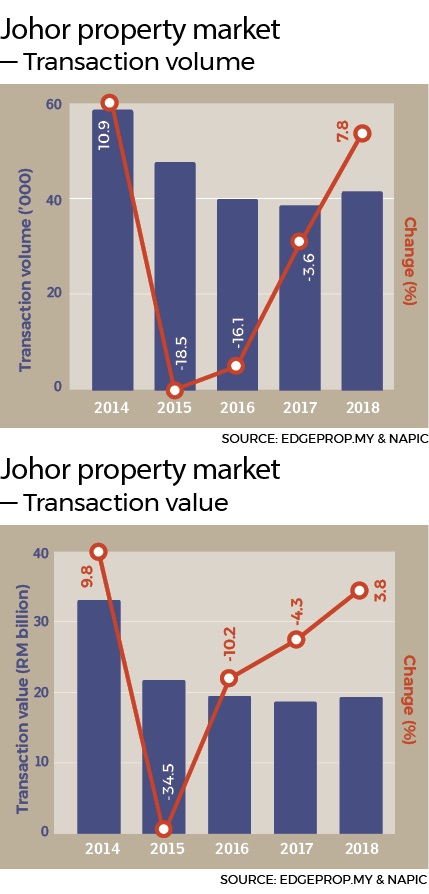 The top five most popular areas in Johor for homebuyers
Johor Bahru
According to EdgeProp.my data, Johor Bahru (JB) recorded the most number of property transactions in Johor for 2018.
JB, the capital of the southern state, tops the list with 3,740 transactions of which over 60% (or 2,250 units) of the transactions were terraced houses while 20% or 760 units were condominiums.
Administered by the Johor Bahru City Council, JB covers the well-developed central district (areas close to the Johor-Singapore Causeway), Kangkar Tebrau, Kempas, Larkin, Majidee, Maju Jaya, Mount Austin, Pandan, Pelangi, Pasir Pelangi, Permas Jaya, Rinting, Tampoi, Tasek Utara and Tebrau.
Notably, the largest IKEA furniture store in Southeast Asia is located in Tebrau.
Kok from Oregeon Property says JB, which includes Pulai and Tebrau, offers variety in terms of prop-erty types, from low-cost to high-end and from landed to high-rise.
"Areas near to the CIQ will remain active due to demand from locals who intend to work in the neighbouring country.
"Areas such as Setia Indah, Setia Tropika, Horizon Hills, Bukit Indah, Mount Austin and Seri Austin have great potential and normally top the list for those who can afford a better living environment," he opines.
EdgeProp.my transaction data showed that the average transaction price of terraced houses in JB in 2018 was around RM470,904 or RM295 psf, based on land area.
Transaction price for condominiums averaged at RM349,114 or RM368 psf in 2018, based on built-up size.
Meanwhile, Tan from KGV International says the opening of the R&F Mall in Tanjung Puteri, Johor Bahru, and upcoming new housing developments in JB have limited impact on property buying inter-est as individual affordability remains an issue.
Upcoming launches in JB include Central Park @ Tampoi, Brio Residences @ Paradigm Mall JB and Twin Tower Residence in Bukit Chagar.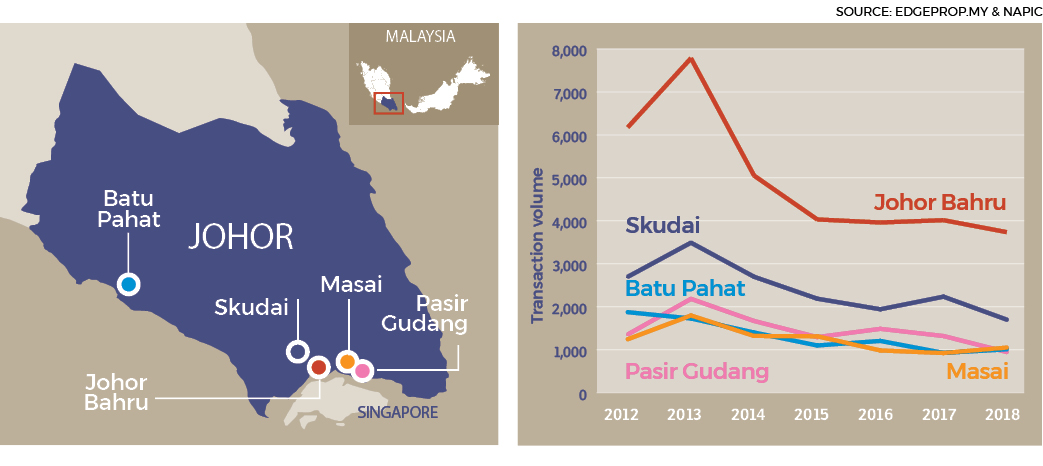 Skudai
Skudai, which lies southwest of JB has recorded 1,703 transactions. Terraced houses made up 70.5% (1,201 of total units) while 13% were high-rise homes (232 units).
Part of the new growth corridor of southwest Johor, Skudai is also home to Universiti Teknologi Ma-laysia (UTM).
Tan from KGV International says Skudai is popular among middle-income homebuyers and its growing population has led to a vibrant property market there.
Unlike JB city centre where land is scarce, Skudai, which is 15km away from JB still has parcels of land in Mukim Pulai that could provide new residential developments.
Local buyers, says Tan, like Skudai for its proximity to the Johor-Singapore Causeway (20km) and the Malaysia-Singapore Second Link (12km).
Meanwhile, Kok notes that Skudai offers landed houses, especially terraced houses at affordable prices. Terraced homes in Skudai were sold at an average price of RM416,547 or RM266 psf while condominium units averaged RM302,764 per unit or RM303 psf according to EdgeProp.my data.
Demand, Kok adds, is also supported by the education element there such as UTM and Southern Uni-versity College.
Masai
Masai is one of the oldest towns in Johor. Lying east of JB, it saw 1,051 transactions last year. of which 43% were terraced houses (451 units) and 17% or 178 transactions were condominium units.
Kok says Masai has seen a rising number of new developments especially in Kota Masai, Taman Meg-ah Ria and Taman Scientex where affordably-priced homes attract homebuyers from the surrounding areas as well.
According to EdgeProp.my data, terraced houses in Masai were sold at an average price of RM345,004 per unit or RM223 psf based on land area size in 2018. In comparison over in Setia Tropika, which is 25km away, prices of the terraced houses there are at an average of RM594,461 or RM363 psf.
Batu Pahat
Batu Pahat district with 1,010 transactions last year is located 125km away from JB city centre. Border-ing Segamat to the north, Kluang to the east and Muar to the west, Batu Pahat was upgraded to town status in 2001. It is known for its small and medium industries such as textile, clothes and electronics.
According to Kok, growing business activities and population in Batu Pahat are boosting the demand and property prices in this town. Some properties, he notes, are even selling at prices as high as those in JB.
For instance, the average transaction price of terraced houses in Batu Pahat is around RM331,069 or RM206 psf in 2018, higher than the price of similar houses in its immediate neighbour Kluang (average selling price of RM287,099 or RM175 psf).
Pasir Gudang
With 949 transactions last year, Pasir Gudang made it to the top five most popular areas for home-buyers in 2018. Located 25km from JB, the industrial town in Mukim Plentong and the immediate neighbour to Masai, is home to two major seaports — Tanjung Langsat Port and Johor Port for ship-ping of commodities and mineral resources.
Despite the recent incidents of river pollution, Kok says Pasir Gudang is still one of the most pre-ferred areas for homebuyers who work or has businesses in the area.
Pasir Gudang has seen 835 units of terraced houses change hands in 2018, with an average price of RM282,384 or RM234 psf.
Meanwhile, there were 10 high-rise homes sold at an average transaction price of RM119,300 or RM109 psf in 2018.
This story first appeared in the EdgeProp.my pullout on June 21, 2019. You can access back issues here.