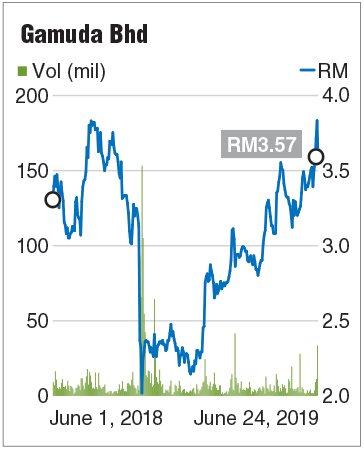 KUALA LUMPUR (June 25): Gamuda Bhd's share price slid 26 sen or 6.8% yesterday to RM3.57 — the biggest drop since last September — despite analysts' forecasts that the construction giant would declare a special dividend after selling its toll concession business.
It is said that Gamuda had hinted to some fund managers and analysts during an investors briefing yesterday that a special dividend is in the pipeline, though it had yet to decide on the amount. Gamuda's cash coffers will be expanded substantially after selling its concession assets.
To recap, the Minister of Finance Inc (MoF Inc) has offered to buy four toll concessionaires in which Gamuda holds equity stakes, for RM4.5 billion in cash after deducting the borrowings that the government will be taking over.
Based on its effective interest in these tolled highways, Gamuda expects its share of the sale proceeds to be at RM2.36 billion, equivalent to 96 sen per share.
"We estimate the group's gearing ratio will reduce to 0.4 times [from 0.54 times in the first quarter of financial year 2019 (1QFY19)] from SPLASH's (Syarikat Pengeluar Air Sungai Selangor Sdn Bhd) disposal proceeds, before falling further to 0.2 times from sale of these four highways.
"As such, we do not rule out the likelihood of a special dividend to shareholders, on top of an annual dividend payout of 12 sen per share," said PublicInvest Research in a note yesterday.
Affin Hwang Investment Bank similarly wrote in a research note that it has gotten wind that Gamuda intends to use the cash proceeds of RM2.36 billion or 96 sen per share to pay a "meaningful special dividend" and reinvest the remaining sum in potential new projects, for instance the Penang Transport Master Plan.
If Gamuda declares a special dividend of 50 sen per share, investors, who bought the stock at yesterday's closing of RM3.57, would enjoy a dividend yield of 14%. This is on top of the regular 12 sen dividend per share that analysts are expecting the group to declare as well.
However, the market seems to be paying more attention to Gamuda's earnings prospects without the toll concession business. Already, the government has taken over SPLASH, in which the group held a 40% equity stake.
"We cut our FY20 [ending July 31, 2020] and FY21 net profit forecasts by 20% and 34% respectively, as we expect contributions from the tolled road assets to halve in FY20 and completely removed in FY21, partially mitigated by interest savings from the disposal's proceeds.
"Realistically, it will take some time for Gamuda to identify new businesses to fill the vacuum," AmResearch analyst Joshua Ng commented in his research note yesterday.
Ng maintained an "underweight" call on Gamuda, citing construction stocks' valuations, including Gamuda's, have run ahead of their fundamentals amid this euphoria.
He pegged the fair value of Gamuda at RM2.64. "Our valuation basis for Gamuda's construction business [within the sum-of-parts valuation] remains unchanged at 10 times forward earnings, in line with our benchmark forward target P/E (price-earnings) of 10 times for large-cap construction stocks," Ng wrote.