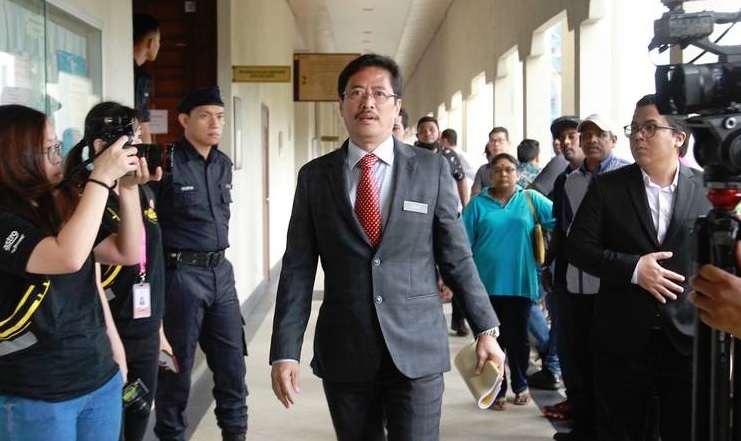 KUALA LUMPUR (June 26): The Malaysian Anti-Corruption Commission (MACC) has investigated purported bank transfers and accounts related to viral sex videos and found that they do not exist, said its deputy chief commissioner Datuk Seri Azam Baki.
The investigations follow a report lodged by Umno supreme council member Datuk Lokman Noor Adam earlier this month over the alleged cash transfer of US$741,440 by UEM Group Bhd into a Malayan Banking Bhd (Maybank) account that bore the name of Economic Affairs Minister Datuk Seri Mohamed Azmin Ali.
"This is reflected by the denial in United Engineers Malaysia [UEM] and Maybank press statement on the matter. There is also an allegation of another account in existence in 2017 but our investigations showed that the account does not exist.
"Despite this, we will continue our investigations and called the various individuals. I cannot disclose on whom we are going to call," he said.
It was previously reported that Azam would be leading the MACC's investigations regarding the sex video tape as its chief commissioner Latheefa Koya, who was previously a PKR member, declined to be involved.
Mohamed Azmin is currently the deputy president of PKR.
Meanwhile, regarding the forfeiture action that MACC filed, Azam agreed it may not be limited to the 41 individuals and entities that had been named so far.
"I will update this later. There are more involved," he said.
Azam added that after the forfeiture action was filed, there are parties involved wanting to return the money through their lawyers.
"I cannot disclose this and would update on this matter later," he added.
Last Friday, Latheefa announced that the commission had filed the forfeiture action involving RM270 million allegedly originating from 1Malaysia Development Bhd that was paid to 41 entities from former premier Datuk Seri Najib Razak's AmBank account.
Yesterday, the first seven of them were called by the High Court, where Justice Mohamed Zaini Mazlan fixed Aug 25 to gazette the notice for the forfeiture and for the parties involved to indicate whether they will object to the seizure.