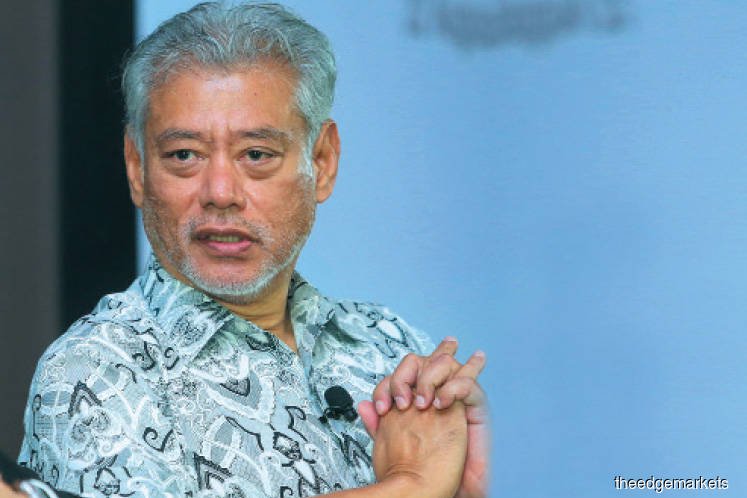 KUALA LUMPUR: Rising investments from China can bring immense economic potential to Malaysia, but there needs to be a higher level of transparency and accountability in such state-business relations to prevent power abuse, according to economists.
In light of recent abuses of power by the state involving a number of mega infrastructure projects, state-business relations have been observed to move from the role of the state as a "helping hand" to bring in domestic investments, to a "grabbing hand" observed that has distorted the process, observed Professor Dr Edmund Terence Gomez from Universiti Malaya's Faculty of Economic and Administration.
"The state can be a progressive institution that can bring about [a] 'helping hand' to nurture domestic investments and foster the transfer of technologies.
"[But] it will become a patronage issue, a 'grabbing hand' issue as I call it, if there is no transparency and accountability mechanism for the selection process. That is the key problem. If they (the government) don't bring about reforms, then I worry that we are going to see more of the same of the previous administration," he said in a presentation at the Development and Transformation in Southeast Asia forum here last week.
Gomez pointed out that much of the renegotiations of Chinese projects in Malaysia, such as the East Coast Rail Link, Kuantan Port expansion, and the Tun Razak Exchange which he said had "red flags", were undertaken only by a select group of people and have not been made public.
"I think the process of negotiations should be made clear in the public domain. How they came to the terms with these agreements should also be made clear [to the public]," he said.
Gomez went on to say that state-business relations are not a new mechanism in spurring the economy through domestic investments. In fact, he said that mechanisms such as the vendor development programme and industrial linkage programme, introduced by Prime Minister Tun Dr Mahathir Mohamad in his term during the 1980s to 1990s, have proven to be successful.
He said the programmes could be implemented again, but done in a transparent manner.
"If we can get the state in order, stop all this political fragmentation and focus on public policies and look at where reforms are required, we can do great things with this structure; it's not all bad," he said.
In this respect, Gomez said Malaysia already has the right framework, but it has to be complemented with the right policy direction in terms of industrialisation and technological development processes.
"We have a framework which we can build on, and we can bring SMEs (small and medium enterprises) into it, not crowd them out, but really nurture them," he said, adding that selective patronage is still a concern in Malaysia's state-business relations.
Khazanah Research Institute senior research adviser Professor Dr Jomo Kwame Sundaram also pointed to the tremendous potential of the economic relationship between Malaysia and China, but stressed it should be engaged carefully.
"There has been a significant expansion of Chinese investments under the leadership of the last prime minister whereby some of the investments are very problematic in nature. But that should not obscure us to the tremendous potential of that [economic] relationship," said Jomo, who was a member of the Council of Eminent Persons.
"Therefore we must take a much more discriminating view about China investments and not tar everything with the same brush," he said in his presentation at the conference.
Amid the trade war between the US and China, Jomo said there are opportunities that have emerged for Malaysia, partly as a result of Chinese products suffering from exclusion. For instance, with the collaboration with Geely, he suggested that Malaysia could follow Thailand's footsteps and become a car manufacturing hub.
"Geely is already manufacturing in Europe and there is no reason why a similar type of arrangement cannot be made to transform part of Malaysia into a Rayong (a city in Thailand). Rayong is now called the Detroit in the East, manufacturing millions of cars every year for export.
"So there is tremendous potential and huge opportunities, in my view, which we should begin to explore," he added.
Speaking to reporters on the sidelines of the conference, Gomez also addressed the concern of "debt trap diplomacy" that comes with Chinese investments in Malaysia. On this, he was optimistic that Dr Mahathir is well aware of the debt issues and is dealing with them to the best of his capabilities.
"I think [Dr] Mahathir has been very clear about debt problems and after seeing what has happened (accepting Chinese investments) in other parts of the world including in South Asia, he will be very careful on that score," Gomez said.
"I do think that [Dr] Mahathir will renegotiate, and he has always shown that he is going to renegotiate some of these projects that [former prime minister Datuk Seri] Najib [Razak] introduced, especially the more controversial ones."
This article first appeared in The Edge Financial Daily, on July 15, 2019.