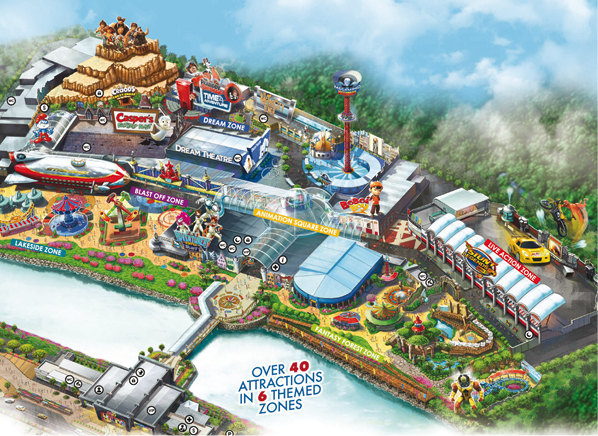 KUALA LUMPUR (July 20): Perak Corp Bhd is "mulling" a plan to dispose of its 51% stake in Animation Theme Sdn Bhd (ATP), The Edge Malaysia reported in its latest issue.
ATP is the operator of the ailing Movie Animation Park Studios (MAPS) located in Ipoh, Perak.
According to a source that spoke to the weekly, Perak Corp "is talking to the state arm PKNP [Perbadanan Kemajuan Negeri Perak] to take over the theme park. It seems the Perak government intends to rescue them [Perak Corp]".
"MAPS is up for sale. At the same time, we are also open to a partnership with any potential investor. It really depends on the offer," another source with a state agency told the business publication.
Meanwhile, a minority shareholder said that the "management of Perak Corp had mentioned this [the possible sale of ATP to PKNP] briefly to its shareholders at the annual general meeting last month. But no price tag was mentioned".
MAPS was opened to the public back on June 26, 2017 but it has not attracted the number of visitors forecasted.
It was reported that MAPS would host The Dream Zone (with DreamWorks Animation LLC attractions such as Smurfs, Mr Peabody and Sherman, and Casper the Friendly Ghost) but they "ultimately never materialised as the agreement lapsed in August last year".
The new administrations that came in after May 9, 2018 in both Perak and Putrajaya also resulted in revelations of losses at MAPS.
"MAPS has indeed turned into an expensive white pachyderm, resulting in ATP bleeding to the tune of RM364.72 million in 2017 as losses swelled from RM20.14 million in 2016. As at Dec 31, 2017, its accumulated losses stood at RM422.53 million, while its net liabilities amounted to RM380.14 million," wrote The Edge.
"Perak Corp is trying to sell MAPS. But there are no potential buyers so far. For RM650 million, you can build four theme parks of that size. Why buy it?"
"The transfer of ownership will not solve the problem overnight. But at the very least, it could immediately stop the bleeding of the listed company — Perak Corp," a senior executive of a local theme park explained to the business weekly.
It was also reported that the "initial building cost" of MAPS was supposed to be RM390 million but it later went up to RM607 million.