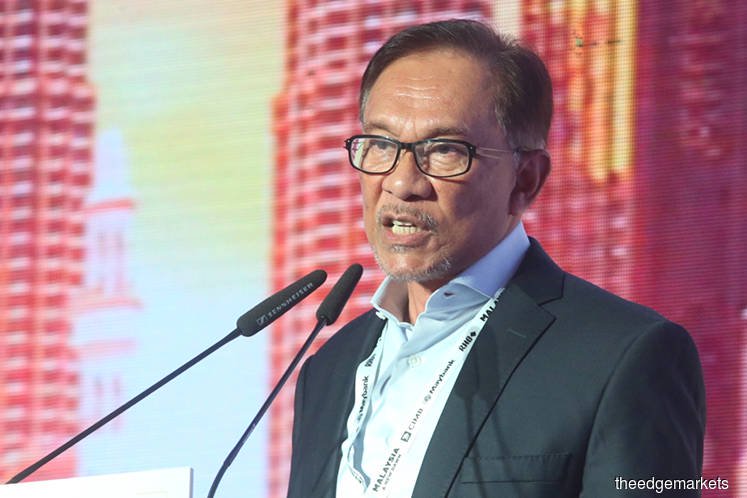 KUALA LUMPUR (July 26): Pakatan Harapan intends to come up with an economic policy that does not govern the country base on ethnicity, PKR president Datuk Seri Anwar Ibrahim said.
In a press conference today, Anwar said however, affirmative action will remain to elevate the poor and reduce inequality.
"That is the position of Pakatan Harapan and Prime Minister Tun Dr Mahathir Mohamad now, so what I need to do is to accelerate the process. But I am equally, if not more committed, in terms of reducing inequality and alleviating poverty, so it is not something that is Anwar's programme, but it is Pakatan Harapan's, which started under Dr Mahathir," he told reporters here today.
Nonetheless, Anwar gave the assurance that the new policy will protect the constitutional rights of Bumiputeras.
"I am not here to question what has been enshrined in the Constitution, including privileges and quota," he said.
Anwar also said the race-based approach adopted in the New Economic Policy (NEP) is 'obsolete'.
"We should dismantle the obsolete NEP, but it must be done with a firm commitment on affirmative action base on need, which should involve the government and private sectors. It is our understanding that after 61 years of independence, we need to create this awareness that Malaysians, regardless of race, should be seen as one community with equal rights and privileges.
"If we want to abolish quota system, we have to give assurance that kids in the rural area, who cannot compete in the urban area, must be given opportunity. In my view, even if it is a Malaysian Chinese kid, we need to help, it is as simple as that," he said.