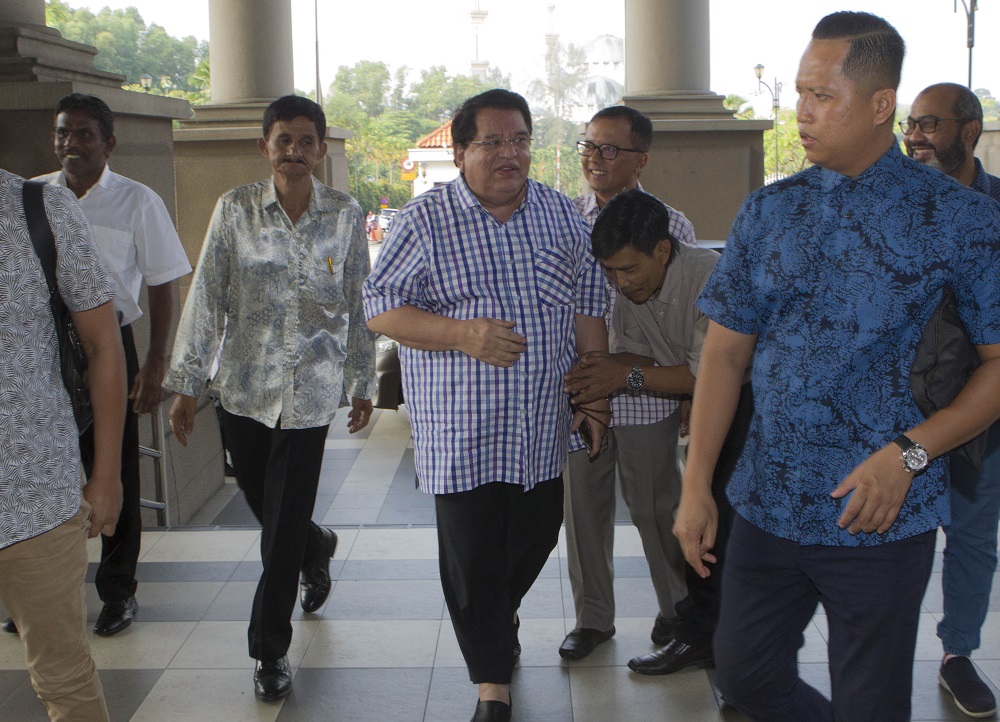 KUALA LUMPUR (Aug 2): Datuk Seri Tengku Adnan Tengku Mansor's RM2 million political donation trial concluded today with High Court judge Mohamed Zaini Mazlan reserving judgment as the defence requested the prosecution to provide a list of witnesses interviewed by the Malaysian Anti-Corruption Commission (MACC) in its investigation.
Justice Mohamed Zaini set Sept 3 for the prosecution and defence to file their written submissions, with the reply submissions due Sept 18.
Both parties shall be present in court on Oct 4 and 11 for oral submissions and further clarification, said the judge.
During cross-examination by Tengku Adnan's lawyer Datuk Tan Hock Chuan, MACC enforcement officer Muhamad Saad Bordani was asked about the initiation of the commission's investigations into the alleged RM2 million political donation to Umno.
Muhamad Saad told the court that the MACC acted after receiving a complaint form from MACC officer Mohd Shukri Abdullah.
The witness said Mohd Shukri filed the complaint based on information received from the head of MACC's investigation unit Sumathi Padavadah, who in turn acted based on "information from another investigation paper".
Responding to Tan's questions, Muhamad Saad said the MACC did not follow up for documents after recording Chai's statement on the RM2 million political donation.
"The investigating team knew that the RM2 million donation was for a by-election. Do you agree that you should have followed up and obtained receipts to confirm the statement?" asked Tan.
"I agree," said Muhamad Saad.
"But there was no follow-up for documents or receipts during the investigation," said the lawyer, pointing out that the receipt book from Umno which was presented in court was only retrieved recently.
"That is correct," said the witness.
However, when asked if the investigating team was satisfied with their probe despite not getting the documents, Muhamad Saad agreed that the team was satisfied.
During re-examination by deputy public prosecutor Haderiah Siri, the witness said the receipts were not relevant as the MACC found in its investigations that Umno did not have any dealings with or send any documents to Aset Kayamas.
According to Muhamad Saad, this followed Chai's statement that the RM2 million was for political donation and after the MACC's raid on Umno's headquarters to retrieve documents and oral statements from Umno officers.
"Due to that, I thought the investigation was sufficient as there were no receipts or payment vouchers. There were no dealings between the two so we did not follow up on that," the witness said.
Muhamad Saad said that once the MACC obtained Chai's statement, the commission proceeded to retrieve documents but noted the absence of the RM2 million transaction in Umno's accounts.
According to him, the payment voucher for the RM2 million mentioned Tadmansori, so the MACC headed to Tadmansori's office. He said the company confirmed that the RM2 million had entered its account.
"We checked and there was no RM2 million transaction between Tadmansori's account and Umno's account. So why should Umno issue a receipt to Tadmansori when there was no transfer of money to Umno?" said Muhamad Saad.
Tengku Adnan, who is also known as Ku Nan, is charged in his capacity as Federal Territories Minister in 2016 to have accepted for himself RM2 million from Aset Kayamas Sdn Bhd managing director Tan Sri Chai Kin Kong via a Hong Leong Islamic Bank cheque belonging to Aset Kayamas.
The cheque was deposited into the CIMB Bank account of Tadmansori Holdings Sdn Bhd, in which Tengku Adnan had an interest, when it was known that Aset Kayamas had connection with his official duties. The offence was allegedly committed at CIMB Bank's Pusat Bandar Damansara Branch here on June 14, 2016.
The charge was framed under Section 165 of the Penal Code, which provides for a jail term of up to two years or fine or both, on conviction.