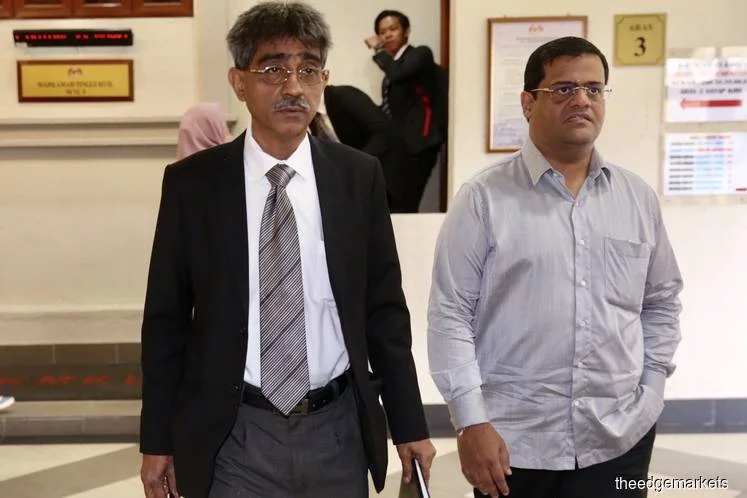 KUALA LUMPUR (Aug 5): Former prime minister Datuk Seri Najib Razak, his wife, his brother and two others have applied to strike out the RM52.6 million civil suit filed against them by businessman Deepak Jaikishan claiming conspiracy and fraud.
Four applications were filed separately by Najib and Datin Seri Rosmah Mansor, Datuk Johari Razak, Umno Baling MP Datuk Seri Abdul Azeez Abdul Rahim and former Bank Rakyat chairman Tan Sri Shukry Mohd Salleh, said lawyer Mohd Haniff Khatri Abdulla.
Mohd Haniff, who represented the plaintiff, told reporters after the court session today that the High Court has listened to arguments from both the plaintiff and the respondents.
Among the points of contention by the respondents include that the details of the claims were incomplete, unclear and cannot be proven, he explained.
"We have given our reply on the matter, and we requested the court to review the entire [civil] action. Because cases like this [conspiracy and fraud] cannot be judged by just the excerpts, and it needs to be reviewed from the beginning to the end," he said.
High Court justice Datuk Azimah Omar has set Oct 23 for the decision on the strike-out applications, he added.
Najib and Rosmah were represented by lawyer David Matthews. Johari was represented by lawyer Dinesh Baskaran, Azeez by lawyer Prem Kumar while lawyer Jagjit Kaur acted for Shukry.
Deepak, his brother Rajesh Jaikishan and his company Radiant Splendour Sdn Bhd filed the civil suit in September last year seeking general damages on grounds that the defendants had directly and indirectly conspired to damage his business.
The plaintiffs said on July 24, 2008, they were forced to take up a Bank Rakyat loan worth RM198.9 million as a proxy on behalf of Najib and Rosmah, with their master title for 80 condominium units named 'Palazzio Tower B' as collateral to ensure due repayment.
On April 19, 2013, the plaintiffs said they entered into a settlement agreement with the bank under the instructions of Najib, Rosmah and Shukry following failure to service the debt.
The default resulted in Johari and his firm being appointed to sell the condo units at a loss in 2014.
Subsequently on June 30, 2016, another agreement was entered between the bank and the plaintiff, following a proposal by Najib and Rosmah, which was conveyed by Azeez in Shukry's office then.
The agreement entailed a RM22 million payment to the plaintiffs, among others. However, the payment was allegedly held back after Deepak testified in a court case in relation with slain Mongolian Altantuya Shaariibuu.
The plaintiffs are seeking RM52.6 million in damages, excluding other reliefs deemed suitable by the court.