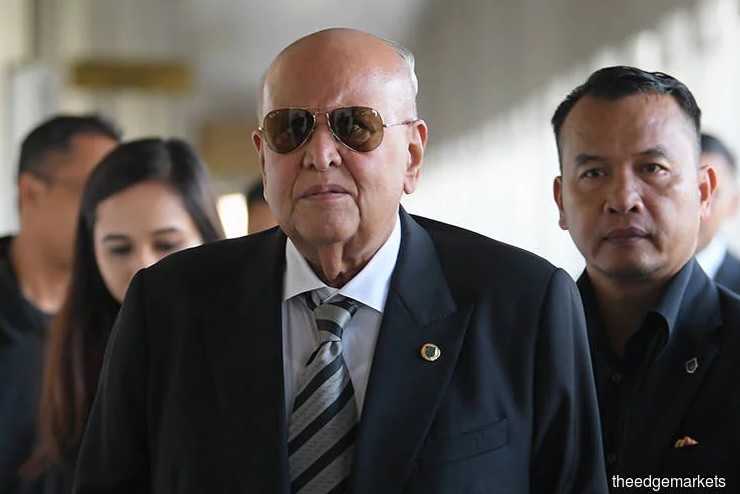 PUTRAJAYA (Aug 7): Former federal court judge Datuk Seri Gopal Sri Ram (pictured) will continue to lead the prosecution as senior deputy public prosecutor (DPP) in ex-prime minister Datuk Seri Najib Razak's trial on the alleged laundering of RM2.28 billion worth of 1Malaysia Development Bhd (1MDB) money from Tanore Finance Corp.
This follows the decision today by a seven-member bench led by Chief Justice (CJ) Datuk Seri Tengku Maimum Tuan Mat to dismiss Najib's appeal to bar Sri Ram from leading the prosecution in the case, which is scheduled to start this Aug 19.
However, Tengku Maimun allowed Najib's application for the prosecution to produce to the court Sri Ram's letter of appointment as a senior DPP.
The CJ announced that this is a unanimous decision by the bench after hearing submissions on the issue for four hours.
The seven-member bench includes Federal Court Judges Tan Sri Azahar Mohamed, Datuk Rohana Yusuf and Datuk Mohd Zawawi Salleh besides Chief Judge of Sabah and Sarawak Datuk Seri David Wong Dak Wah.
Tengku Maimun in her oral judgment said there are two matters which needed to be decided by the apex court. The first matter involves Sri Ram's letter of appointment while second issue is on the disqualification of his appointment as senior DPP.
"For the first issue, the bench found that the validity to Sri Ram's appointment is distinguishable from that of Datuk Sulaiman Abdullah (former lead prosecutor in the SRC International Sdn Bhd case) as there is no material before us to show the document is classified as secret under the Official Secrets Act 1972," she said.
"On the second matter, we dismissed the second appeal as we found the Court of Appeal did not err in its decision," the CJ said. She ordered the prosecution to produce to the court Sri Ram's appointment letter.
On May 7 this year, the Court of Appeal dismissed Najib's appeal to disqualify Sri Ram as lead prosecutor in the case.
Today, a copy of Sri Ram's appointment letter was handed to Najib's lawyers, led by Tan Sri Muhammad Shafee Abdullah.
Muhammad Shafee said the defence will study the letter and that the document should not have been made a secret as it was announced publicly by Attorney General Tommy Thomas.
Muhammad Shafee said: "Although we may not be able to challenge Sri Ram from leading the prosecution in the 1MDB case following today's decision, we will study the letter first and let's see (what happens)."
He also said the Federal Court has fixed Tuesday (Aug 13) to hear the defence and prosecution's appeal to adjourn the 1MDB trial.