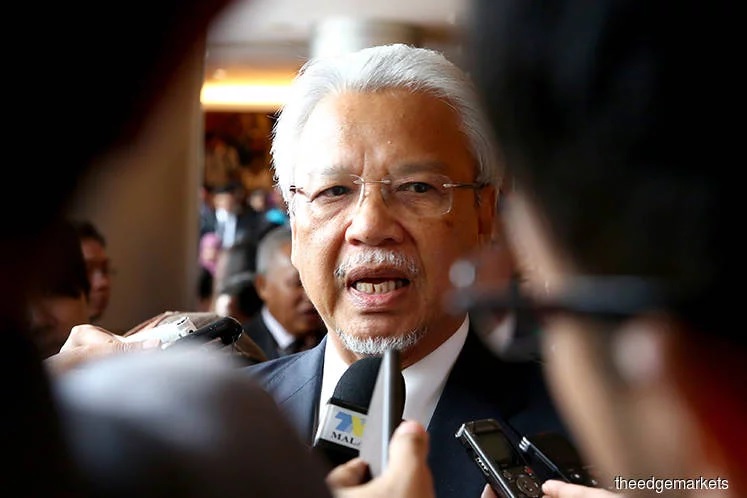 KUALA LUMPUR (Aug 8): Former Second Finance Minister Datuk Seri Ahmad Husni Hanadzlah will be cross-examined by Datuk Seri Najib Razak's defence team in the SRC International Sdn Bhd trial.
Husni, who is the first Cabinet minister from Najib's cabinet to testify in the trial, provided insight into how the ministry is run especially concerning 1Malaysia Development Bhd and SRC where the GLCs are off limits to him.
The prosecution's 56th witness in the trial tells how other GLCs like Bank Negara or Khazanah officials would come and report to him but with regards to 1MDB and SRC they would not come and meet him.
He further disclosed that with other GLCs there were feasibility studies done but with 1MDB and SRC there were no studies done.
Husni, who had served from 2009 and 2016 in Najib's cabinet, further revealed the "telling off" he got from Najib when questioning about the loans given to SRC or the proposed investment in the Oil and Gas sector, despite not having the experience compared to Petronas.
Hence the former minister felt that him being regarded as an "office boy" with regards to matters concerning SRC.
His assertion follows SRC former CEO Nik Faisal Ariff Kamil only met him once without bringing any documents while he was asked to sign documents in relation to SRC despite not being consulted.
This resulted in Tan Sri Muhammad Shafee Abdullah, Najib's lead counsel to ask an adjournment for yesterday's proceedings in order for him to get further instructions from his client as he described Husni's testimony was as if "a gun was put to his head" for him to sign the documents.
On Tuesday former banker Joanna Yu Ging Ping also testified how Najib was referred as OP by fugitive businessman Low Taek Jho to mean Optimus Prime the leader of the Autobots in the Transformer series.
Husni is expected to be among the final witnesses by the prosecution as the next one is expected to be the investigating officer.
The Edge is bringing the trial involving Malaysia's former highest-ranking politician who led the country for nine years live.