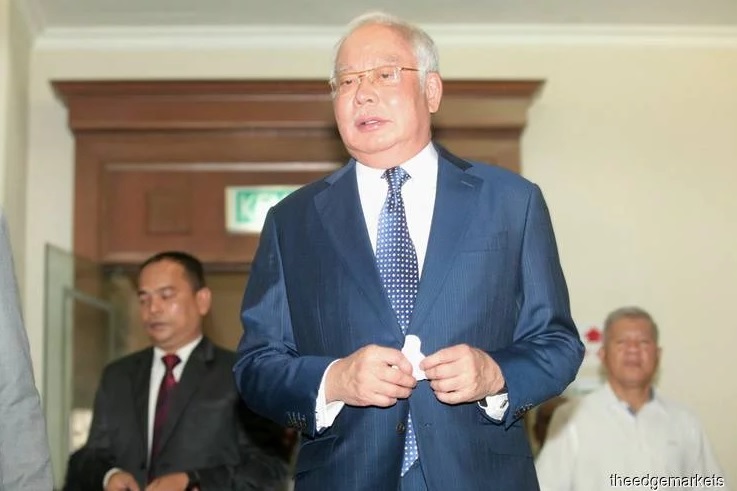 KUALA LUMPUR (Aug 9): High Court judge Justice Mohd Nazlan Mohd Ghazali has reminded Datuk Seri Najib Razak (pictured) that his social media posts on the ongoing SRC International Sdn Bhd trial is treading the line of contempt of court.
The judge, who is presiding over the criminal trial, said this after the prosecution withdrew its application to demand an apology from the former premier for posting sub judice comments related to the trial on Facebook.
Justice Nazlan, in accepting the withdrawal, reminded Najib that his two Facebook posts on July 15 and 17, bordered contempt of court.
Nazlan also reminded Najib to be careful when posting court matters on social media in future.
"Certain things can be posted", he explained, but advised would-be posters to first consult their legal counsel.
The court was informed of the withdrawal of application by prosecution lawyer Datuk V Sithambaram.
In response, the strike-out application filed by defense has also become unnecessary, said Najib's lead attorney Tan Sri Muhammad Shafee Abdullah.
Najib posted the two Facebook posts to justify his credit card spending of RM3.3 million at a Swiss jeweller in Rome — which was raised in court in relation to charges against him — by saying he purchased gifts for a senior member of royalty.
On July 18, Attorney-General Tommy Thomas submitted an oral application, asking Najib to apologise in court for the posts, but Justice Nazlan told him to submit a formal application.
The written application was eventually filed by Thomas on July 25, to compel Najib to apologise in court, withdraw the posting, and prevent him from making future social media posts on the ongoing trial.
However, the application stopped short of citing Najib for contempt of court over his actions.
The trial entered its 51st day today and has called Malaysian Anti-Corruption Commission investigation officer Rosli Hussain, who may be the final prosecution witness.
Najib is currently facing seven charges of money laundering and abuse of power in relation to the RM42 million, which was allegedly siphoned out from SRC.