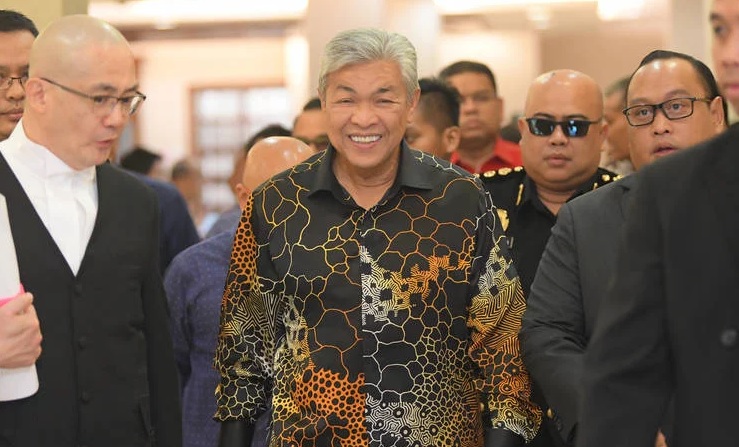 KUALA LUMPUR (Aug 28): The High Court here today had dismissed the prosecution's application to overturn the Sessions Court's earlier decision to transfer former deputy prime minister Datuk Seri Ahmad Zahid Hamidi's (pictured) trial involving seven corruption charges linked to Malaysia's foreign visa system to the Shah Alam Sessions Court.
High Court judge Mohd Nazlan Mohd Ghazali said the seven charges registered here are said to be factually similar to the 33 charges against Zahid at the Shah Alam Sessions Court.
"The argument is of the general convenience of witnesses, for all the charges of trial venue be in KL instead of Shah Alam. In present day Malaysia, however, there is little practical difference between Shah Alam and KL, given the progress made to road and transportation system in the Klang Valley. It is also certainly not uncommon to find those who work in KL or Putrajaya to reside in Shah Alam or vice versa.
"Based on the record of the proceedings at the Sessions Court, I find no error in the Sessions Court's application in transferring the seven charges to Shah Alam, nor can the transfer order be said to be in any manner incorrect, illegal or improper to justify this court revising the transfer order of the Sessions Court. Based on the above broad grounds, I dismiss the application," Justice Nazlan said.
theedgemarkets.com had on July 31 this year reported that Zahid is charged in the Sessions Court here (Kuala Lumpur) with seven counts of graft amounting to S$4.24 million from Ultra Kirana Sdn Bhd.
It was reported that he also faces 33 counts of bribery at the Shah Alam Sessions Court amounting to RM42.7 million for receiving funds from Ultra Kirana. He had claimed trial to all the charges at the Kuala Lumpur and Shah Alam Courts.
It was reported that Sessions Court Judge Azman Ahmad had on that day decided that Zahid will not be prejudiced if the trial is held in Shah Alam as per the defence team's request.
Today, Zahid is represented by Datuk Ahmad Zaidi Zainal, Hamidi Mohd Noh, Haziq Razali and Datuk Rosal Azimi.
The prosecution is led by deputy public prosecutor Gan Peng Kun and the team includes Zander Lim and Iznina Hanim.