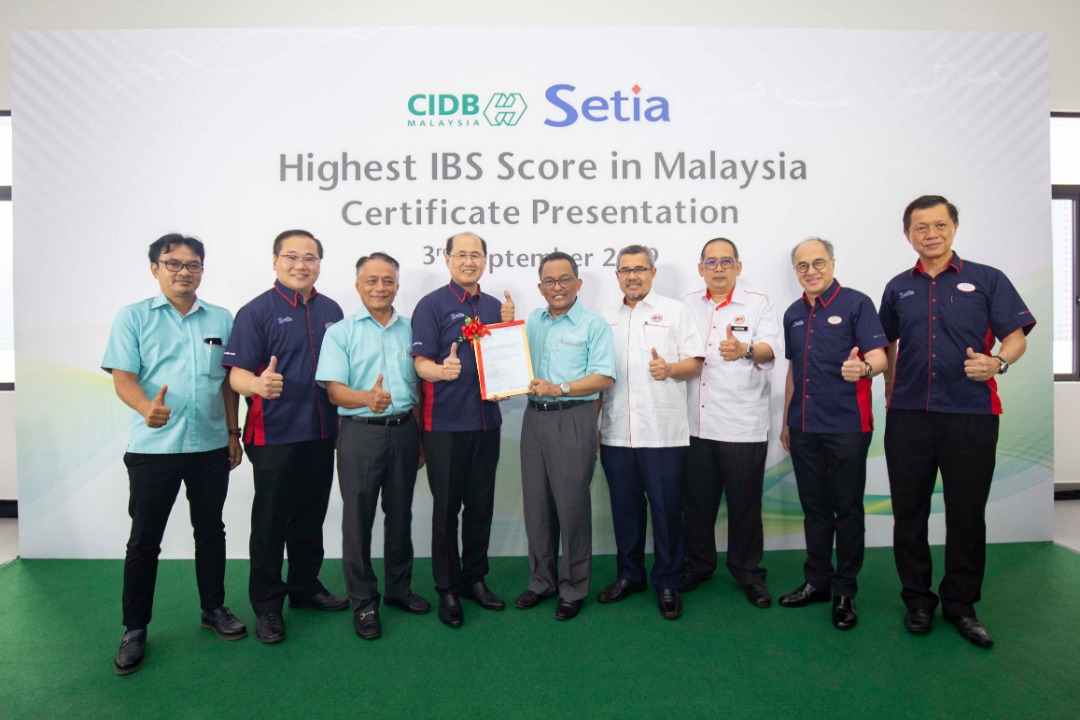 KUALA LUMPUR (Sept 3): Setia Precast Sdn Bhd, a wholly-owned subsidiary of S P Setia Bhd, today received the highest-in-the-country Industrialised Building System (IBS) score of 93.95 for the construction of Kementerian Kesihatan Malaysia (KKM) Government Quarters building in Setia Federal Hill.
The Construction Industry Development Board (CIDB) chief executive Datuk Ahmad 'Asri Abdul Hamid today presented the award to S P Setia president and CEO Datuk Khor Chap Jen in the newly completed government quarters building today. Also present in the ceremony were CIDB senior general manager of technology development sector Datuk Elias Ismail, and S P Setia deputy president and chief operating officer Datuk Wong Tuck Wai.
The 15-storey government quarters building houses only 24 units with the standard built-up size of 2,800 sq ft and four bedrooms. The construction only took two years to complete.
"We are very proud to have achieved another significant milestone for the Setia group. Setia always strives to be the best in all we do, and this award is another testament to our commitment to the Vision," said Khor in his welcome note.
He added that the award would spur the developer to further incorporate the IBS method in future construction projects.
"To date, we have built more than 25,000 homes using this method (IBS). We are currently looking to use this method for the construction of upcoming landed linked-houses, and have started to incorporate PBU (Prefabricated Bath Unit) in some of our recent projects.
"With a higher degree of prefabrication being carried out off-site, IBS has been proven to increase speed, improve quality, reduce noise level at the sites and improve construction reliability by bringing site safety and housekeeping to a new level, and I believe that in the long run, IBS will be the preferred method for many developers in the country," Khor noted.
Meanwhile, Ahmad 'Asri said that CIDB sees this highest IBS score as a significant achievement and a key milestone in the area of IBS.
"Truly, this further strengthens the IBS ecosystem in the Malaysian construction industry, in line with the goals of the Construction Industry Transformation Programme 2016-2020 (CITP) of doubling the productivity of the Malaysian construction sector.
"The adoption of technologies such as IBS has to be the main driver of construction transformation as only through mechanisation, digitalisation and new tools can we achieve higher efficiency and productivity in the sector," he shared.
The construction of the KKM Government Quarters building that was commissioned for the Health Ministry commenced in August 2017. It has 15 floors in total with one of the floors reserved for administration office, and comes with facilities such as prayer rooms, community hall, playground, and guard house.
To achieve a higher IBS score, Setia Precast adopts an 'Open System' to outsource specialised products and components from other IBS suppliers. This system allows Setia Precast and the various suppliers to work, learn and understand from each other's systems for potential collaboration and partnership.