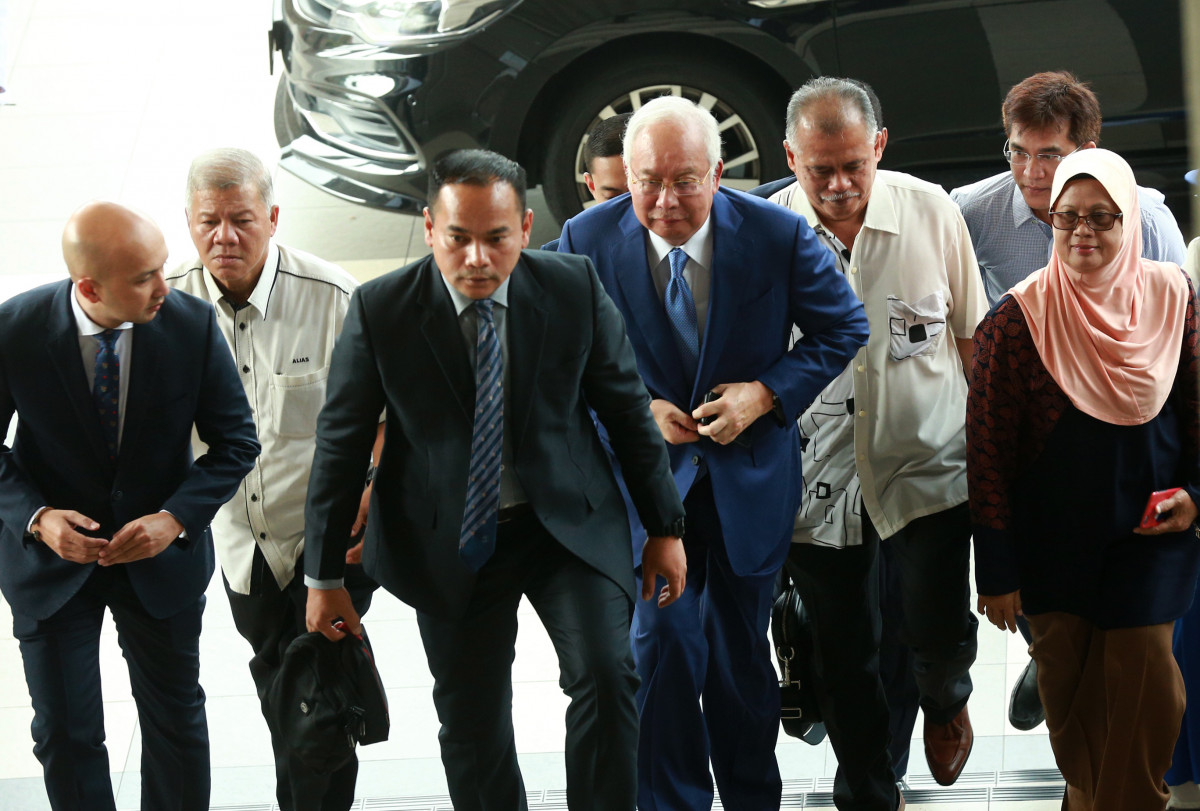 KUALA LUMPUR (Sept 3): The late Datuk Azlin Alias, who was the lead person appointed by Datuk Seri Najib Razak to manage 1Malaysia Development Bhd (1MDB), was shocked to learn about the misappropriation of RM2.6 billion from the state-owned fund — possibly sometime before the end of February 2015 — which was previously dismissed as distortions by the opposition.
Datuk Amhari Efendi Nazaruddin — who formerly worked at the Prime Minister's Office (PMO) under Azlin, and was also Najib's private principal secretary — called it an unforgettable incident while testifying as the eighth prosecution witness in the ex-premier's 1MDB-Tanore trial today.
He and Azlin had been told for months by Low Taek Jho — whom Amhari described as Najib's 'close aide' — that news reports on 1MDB fund embezzlement were 'manipulation by the Opposition to bring down Najib'.
"In January or February 2015, there was one incident that I remember following the 1MDB issue which went viral then.
"On that day, I came to PMO and waited for Datuk Azlin in his office because he was at the fifth floor meeting with Datuk Seri Najib.
"As he returned to his office, I saw him extremely stressed out and he released his frustration by shouting 'Duit 1MDB lah, bro (It's 1MDB money, brother)!' to me and slammed the files he was holding on the table," said Amhari.
"I recall the incident vividly because as I knew him, Azlin Datuk was a person who is always calm, polite and had never acted that way in front of me. He was not a person who liked to raise his voice," he added.
During his testimony, Amhari said he now believes that Azlin was referring to the transfer of US$680 million into Najib's AmBank accounts in 2011-2015, and not just news reports in 2015 that 1MDB monies were channelled to Najib's stepson Riza Aziz to be used to purchase luxury real estate in the US and to fund Hollywood film Wolf of Wall Street, among others.
Earlier, Amhari testified that he, Azlin and Low met numerous times at the Prince Hotel here where Low gave 'eyebrow-raising' instructions that were later confirmed to have been approved by Najib, such as to shortlist 1MDB board members and to expedite certain financial approvals.
When the 1MDB fiasco blew out into the open, Azlin and Amhari also received supporting letters from Low to authenticate the 1MDB business dealings with PetroSaudi, 'talking points' to respond to queries on 1MDB, and checklists to stall investigations by the 1MDB special task force.
Azlin passed away in a helicopter crash in April 2015.
Amhari was arrested in June 2018 amid the reopening of the 1MDB probe after Najib fell out of power in the 14th General Election in May that year.
On Sept 20, 2018, Najib was charged in the Sessions Court here with four counts of abusing his positions to obtain gratification under Section 23(1) of the Malaysian Anti-Corruption Commission (MACC) Act 2009 to obtain bribes of RM2.28 billion.
The former premier was also slapped with 21 counts of money laundering under the Anti-Money Laundering, Anti-Terrorism Financing and Proceeds of Unlawful Activities Act 2001.
The hearing continues before High Court Judge Collin Lawrence Sequerah tomorrow.