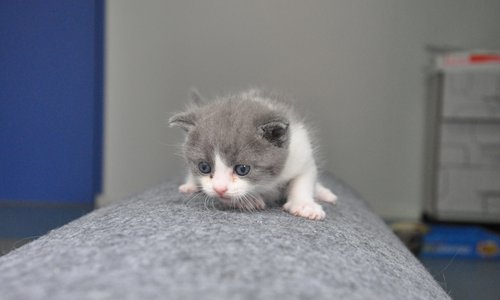 The birth of "Garlic", a British shorthair, in Beijing has netizens abuzz with the news and pictures of the cute kitten being circulated online.
Pet lovers in particular are intrigued by the first successful cat cloning in China. The first successful cat clone is CC, short for Copy Cat, a brown tabby and white domestic shorthair born on Dec 22, 2001, by the efforts of scientists at Texas A&M University.
According to a report in Global Times on Aug 19, 2019, Garlic was born on July 21 and cloned at the laboratories of Sinogene Biotechnology Company in Beijing. Earlier reports speculated the first successful birth would be in March.
Garlic appears to be identical to the original cat, which supplied the cells, but has a different temperament and personality, Lai Liangxue, the company's chief scientist and a research fellow at the Chinese Academy of Sciences, told the newspaper.
The cat owner Huang Yu said, "My cat died of urinary tract disease. I decided to clone him because he was so special and unforgettable."
Sinogene deputy general manager Zhao Jianping said the company will officially start to offer cat-cloning services, which is expected to cost 250,000 yuan (RM146,123) each.
Zhao also said that several cat owners had already booked the service, hinting that the future market could be huge. The company also offers a dog cloning service, costing 380,000 yuan (RM222,121).
Cloning efforts are currently hampered by a low success rate of implanted embryos leading to pregnancies. This makes cloning an expensive venture unless improved methods are discovered. There is also no guarantee the clone will look or behave like the original animal.
Some clones also develop abnormalities which affect their health but scientists point out that many animal clones turn out just fine.