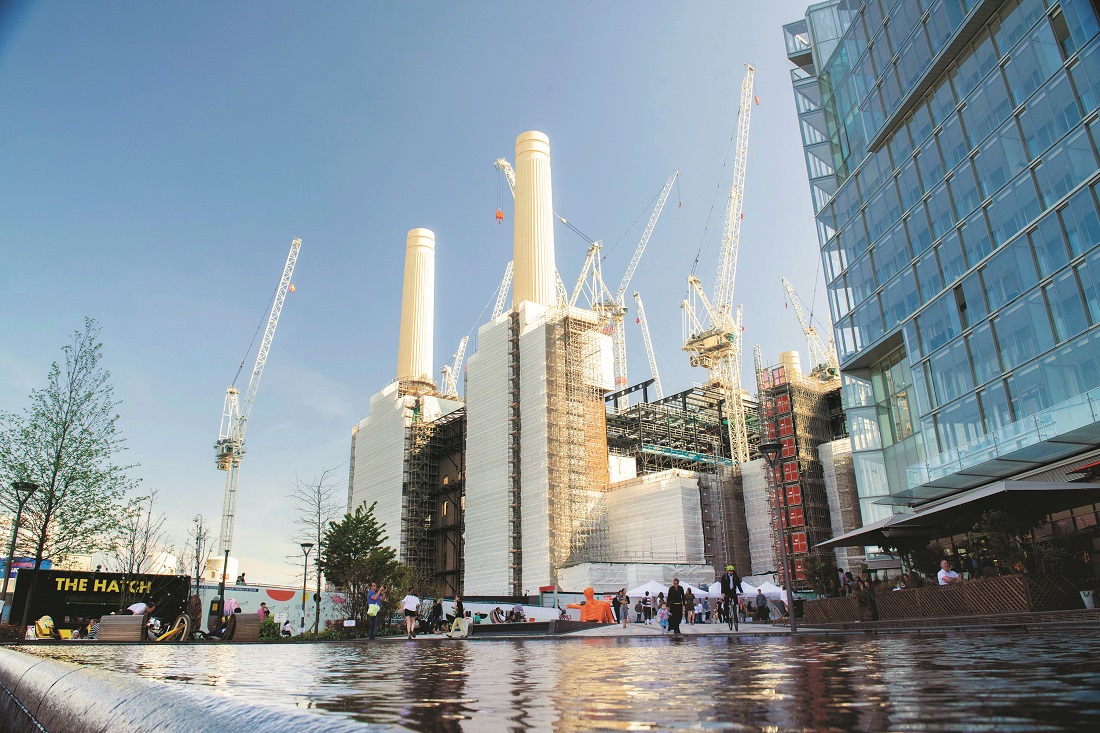 The Battersea Power Station (BPS) construction site in London is constantly busy as ongoing works are in full swing to restore the facade of the 86-year-old edifice while adding new development elements that will turn it into one of London's newest town centre.
Decommissioned between 1975 and 1983, the power station building has been shut down and locked since the 1980s.
The Malaysian consortium formed by Sime Darby Property Bhd, S P Setia Bhd (each with a 40% stake) and the Employees Provident Fund (20%) is taking the lead to redevelop and regenerate the BPS area on the south bank of the River Thames into a go-to place in London.
During a visit to BPS in June, EdgeProp.my spoke to Battersea Power Station Development Company Limited (BPSDC) director of communities and sustainability Sarah Banham, BPSDC director of place-making Honor Fishburn and BPSDC chief design review officer Marina Chung, about their community building and place-making plans for the global icon.
The connection between a place and people is powerful in place-making, says Banham. "Community involvement and creating a sense of belonging are important as a development will not become a place until there's human element in it," she adds.
The team took a holistic approach towards this end, covering environment building, events and activities, community engagement and job creation.
Stories to tell
Art and cultural elements are crucial in creating warmth while telling stories of the place, offers Fishburn.
BPS had partnered Cass Sculpture Foundation in 2017 to organise a competition for outdoor art sculpture proposals. Malaysian artist Haffendi Anuar's "Machine for Modern Living" and Briton Jesse Wine's "Strong in body, strong in mind" were chosen as joint winners. One of their works is now an art installation at BPS and a popular Instagram spot for visitors.
Meanwhile, some of the waste materials from the ongoing construction were used to form art pieces and interior fittings for the retail spaces. For instance, the old parquet flooring from BPS is now part of the bar-top island of The CoffeeWorks Project, a tenant of one of the shops at Circus West. The latter is the 42-acre BPS development's first phase which was completed in 2017. It is currently home to 1,000 residents and about 20 retail tenants (95% leased).
"If BPS is merely a redevelopment of a heritage building, it will only attract people to come once or twice. But if it's a place, people will revisit again and again. To turn BPS into a place requires many cultural layers that make it always fresh to everyone," Fishburn says.
BPS has also developed a Heritage Trail app that works like a game, leading visitors on a walk down memory lane while learning about the history of the power station in an interactive way.
Creating a meeting point
Chief design review officer Chung notes that events and activities can attract people and form the layers that introduce a place.
Take the popular Borough Market in London for example. The wide variety of food and beverage as well as cultural activities held at one of the largest and oldest markets in London, believed to have existed since the 12th century, has made the historic place fun and vibrant with many things to be discovered, thus luring repeated visits.
Similarly with BPS, it will not only be a global landmark but also a social hotspot for fun, relaxation, work and living, says Chung.
Redevelopment of BPS began in 2014 and is expected to cover at least seven phases with an estimated GDV of £9 billion (RM46.44 billion). Plans are for its refurbished iconic four chimneys to be unveiled to the public in 2021.
The redeveloped power station building will comprise a retail mall of 420,000 sq ft net lettable space, a 35,000 sq ft food hall, a 1,500 pax-capacity event spaces, 540,000 sq ft of office space, 653 units of high-rise residences, a four-screen cinema and the six-acre Power Station Park.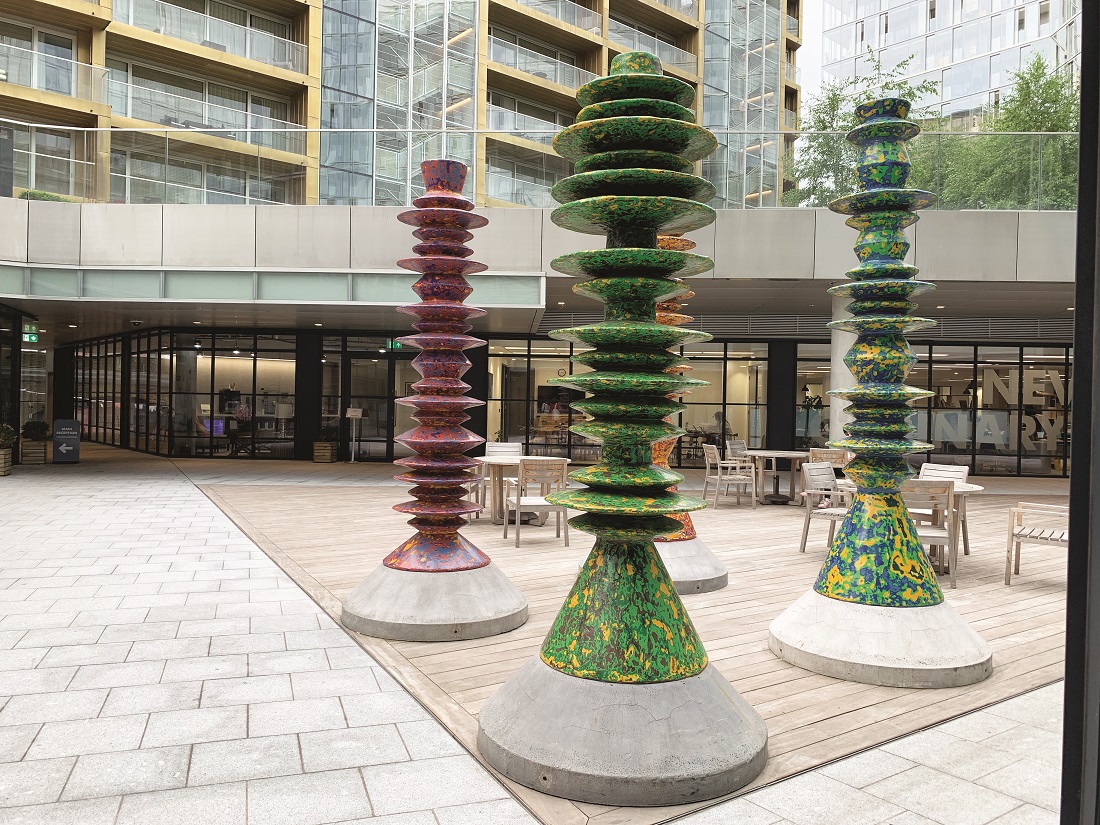 Probably its most eye-catching feature would be the Chimney Lift, a glass-covered lift built inside one of the chimneys that goes up to 109m above ground level, rendering a 360 -degree view of London.
Another place-making feature of the BPS development will be the Malaysia Square.
Fishburn says Malaysia Square represents the link between the United Kingdom and Malaysia and a symbol of their bilateral business and cultural ties. It will also be used as a platform to promote Malaysian culture in London.
Engaging the community
The redevelopment of the heritage power station did not go off on a positive note in the beginning as there was resistance from the surrounding communities.
Banham however, saw this as an opportunity to engage with the community through workshops and discussions to gather more ideas for the project.
"Most of them thought we were going to demolish the building. To let them understand that we are actually restoring the building while creating new value to it, numerous workshops were held to explain the plan while taking their feedback," says Banham.
She adds that the team has engaged with over 20,000 people, many of whom are professionals from different industries who are residing nearby. "Their opinions are useful for the redevelopment and they could be BPS' future customers as well," she offers.
Giving training and jobs
Creating job opportunities for the local community was another priority set by the BPS team, and the Battersea Academy of Skills Excellence (BASE) was formed to provide retail, leisure, hospitality and estate management training and education.
BPSDC anticipates around 17,000 jobs to be made available over the next decade at BPS.
"We are committed to filling at least 20% of the long-term vacancies with local residents. The BASE programme aims to train the right people for the future job openings," says Banham.
As at June this year, there were 310 advertised vacancies at Circus West and close to half of the vacancies were filled by BASE participants.
Chung stresses that the BPS regeneration project is about being inclusive, thus all the efforts put in are to build a new town centre that could attract talents and opportunities to this part of London.
Fishburn, who stays about a 10-minute walk to BPS, is glad to see it evolve at a fast pace.
"It [Battersea] was seen as an unsafe place as hardly anyone comes over to the south bank. I am happy to see this place improve day by day and can't wait for the power station to welcome visitors again," she enthuses.
This story first appeared in the EdgeProp.my pullout on Sept 13, 2019. You can access back issues here.