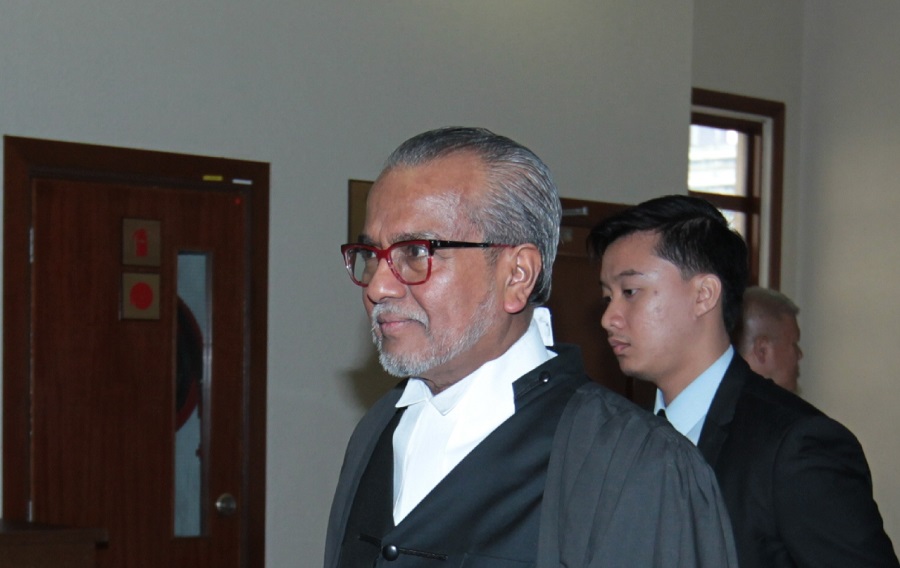 KUALA LUMPUR (Sept 18): The Terengganu state government wanted to be out of Terengganu Investment Authority (TIA) immediately after a boardroom tussle in the state fund, lawyer Tan Sri Muhammad Shafee Abdullah (pictured) claimed in the High Court today.
Shafee, the lead defence counsel of Datuk Seri Najib Razak in the 1MDB-Tanore trial, also claimed that the federal government was initially reluctant to take over TIA, and blamed its takeover on Terengganu's interference in TIA's investment decision.
At the hearing today, Shafee said the Ministry of Finance (MoF) then provided three options to Terengganu Menteri Besar Inc (Terengganu MBI) on TIA after some disagreements over the state fund's initial RM5 billion federal government-guaranteed sukuk issuance.
However, documents showed that Terengganu MBI opted for the third option — to be out of TIA — and did not even consider the first and second options, said Shafee.
The first and second options given by MoF were:
1 for Terengganu MBI to maintain TIA's statute with minor amendments on governance structure
2 for Terengganu MBI to take full control of TIA but the federal government to provide the guarantee on its RM5 billion sukuk.
Shafee referred to a letter dated July 1, 2009 by Terengganu MBI to the representative of the Sultan of Terengganu Sultan Mizan Zainal Abidin which contained a proposal on MoF's third option: for Terengganu MBI to relinquish all control in TIA for MoF to take over the state-owned fund.
"They [MBI] were concentrating on the third option. They didn't even bother with the first two options," Shafee told the court.
On the other hand, Shafee also pointed to meetings of a Cabinet meeting dated July 8, 2009 which raised that investors lack appetite on TIA because Terengganu state government asserted its political influence.
"If the Terengganu government intends to impose political influence on Terengganu's investment management, it [TIA] will not attract investors," Shafee read the meeting minutes.
He added the federal government had to consider the opportunity cost upon further delays in TIA's investment decisions.
TIA was the brainchild of Sultan of Terengganu Sultan Mizan Zainal Abidin (also the 13th Yang Di-Pertuan Agong), who wanted to ensure the state could generate income when its oil wells dry up.
The initial plan was for TIA to claim RM6 billion outstanding oil royalty from Putrajaya, and to issue RM5 billion sukuk with 30-year federal government guarantee as initial capital for investment.
However, the sukuk was issued through the approval of then-TIA chief Shahrol Azral Ibrahim Halmi without consent from Terengganu MBI.
According to Terengganu MBI, the federal guarantee did not follow the state's terms.
Terengganu MBI also raised concerns over the state government's weak representation in TIA's board at the time during the initial TIA meetings, according to prosecution witness Datuk Amhari Efendi Nazaruddin, who is Najib's former special officer and represented the Prime Minister's Office in those meetings.
Najib is currently facing 42 counts of money laundering and abuse of power over alleged embezzlement of billions of ringgit from 1MDB. The trial continues.