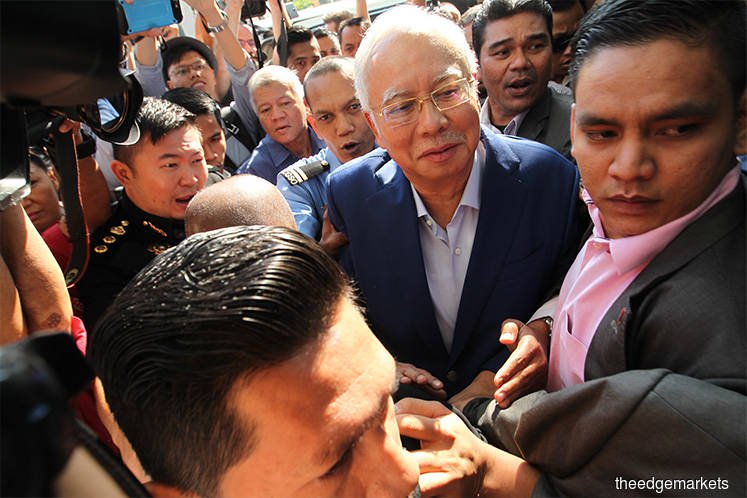 KUALA LUMPUR (Sept 19): The 1Malaysia Development Bhd (1MDB) or Tanore trial involving Datuj Seri Najib Razak at the High Court here may see a new prosecution witness being called today, if the defence finishes the cross examination of Datuk Amhari Efendi Nazaruddin and the prosecution concludes his re-examination.
The former premier's lead counsel Tan Sri Muhammad Shafee Abdullah had indicated that he would take two hours to conclude his cross examination today.
Amhari has also been asked by Shafee to produce a search list on his house when he was remanded by the Malaysian Anti Corruption Commission for seven days in July last year.
The new witness is former Terengganu Investment Authority and former 1MDB chief executive officer Datuk Shahrol Azral Ibrahim Halmi who like Amhari would be a vital prosecution witness.
Yesterday saw the prosecution trying to further discredit Amhari by showing that the former special aide to Najib had, besides taking a US$200,000 loan from wanted businessman Low Taek Jho, also received thousands of US dollars when he accompanied the former PM on his trip to New York and the United Kingdom.
The intention was to show that Amhari seemed to be beholden to Low or better known as Jho Low in the scheme of things regarding 1MDB when the defence showed in some instances the witness did not check the instructions given by the businessman with his boss Najib.
The prosecution had in senior DPP Datuk Seri Gopal Sri Ram opening statement stated that Jho Low is Najib's mirror or alter ego in the whole affair with regards to the former premier's charges of four counts of abuse of power and 21 money laundering charges of 1MDB amounting to more than RM2.28 billion.
Shahrol if he takes the stand today as the ninth prosecution witness is expected to testify on the early formation of TIA that morphed into 1MDB.
He had also previously testified before the Parliament Public Accounts Committee in 2016.
His testimony may take several days as it is understood his witness statement is more than 270 pages.
The trial continues today before Justice Sequerah, and will be reported by The Edge live.