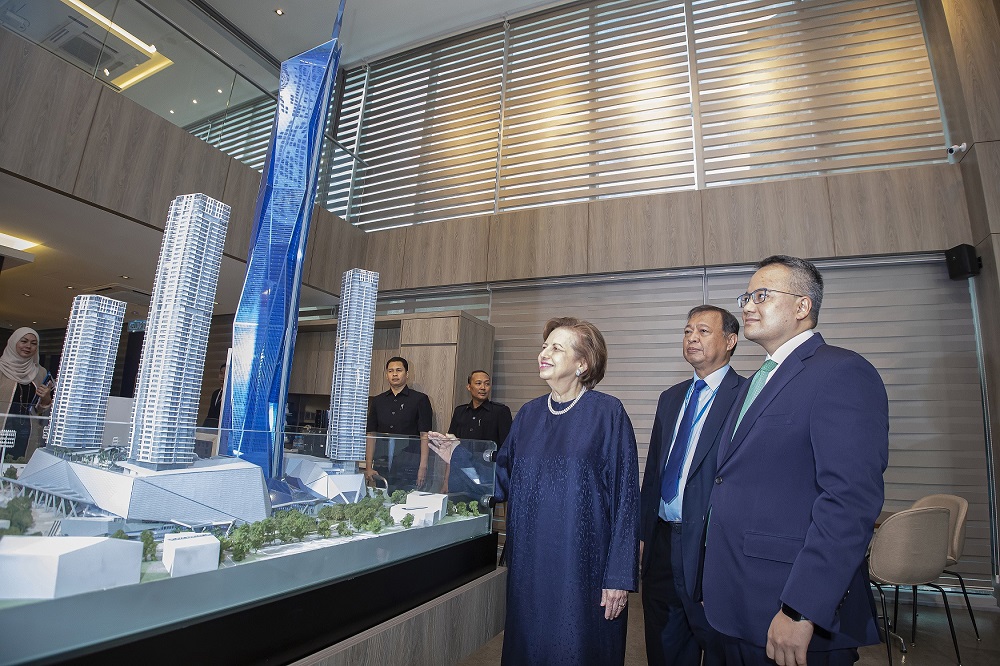 KUALA LUMPUR (Sept 24): The ongoing construction of the iconic Merdeka 118 Tower is at level 78 as of today, which makes it about two thirds completed. It is expected to top out by mid-next year, according to PNB Merdeka Ventures CEO Tengku Datuk Abdul Aziz Tengku Mahmud.
He was providing a progress update during the launch ceremony of the project's show gallery at Jalan Sultan Ismail, Kuala Lumpur today. PNB Merdeka Ventures is a wholly-owned subsidiary of Permodalan Nasional Bhd (PNB).
The iconic tower, which is phase 1 of Merdeka 118, offers 83 floors of office space of about 20,000 sq ft per floor and will have under-floor air-conditioning among other features. The 635m tower will overlook two of Malaysia's national landmarks - Stadium Negara and Stadium Merdeka.
The silhouette of the tower's spire mirrors the iconic image of the outstretched hand of Malaysia's first prime minister Almarhum Tunku Abdul Rahman Putra Al-Haj during the declaration of independence.
"Merdeka 118 is a beacon of hope, a catalyst of rejuvenation of the area. It is also a fusion of commerce and culture.
"The precinct will not only embody our culture and legacy of independence, but also our evolution and future, given the union of contemporary architecture and the history in this area," said PNB group chairman Tan Sri Dr Zeti Aziz in her speech during the event.
Upon completion, Merdeka 118 will have a floor area size of over 3 million sq ft comprising 1.65 million sq ft of net lettable Grade-A office space as well as three premium residential towers.
The project also boasts the PNB Observation Deck which is the highest viewing deck in Southeast Asia. It will also house the only Park Hyatt Hotel in Malaysia while PNB will occupy 17 floors of the tower.
Phase 2 will offer a retail component of about one million sq ft in net lettable area known as Merdeka @ 118. A notable feature will be a large dome that will beam light shows at regular intervals. Meanwhile, the 1.62ha (4-acre) Merdeka Boulevard @ 118 will serve as the area's green lung coupled with multi-functional event spaces.
Phase 3 will be a three-tower premium residential section estimated to be launched by the end of next year with a world-class service provider signed on to manage one of the towers.
Meanwhile, the RM7 billion Merdeka 118 project will be targeting a triple platinum rating with the Leadership in Energy and Environmental Design (LEED), GreenRE and Green Building Index (GBI) certification, making it the first project in the country to earn such a rating.
On concerns over an oversupply of office spaces in the Klang Valley, Zeti said: "That is something PNB takes into consideration. There will be a significant supply coming into that period (upon Merdeka 118's targeted 2021 completion). We have to look for innovative ways and we have several strategies recognising this issue. You will know it when it happens."
Adding on to Zeti's comment, PNB executive vice president of property/real estate Rizal Rickman Ramli said it recognises the market. "We are coming in with a premium A product. If you look at premium A supplies in the city, they are running at more than 90% occupancy rate. So for the product we have and the pricing that we are coming into the market, we will be competitive," he added.
Click here for more property stories.