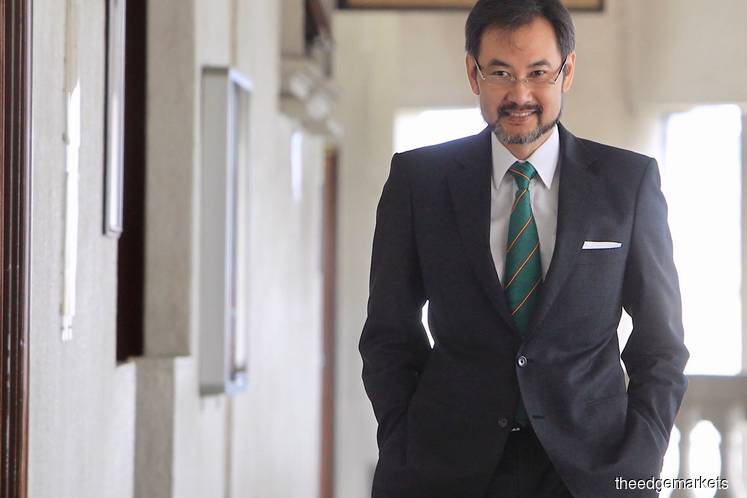 KUALA LUMPUR (Sept 25): Former Terengganu Investment Authority Bhd (TIA) and 1Malaysia Development Bhd (1MDB) chief executive officer Datuk Shahrol Azral Ibrahim Halmi (pictured) said 1MDB was exempted from being audited by the National Audit Department, as it presented a political risk to former prime minister Datuk Seri Najib Razak.
During his testimony today, the ninth prosecution witness in the 1MDB-Tanore trial, in response to questions from senior deputy public prosecutor Datuk Seri Gopal Sri Ram, said the management of the company received notification that the Ministry of Finance Inc (MoF Inc) would like to perform an audit or due diligence on 1MDB.
This was due to the transfer of shares from Terengganu to the Federal Government.
"As per the normal course of events, I updated Jho [Low] and he reverted back to me saying that an audit or due diligence by the National Audit Department could present a political risk to Datuk Seri Najib.
"I was advised on what to do next by Datuk Seri Najib, via Jho," said Shahrol.
The on-the-run financier then told the witness that there was no need for a due diligence or audit exercise, as 1MDB had already appointed audit firm Ernst & Young and that the reports would be submitted to MoF Inc once they are ready.
This led to a letter being issued by 1MDB dated Dec 11, 2009, which was sent to the former premier and finance minister Datuk Seri Najib Razak. The letter entailed the updates and approvals for 1MDB, copied to Auditor-General Tan Sri Abrin Buang, Treasury Secretary-General Tan Sri Dr Wan Abdul Aziz Wan Abdullah and TIA chairman Tan Sri Che Lodin Wok Kamaruddin.
In the letter, TIA had referred to the decision and approval of 1MDB's board of advisers, which had agreed on the process of taking over TIA, to be done on an "as is, where is" basis, and therefore there was no need for an audit and due diligence by the National Audit Department.
"Jho Low had asked me to write the letter to Datuk Seri Najib, with the reason being that it was Datuk Seri Najib's request, to ensure that there was no need to audit 1MDB. I was not involved in the initial discussions regarding this matter but I believe that the contents of the letter [were] discussed between Jho Low and Datuk Seri Najib," said Shahrol.
He said the contents of the letter were likely discussed between Low and Najib beforehand, based on a talking points document which was emailed to him by the fugitive businessman.
"Based on my knowledge now, I am sure that the taking over of TIA by 1MDB on an as is, where is basis was planned by Jho Low with the blessing of Datuk Seri Najib to cover up the misappropriation of funds during the issuance of the RM5 billion IMTN (Islamic medium term notes) with government guarantee in May 2009," Shahrol said.
On Oct 5, 2010, the National Audit Department requested 1MDB's audit reports, along with the supporting documents, although 1MDB said no supporting documents were needed, as agreed upon by Najib.
"What would an audit have revealed at that point in time?" asked Sri Ram.
"The audit would have revealed that we had invested US$1 billion into a joint venture with PSI (PetroSaudi International) and that US$300 million went into the joint venture company and US$700 million went to another company, which was purportedly at the time owned by PSI," said Shahrol.
"Which company was this?" asked the senior DPP.
"Good Star Ltd," responded the witness.
It was reported in 2016 that the sole beneficial owner of Good Star was identified as Jho Low.
Earlier, Sri Ram asked the witness regarding the utilisation of the RM4.396 billion raised via the sale of the IMTN bonds.
Shahrol said US$1 billion was used for the investment with PSI on Sept 30, 2009, translating to about RM3.3 billion at the time. The balance of approximately RM1 billion was used to service the interest or coupon payments for the bonds (about RM100 million), which were due every six months — in March and September of each year.
Najib faces 25 counts of abuse of power and money laundering in relation to billions of ringgit allegedly taken from 1MDB.