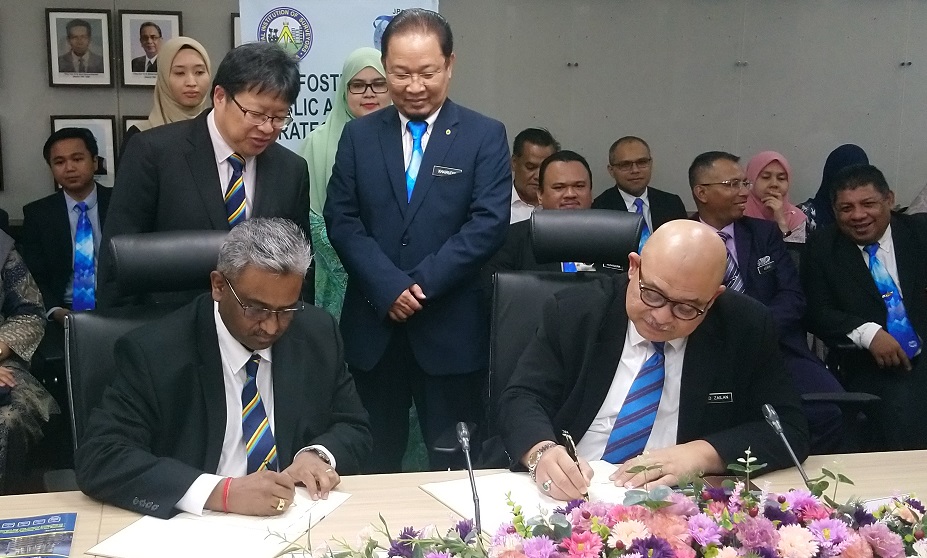 PETALING JAYA (Oct 2): The Department of Valuation and Property Services (JPPH) under the Ministry of Finance Malaysia and the Royal Institution of Surveyors Malaysia (RISM) signed a Memorandum of Understanding (MoU) today to foster public and private strategic alliances with each other.
Representing JPPH at the signing was director general of JPPH Ahmad Zailan Azizuddin and RISM chairman of Property Surveying Division Datuk Thiruselvam Arumugam. The signing ceremony was witnessed by deputy director-general (strategic policy) Mohd Khairudin Abdul Halim while RISM was represented by its president Kwan Hock Hai.
The MoU will pave the way to create mutually beneficial collaboration between the parties in the fields of research, training, education and data information in relation to real estate.
"In facing global challenges in the real estate industry, we need to work together to strengthen and develop the country's real estate industry. We hope that with the close cooperation of both organisations, we can push the real estate market to a higher level and boost the national property market," said Zailan in his speech at the event.
The collaboration between JPPH and RISM under the MoU covers planning, developing, conducting and participating in research, training, education and data information programmes; to facilitate the exchange of information, publications, research, training, education and other materials of mutual interest; to organise national or international conferences; to plan and conduct any other forms of cooperation which are to be arranged jointly by the parties; and any other programmes mutually agreed by the parties.
"With the signing of the MoU between RISM and JPPH today, the cooperation and collaboration is now formalised into a structured working collaboration. The different strengths and resources that each of us have can now be pooled together to bring greater benefits to both organisations, the profession and the country," said Kwan in his speech.
RISM is a national professional body incorporating four surveying disciplines – quantity surveying, geomatics and land surveying, property surveying and building surveying. Its members comprise surveyors from the corporate and the public sectors as well as academia.