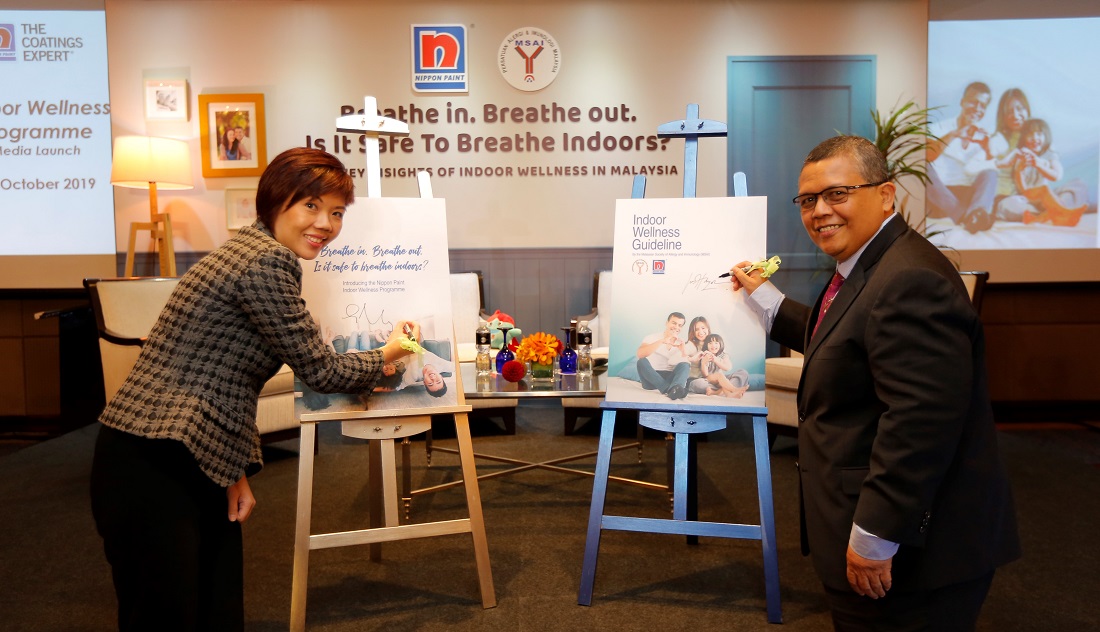 KUALA LUMPUR (Oct 16): According to a survey conducted by Nippon Paint Malaysia Group, about 60% of Malaysians are suffering because of poor indoor air quality.
The Indoor Wellness Survey, which involved 511 respondents, were given an Indoor Wellness Score in the following categories: Healthy, Unhealthy and Very Unhealthy.
The healthiest group of respondents were those aged between 25 to 34 years old (37% Healthy), while the unhealthiest were aged from 18 to 24 years old (45% Very Unhealthy).
About 75% of respondents who live in urban areas tend to have unhealthier homes, while the remaining 25% practiced good habits for a healthier indoor air quality.
In terms of spaces in a house, the kitchen was rated by the respondents as the cleanest space while the unhealthiest spaces in the home were the living room and bedroom, due to walls and floors that were not cleaned often.
Additionally, the survey showed that only 25% of respondents clean their living room walls weekly, while less than half (43%) clean their bedroom walls only once a year or never – a worrying trend as walls are the largest surface at home and easily an active medium for the transmission of viruses and bacteria, said Nippon Paint Malaysia in a press release yesterday.
Furthermore, only one third of the respondents (31%) reported to cleaning their bathroom floors three to four times a week, with 55% of respondents admitted to noticing mould growth in their bathrooms.
Meanwhile, more than 60% of respondents used scented products in their living rooms, bathrooms and bedrooms.
According to Nippon Paint Malaysia, there is a misconception that these products are beneficial but in reality, they could release chemicals that cause rooms to appear dingy and pollute the indoor air.
The coating solutions provider launched The Indoor Wellness Programme yesterday to educate and empower Malaysian homeowners to take charge of improving their overall indoor air quality at home towards a more holistic wellness.
The programme comprises two phases – the Indoor Wellness Survey and the Indoor Wellness Guideline.
The Indoor Wellness Guideline was developed in partnership with the Malaysian Society of Allergy and Immunology (MSAI). The purpose of the guideline is to further educate the public on the importance of indoor wellness with expert advice and tips to minimise or eliminate indoor pollutants.
"It is our priority to always place the needs of our consumers at the forefront. Although indoor space is where most, if not all of us spend most hours in, there is an absent focus on acknowledging how healthy an indoor space is.
"Indoor wellness is an almost invisible element in our lives, but one that presents dangers if it's overlooked," said group general manager of Nippon Paint Malaysia Group Gladys Goh at the launch of the event yesterday.
"We aim for the Indoor Wellness Programme to be a sustainable initiative. For now, the Survey and Guideline form represents only the first phase of the campaign.
"Following this, we will continue to work with relevant and strategic partners to inspire Malaysians to view health and wellness in a more holistic manner through various awareness and educational initiatives in our Phase 2 activation," she added.
The launch of the Indoor Wellness Programme was also attended by the president of MSAI Dr Amir Hamzah Dato' Abd Latiff.
"On behalf of the MSAI, we are indeed pleased to partner with Nippon Paint in developing the Indoor Wellness Guideline," he said during a panel discussion after the launch.
Meanwhile, according to the president of the Malaysian Wellness Society (MWS) Dr Rajbans Singh, who was a panellist at the discussion, awareness on the importance of good indoor air quality has received very little attention.
"I hope that through the Indoor Wellness Programme, we can further educate Malaysian homeowners on the importance of good indoor air quality through various awareness and educational initiatives," he said.