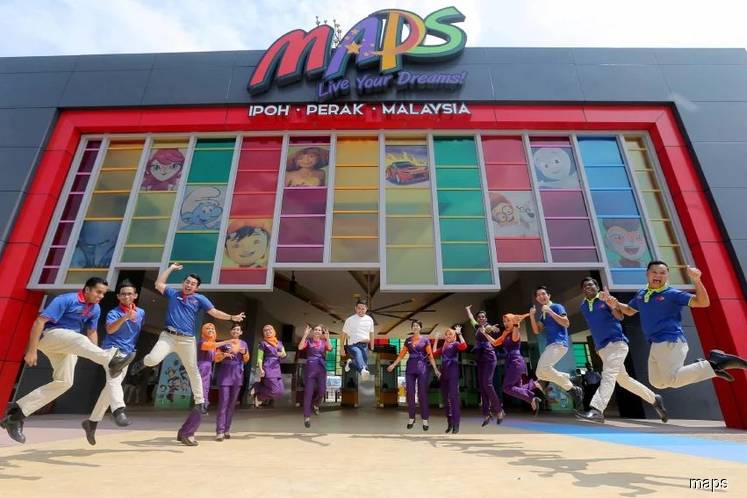 KUALA LUMPUR (Oct 18): Animation Theme Park Sdn Bhd (ATP), a 51%-owned unit of loss-making Perak Corp Bhd (PCB), has defaulted on its repayment of a syndicated term loan facility of up to RM280 million.
The facility was granted by Affin Hwang Investment Bank Bhd, Affin Bank Bhd, Bank Pembangunan Malaysia Bhd and Malaysia Debt Ventures Bhd.
According to a filing with the bourse, ATP — the developer, owner and operator of Movie Animation Park Studios (MAPS) — defaulted on a RM25.7 million repayment on Sept 26, 2019, citing cash flow constraints.
In the filing, PCB said it has been seeking to dispose of its interest in ATP to Perbadanan Kemajuan Negeri Perak (PKNP), and that the latter confirming, on Feb 21, its intent to takeover MAPS for no less than RM245 million. PKNP is PCB's largest shareholder with a 52.9% stake followed by Sime Darby Property Bhd with 6.13%.
This confirms a report by The Edge Malaysia published for the week of July 22 to July 28, citing a source, that PCB was talking to PKNK on the takeover of the theme park and that the Perak Government's investment arm intended to rescue PCB.
Meanwhile, PCB said ATP had written to Affin Investment on Sept 24 to seek indulgence of time up to three months from the due date to allow time for PKNP to arrange funding for the instalment repayment of the principal as part of its purchase price to takeover ATP.
However, Affin Investment did not agree to grant the grace period and had on Oct 16 declared that an event of default had occurred and gave notice within 14 days from the date of its letter to effect the payment of RM25.7 million, failing which all the secured obligation due from ATP shall become immediately due and payable.
"The company is in continuous discussion with Affin Investment to regularise the outstanding payment of the syndicated term loan," said PCB.
PCB said the extent of the liability to itself is limited to the corporate guarantee provided by its wholly-owned subsidiary PCB Development Sdn Bhd to Affin Investment, adding the group has not been served with any legal suits in relation to the matter.
"The default in payment shall give rise to an event of default by virtue of the cross default provision under different business financing facilities undertaken by other companies within the group totalling to RM67.04 million," said PCB.
However, PKNP, as the immediate holding corporation, has represented that financial assistance will be provided to PCB to enable it to meet its obligations and liabilities as and when
they fall due over the next 12 months.
"In addition, PKNP has written to the company to confirm its intent to take over MAPS at a price not less than RM245 million. Based on the above and the company's forecast cashflows, the directors are of the opinion that the company is solvent as it will be able to meet its debts as and when they fall due within the period of 12 months from the date of this announcement," PCB said.
PCB added that it will provide to Bursa Malaysia the solvency declaration within three days of this announcement.
PCB shares closed unchanged at 33.5 sen yesterday, giving it a market capitalisation of RM33.5 million. Over the last year, the stock has slumped 39.09%.