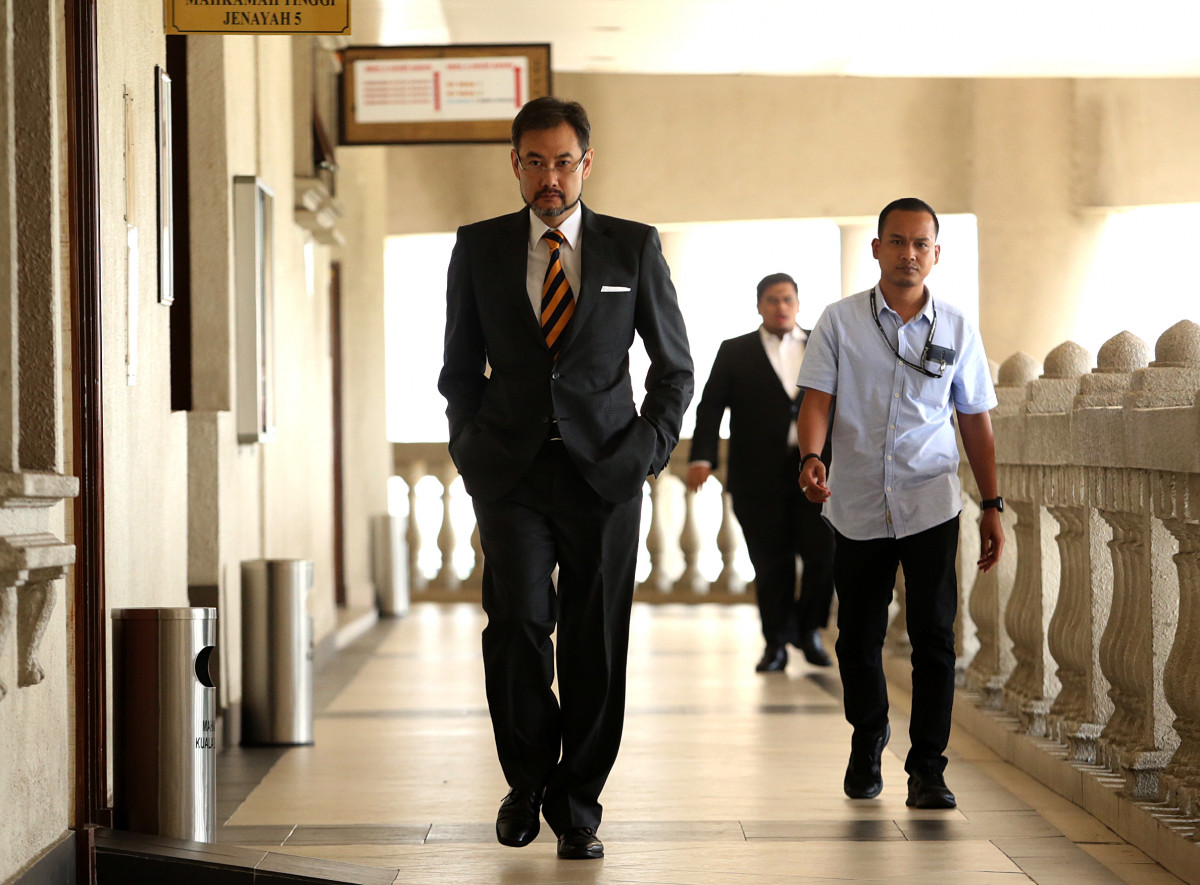 KUALA LUMPUR (Oct 29): Nobody on the board of 1Malaysia Development Bhd (1MDB) attempted to verify the ownership of Good Star Ltd after US$700 million was transferred into its accounts, instead of those of its purported parent PetroSaudi International Ltd (PSI), in September 2009.
Only RBS Coutts Bank Ltd — which held Good Star's account number 11116073 — requested information on the ultimate beneficiary of the funds from Deustche Bank KL prior to crediting money into the account.
Good Star was later revealed to be controlled by Low Taek Jho, the fugitive financier who is better known as Jho Low.
Prosecution witness Datuk Shahrol Azral Ibrahim Halmi (pictured, left), who was CEO of 1MDB from 2009 to 2013, told the court today that this matter was not brought up even in the board meeting dated Oct 2, 2009.
Lead defence counsel Tan Sri Muhammad Shafee Abdullah, citing minutes of the meeting, asked Shahrol whether there was any attempt to verify that Good Star was indeed related to PSI.
Shahrol replied that nobody asked about Good Star in that meeting.
"Why?" Shafee asked during his cross-examination.
"It just didn't come up," Shahrol replied.
"Why didn't you bring it up?" Shafee asked.
"It just didn't come up," Shahrol repeated.
"Even after RBS made a big fuss of finding out the beneficiary account?" Shafee asked.
"Again, I disagree with the word 'big fuss', it was just a request for information, it was a matter of complying [with] the processes," Shahrol said.
The funds were part of US$1 billion that 1MDB was to inject into 1MDB-PetroSaudi Ltd, a joint venture with PSI in 2009, to obtain a 40% stake in the partnership.
Meanwhile, PSI was supposed to have injected US$1.5 billion worth of oilfield-related assets into the company to acquire a 60% stake.
It was only in November 2009 that the chairman of 1MDB board of directors, Tan Sri Bakke Salleh, questioned the transfer and asked 1MDB to retrieve the money.
Shahrol said that after receiving the request for information from RBS Coutts Bank, he forwarded the message, via Blackberry Messenger, to Jho Low about the beneficiary of the account in the bank.
"Jho was the first one who replied, after Jho replied, I don't think there were any other confirmation from other parties," Shahrol said.
When asked why the request was forwarded only to Jho Low, he replied: "Because all along, Jho was the coordinator and orchestrator of these transactions, and he was the one keeping me up to date on what's going on as these transactions proceed."
Shafee suggested to Shahrol that the latter forwarded the request only to Jho Low because the ex-CEO knew the beneficiary of the account, but the witness disagreed.
Shahrol also revealed that former 1MDB director Casey Tang was the one who advised him to split the US$1 billion payment to the JV company, by sending US$300 million to a JP Morgan bank account, and the remaining US$700 million to Good Star 's account with RBS Coutts Bank.
Shafee suggested that former Prime Minister Datuk Seri Najib Razak was not aware of the plot by Jho Low, Tang and former Good Star chief investment officer Seet Li Lin to siphon money out of 1MDB, but the witness replied that he was not able to confirm what Najib did or did not know.
In this trial, Najib faces four charges for using his position to obtain bribes totalling RM2.28 billion from 1MDB funds and 21 charges of money laundering involving RM4.3 billion.