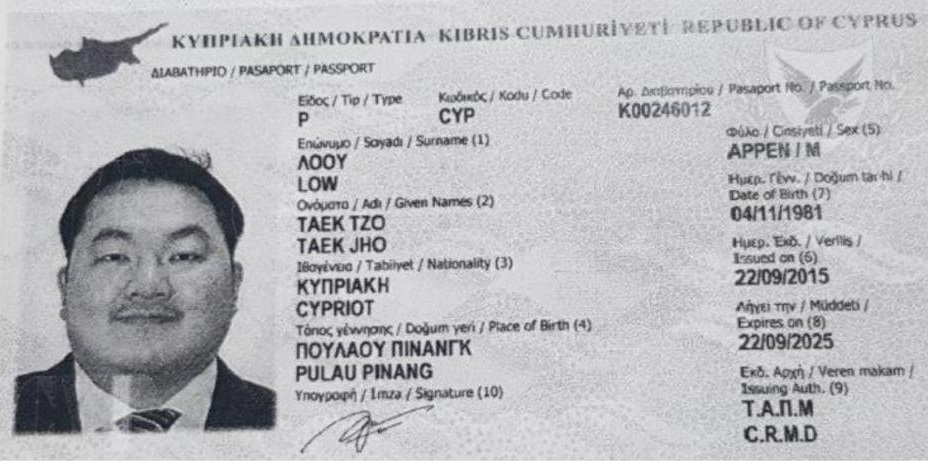 KUALA LUMPUR (Nov 5): In the latest twist to the story of fugitive business man Jho Low holding a Cyprus passport, the country's president Nicos Anastasiades yesterday agreed to having the Malaysian's passport revoked if investigations justify it.
Anastasiades said "Absolutely yes," about a potential revocation of Low's Cyprus passport but the head of state also added that "the necessary probe must be carried out, so that due process is followed to justify any revocations", reported the Cyprus Mail.
The daily wrote that Anastasiades "was engaging in damage control following the revelation surrounding Low, implicated in the scandal at 1Malaysia Development Bhd (1MDB), which US and Malaysian prosecutors say was used to siphon out hundreds of millions of dollars".
The publication also reported that there has been "dodgy naturalisations granted to foreign investors" in the island republic.
Without referring to any specifics, Anastasiades said that some of the cases "speak for themselves".
"And there may well be others [requiring review] which have not come out in public," he added.
It was reported by another Cyprus daily, Politis, that Low obtained the country's passport in 2015 under the citizenship-by-investment scheme "within days" of investing in property in Ayia Napa, a Mediterranean resort town on the southeast coast of the island famous for its beautiful beaches.
The report also stated that Low was "was not wanted at the time in connection with the 1MDB scandal".
The Cyprus Mail also reported that Low's case follows revelations that the Cyprus government has given passports to "eight Cambodian elites with ties to the country's authoritarian regime".
Their Cyprus government has called for an investigation over the matter and announced a "wider 'audit' of past naturalisations".
"All those granted citizenship in breach of the [updated] stricter criteria, shall see their citizenship revoked as swiftly as possible, period," Anastasiades warned.
Last week, it was reported that Low was currently in the United Arab Emirates (UAE) and has obtained asylum in another country on the basis of human rights and political persecution.
The Malaysian Insight reported that the fugitive dealmaker's spokesperson said Low was in the UAE and had been travelling regularly between the Middle East and Europe since June.
The spokesperson added that Low was spending time in Kuwait, Saudi Arabia and other Middle East countries where he has "close relations with royal families".
The Straits Times said the fugitive businessman was offered asylum last August under the Universal Declaration of Human Rights and European Convention on Human Rights.
Later, Inspector-General of Police Tan Sri Abdul Hamid Bador said claims that Low is in the UAE are "lies and folk tales".
"I do not know where this story originated from and I am interested in meeting this person. I wish to state that we are aware of Jho Low's whereabouts but some people are protecting him... just give me some time.
"I will not stop efforts in tracking down and bringing back this criminal. If he is not a criminal or has been framed, there is no need to panic, please come home. I will assure that he will be dealt with according to the law," Bernama reported him saying.
Abdul Hamid also later said that countries offering asylum to Low are "an irresponsible action".
Not only that they were being irresponsible, he added those countries had also refused to cooperate with Malaysia, making it difficult for the authorities to discharge their duties.