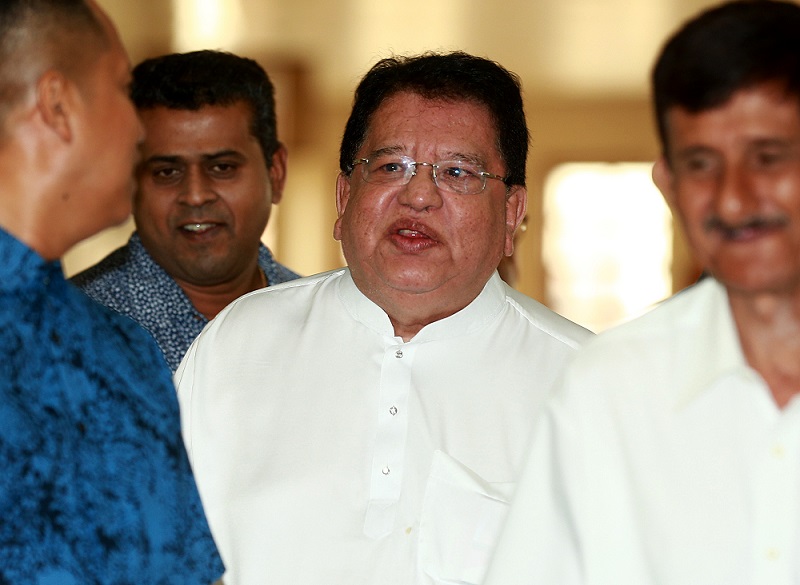 KUALA LUMPUR (Nov 12): The High Court has today set new trial dates, beginning Feb 18, 2020, to hear corruption charges against former Federal Territories minister Datuk Seri Tengku Adnan Tengku Mansor after the prosecution and defence submitted adjustment letters to change the dates.
High Court deputy registrar Mahyudin Mohd Som fixed Feb 18-20, March 4-5, 9-11, 31, and April 1-2, 7-8, 2020 as new trial dates for Tengku Adnan, who is better known as Ku Nan.
The new trial dates were set before the deputy registrar during case management today when both the prosecution and defence submitted adjustment letters to change the dates as the previously-set dates were not suitable for them.
Tengku Adnan on Nov 15 last year pleaded not guilty to a charge of corruptly receiving RM1 million from businessman Datuk Tan Eng Boon to approve a company's application to increase the plot ratio for a development along Jalan Semarak here.
High Court Judge Mohd Nazlan Mohd Ghazali convicted Tan in September 2019 and fined him RM1.5 million after he pleaded guilty to an alternative charge of abetting Tengku Adnan in receiving the RM1 million bribe.
Tengku Adnan was charged under Sections 16 and 24(1) of the Malaysian Anti-Corruption Commission Act for receiving the bribe.
If convicted, he could be jailed up to 20 years and fined five times the bribe amount. This is Tengku Adnan's second corruption case.
The High Court has also ordered him to enter his defence in another trial involving an alleged RM2 million bribe.
On the RM2 million bribe charge, High Court Judge Mohamed Zaini Mazlan said the prosecution has proven a prima facie case against Tengku Adnan notwithstanding his claim that the RM2 million was a donation supported by a receipt.
Tengku Adnan is charged under Section 165 of the Penal Code for receiving the RM2 million bribe as the Federal Territories minister. If convicted, Tengku Adnan could face up to two years' imprisonment or a fine or both.
Tengku Adnan, who is also former Umno and Barisan Nasional secretary-general, is alleged to have received from Aset Kayamas Sdn Bhd managing director Tan Sri Chai Kin Kong the RM2 million that was deposited into the CIMB Bank account of Tadmansori Holdings Sdn Bhd, in which Tengku Adnan had an interest when it was known that Aset Kayamas had connection with the ex-minister's duties.
The court fixed Jan 10-17 and 20-21, 2020 as hearing dates for the defence on the RM2 million bribe charge.