The City of Elmina has been hogging the property limelight in recent years, and for good reason. The unique town-ship in Shah Alam, Selangor is a flagship development by Sime Darby Property that has become a highly sought-after address by homebuyers. This is evident from the persistently strong take-up for its freehold landed residential properties even during the current property market slowdown.
It achieved a 98% take-up rate at its recent launch of Elmina Valley Five linked homes within the RM850,000–RM1,000,000 price range. The City of Elmina has drawn residents from Petaling Jaya, Shah Alam, Subang and even Kepong, Gombak and Kuala Lumpur who are looking for lifestyle living and easy access to the city.
Taking the township to the next level, the developer has recently introduced [email protected] of Elmina, the first life-style commercial precinct in the maturing 5,000-acre development.
EXCITING BUSINESS PROSPECTS
According to Appollo Leong, General Manager, Business Unit 1 of Sime Darby Property, this latest development will open up exciting opportunities for residents and business owners alike in the City of Elmina.
"The City of Elmina is at a very exciting juncture of its development. With the fully mature Denai Alam and Bukit Subang and new residents moving in rapidly at the new residential precincts of Elmina Valley and Elmina Gardens, there are strong growth prospects for commercial investors moving forward.
"With a maturing population and improved connectivity, the City of Elmina is on the brink of introducing more new and exciting developments, beginning with its first lifestyle-centric commercial precinct TEMU," says Leong.
TEMU is slated to be launched in Dec 2019 and is scheduled for completion by end-2022. It comprises 2- and 3-storey freehold shopoffices which are limited to only 70 units (12 units of 3-storey, 58 units of 2-storey).
AFFLUENT MARKET CATCHMENT
Leong adds that for many businesses, especially F&B and services, this is the perfect chance to tap into a growing and affluent market catchment.
Currently, the township comprises 10,010 units of completed residential homes housing a population of about 40,000. Not only will TEMU be able to tap into the City of Elmina's existing population, it will be able to serve a total population of 205,000 within a 4km radius of the township as well. Upon completion, the City of Elmina will com-prise 36,600 units of homes and an expected population of 150,000.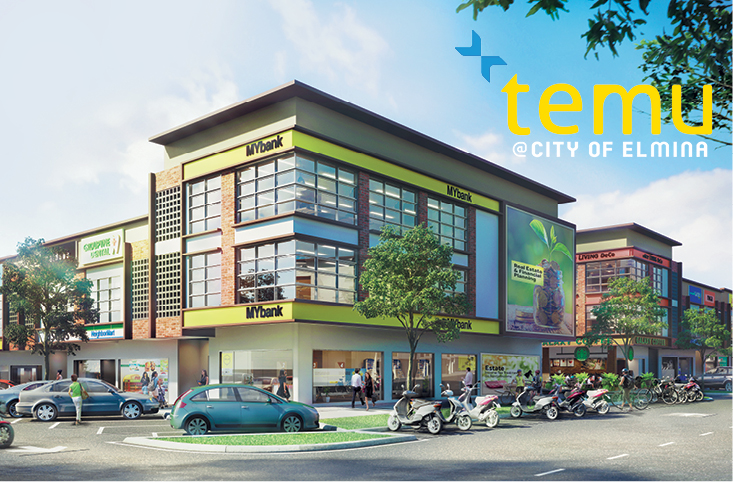 Businesses at TEMU will be able to benefit from its central accessibility and as the gateway to Elmina East. The pro-ject will be fronting the main thoroughfare of Persiaran Atmosfera which carries high daily traffic volume from Subang Bestari, Subang Perdana, Sungai Buloh and Kota Damansara.
"Connectivity will be a breeze as it is located next to Guthrie Corridor Expressway (GCE), which conveniently links to major highways such as LATAR Expressway, North Klang Valley Expressway (NKVE), ELITE Highway and Federal Highway. Needless to say, connectivity is a crucial factor especially for business owners.
"In addition, there is dual entrance access, one for Elmina Gardens' residents and another for the public from the main spine of Persiaran Atmosfera. It will be supported further by Damansara–Shah Alam Highway (DASH) which is slated for completion in 2020.
"With this, travel time from the City of Elmina to Penchala Link will be shortened," says Leong.
PRIME INVESTMENT POTENTIAL
Overall, Leong is convinced that TEMU offers solid value to investors with its prime investment potential.
"It is co-located with an exciting anchor tenant. The proposed development includes a well-known F&B franchise which is expected to attract strong footfall. Another strong advantage of the development is its thoughtful design and architectural features," he adds.
TEMU is surrounded by various amenities conveniently accessible to residents and business owners. It is located opposite a proposed hospital, 1km from Mah Sing Integrated Industrial Park, 3km from the HELP Subang 2 Campus, 5km from Kwasa Damansara and 8km from Subang Skypark and Bukit Jelutong.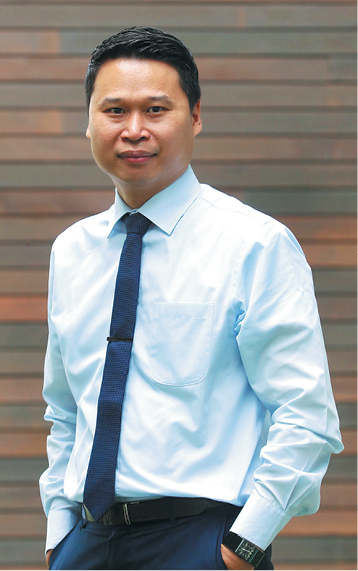 The development features a unique, attractive and practical design, with contemporary yet hipster architectural features of brick and vent block elements. For added attraction to visitors and customers, TEMU has large window fronts to maximise store displays, columnless verandahs, wide walkways and disabled-friendly access.
To cater to a myriad of businesses, the 2-storey intermediate shop units offer three main sizes — Type A 24ft by 80ft, Type B 22ft by 70ft and Type C 22ft by 78ft. Corner lots are three storeys and have extra wide frontage rang-ing from 33ft to 37ft with excellent visibility from internal and main roads. Prices start from RM1.5 million.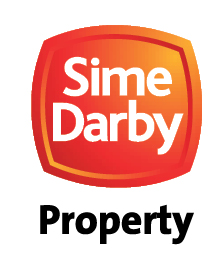 For leisure and recreational activities, TEMU will have two integrated landscaped parks with open communal spac-es and bicycle parking facilities. There are also a total of 696 car parking spaces including 12 disabled parking bays. The recent preview for TEMU has received strong interest and registration from the market.
The City of Elmina prides itself as the first township in Malaysia dedicated to wellness and liveability.
Some of its incredibly impressive features include a 90km jogging and cycling track whereby Cycling and Duathlon events have been held annually since 2015, and a 300-acre Central Park which was the venue for the recent Elmina Lakeside Concert featuring Westlife lead singer Shane Filan, organised by Universal Music Malaysia.
Directly accessible from the GCE via the Elmina Interchange, the City of Elmina's master development plan spans up to 2040.
For more information on TEMU, or developments in the City of Elmina, contact +603 7831 2253 or log on to www.simedarbyproperty.com