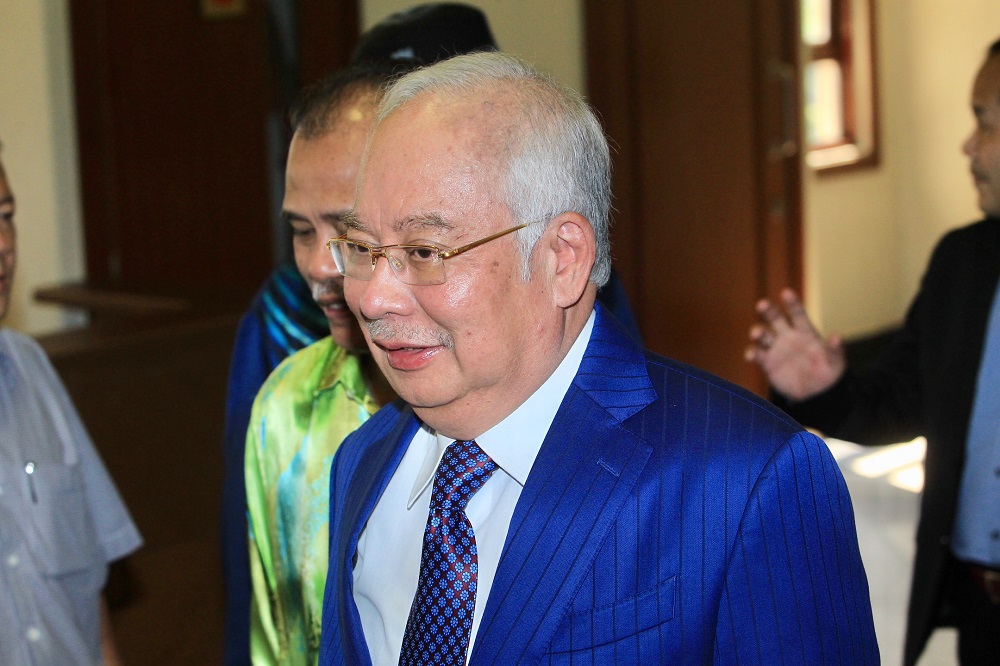 KUALA LUMPUR (Nov 16) : The defence stage of former Prime Minister Datuk Seri Najib Abdul Razak's SRC International Sdn Bhd case will proceed as scheduled on Dec 3.
This follows High Court Justice Mohd Nazlan Mohd Ghazali's decision yesterday to dismiss the defence's application for a stay of proceedings.
Justice Nazlan also dismissed another application from the defence for access to the witness statements recorded by the Malaysian Anti-Corruption Commission.
"These recorded statements are privileged documents and not subject to disclosure in the trial," he ruled.
The judge made the decision after hearing submissions from both sides.
On Monday, Justice Nazlan ordered the former Prime Minister to enter his defence on all seven charges against him as a prima facie case had been established by the prosecution.
Two days later, the defence filed a notice of motion, seeking among others an order that it should be provided with the written witness statements recorded by the MACC or any investigation agency in the course of investigations into the SRC case.
Najib also applied for a stay of proceedings to enable him to review the statements when allowed by the court.
Najib, 66, is charged with abusing his position as Prime Minister and Finance Minister to receive gratification involving RM42 million, when he participated, or was involved, in the decision to provide Government guarantees for loans from the Retirement Fund Inc to SRC amounting to RM4 billion.
He was charged under Section 23 of the MACC Act 2009 and is alleged to have committed the offence at the Prime Minister's Office in Putrajaya between Aug 17, 2011 and Feb 8, 2012.
He also faces three criminal breach of trust charges with respect of SRC funds whereby he is alleged to have misappropriated SRC funds amounting to RM27 million, RM5 million and RM10 million between Dec 24, 2014 and Feb 10, 2015.
The former BN chairman and Umno president is also charged with money laundering in respect of the three amounts when the funds entered into his AmIslamic Bank account on those dates.
Earlier yesterday, his lawyers also applied for an adjournment of his joint trial with former 1Malaysia Development Development Bhd chief executive officer Arul Kanda Kandasamy on an audit tampering charge, before Justice Mohamed Zaini Mazlan.
Justice Zaini said he will deliver his decision on Monday, as the prosecution and Arul Kanda himself have objected to postponement.