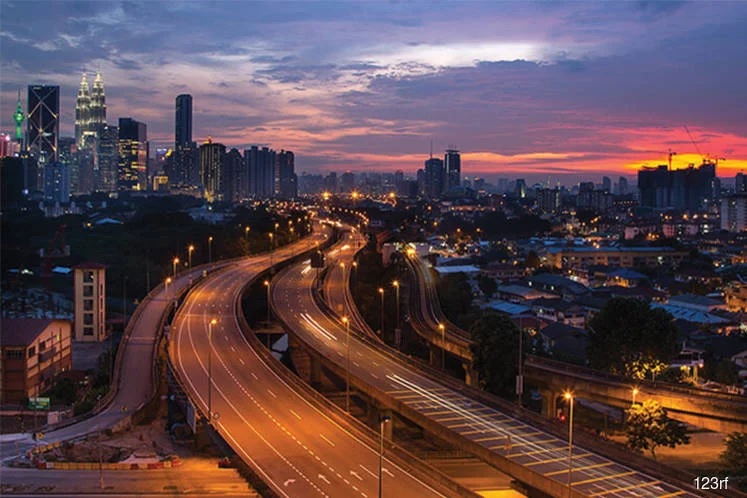 KUALA LUMPUR (Nov 18): Malaysia's economic recovery is likely to be a muted one due to soft oil prices, ongoing fiscal consolidation, and subdued private capital expenditure (capex) momentum amid lingering political uncertainty, according to Morgan Stanley Research's 2020 Asia Economic Outlook.
Nonetheless, it said the pickup in non-commodity exports will provide a lift which might cause Malaysia to face crosscurrents on the external front.
The research house said the latest oil futures suggest Brent prices edging down further, averaging US$57 per barrel (bbl) in 2020 and US$56/bbl in 2021 (versus US$63/bbl in 2019).
"Being the sole net oil exporter in the region, Malaysia is the only economy in Asia excluding Japan that is negatively levered to lower oil prices," it said.
Meanwhile, on the domestic front, the silver lining is that the gradual resumption of several major infrastructure projects, such as the East Coast Rail Link, Mass Rapid Transit 2, Pan Borneo Highway, Bandar Malaysia, and Johor Bahru-Singapore Rapid Transit System, will help provide some growth support.
However, the overall fiscal stance is still a conservative one, given policymakers' concerns about the still-elevated public debt. Indeed, in Budget 2020, policymakers aim to narrow the fiscal deficit to 3.2% of gross domestic product (GDP) in 2020, versus 3.4% of GDP in 2019.
"Over the medium term, policymakers aim to narrow the fiscal deficit further to an average of 2.8% of GDP between 2020 and 2022," it added.
Furthermore, the research house said several policy measures to shore up revenue and streamline expenditure may inevitably dampen household spending in the near term.
For instance, a Special Voluntary Disclosure Program (SVDP) was launched from November 2018 to September 2019, offering reduced penalty rates to incentivise taxpayers to voluntarily disclose previously undeclared income.
According to the Finance Ministry, the SVDP has collected additional revenue of approximately RM7 billion, and the tax authorities have announced that they will be doubling down on tax enforcement efforts next year.
It said policymakers also introduced a new tax bracket for high income earners (i.e. annual taxable income in excess of RM2 million), who will now be taxed at a higher rate of 30% instead of 28% previously.
In addition, the current blanket fuel subsidy scheme will be scrapped, and the prices of RON95 petrol and diesel, which are being capped, will be floated from Jan 1, 2020 onwards.
The research house said this is likely to reduce household disposable income, since only eligible lower-income households will receive a direct fixed subsidy under the targeted scheme.
Furthermore, the research house recalled that Bank Negara Malaysia (BNM) eased the overnight policy rate (OPR) by 25 basis points (bps) in May 2019, before subsequently announcing a 50bps reserve requirement ratio (RRR) cut in November 2019.
With growth expected to turn around and headline inflation to pick up going into next year, the research house expected BNM to stand pat on OPR.
"We do not expect BNM to react to the pickup in inflation, since it is driven by base effects from GST removal fading and as retail fuel prices get marked to market, after the targeted fuel subsidy scheme is implemented in January 2020," it said.
Morgan Stanley Research also said Malaysia's structural story remains weak as its non-commodity competitiveness has eroded over time.
As such, the key to further lifting growth is to raise productivity by improving the quality of human capital and spurring productive capex.
"Structural reforms will take time to yield productivity gains, so consistent and effective implementation will be needed to turn around Malaysia's weak structural story," it added.