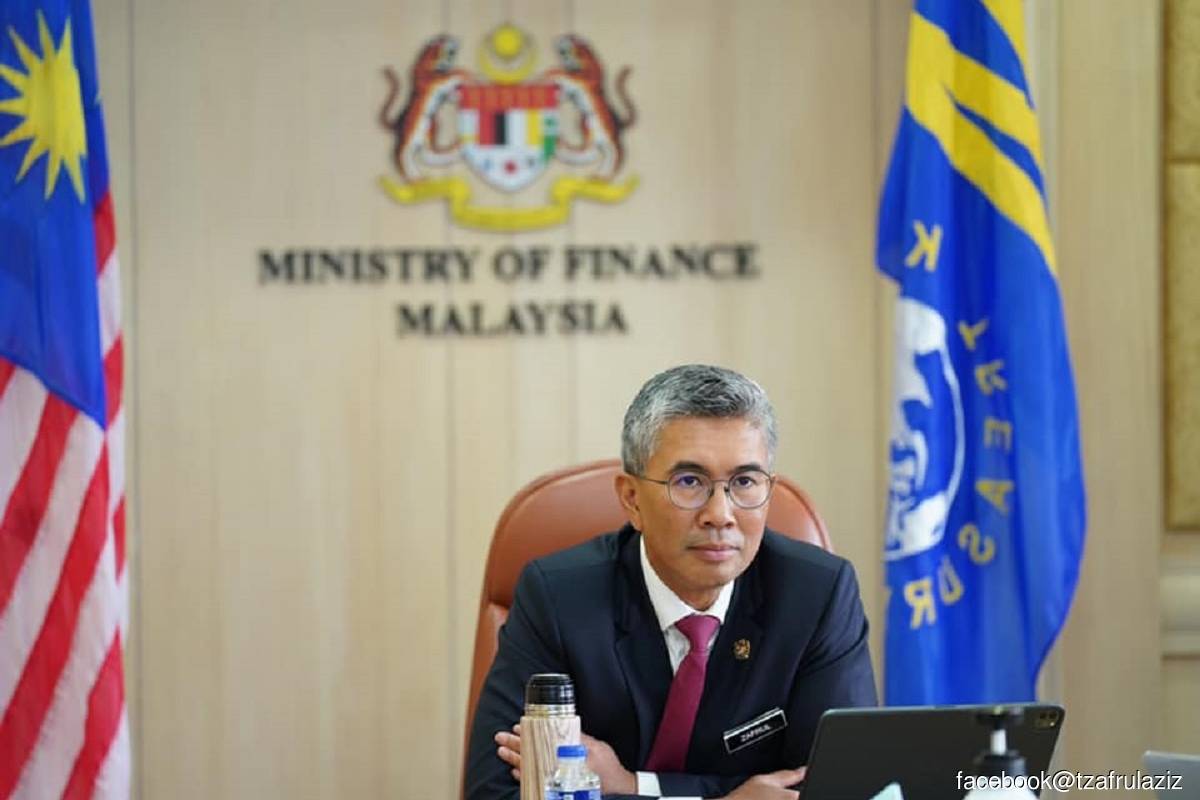 KUALA LUMPUR (Sept 9): The Malaysian economy is now on the path to recovery supported by the reopening of more economic sectors and it is estimated to chart better growth for 2022, said Minister of Finance Tengku Datuk Seri Zafrul Tengku Abdul Aziz.
Tengku Zafrul said the prospects for an economic upswing will be better next year although Bank Negara Malaysia has revised its full-year 2021 gross domestic product (GDP) growth forecast to between 3% and 4%, from the previous forecast of between 6.5% and 7.5% — no thanks to the re-imposition of the lockdown measures in June this year.
"We see the reopening of the economy and we expect this to support gradual recovery in the fourth quarter of this year. As soon as we have seen the economy slowly being opened up, and hence, of course from the (pick-up from) external demand and ramp-up in commodity production… there is also pent-up demand and continued investment in large scale infrastructure projects following the lifting of restrictions, so the recovery is expected to accelerate further into 2022," Tengku Zafrul said at the national recovery summit webinar this morning.
He then quoted the studies done by the World Bank and International Monetary Fund (IMF), where they have projected the country's 2022 GDP to grow at 5% and 6% respectively, citing the country's economic growth is supported by a gradual normalisation of economic activities, as well as the positive spillover from continued improvement in external demand.
Notwithstanding that, Tengku Zafrul said Malaysia's economic recovery is intertwined with the government's efforts in managing the Covid-19 pandemic and much will hinge on the speed of the vaccination program, how intensive care unit (ICU) utilization progresses as well as the emergence of newer variants of the virus.
On a positive note, on some of these fronts, Tengku Zafrul said Malaysia is seeing some promising progress.
"Malaysia is currently one of the fastest nations in administering vaccines, it has reached more than 400,000 daily. Today, as I mentioned in my speech earlier 89% of Malaysia's adult population received their first dose of vaccination, and [at] the current rate, it is expected that 80% of the nation's adult population will be vaccinated by end-September, where we will start treating Covid-19 as endemic in October, when it (vaccination rate for adult population) gets to 100%.
"Consequently, we have also seen our hospitalization and ICU rates stabilize in recent weeks," he pointed out.
"So my point here is that there is a need for us to balance our lives and livelihoods. But as we slowly address the issue of our healthcare capacity, we are at the same time, in parallel, reopening in stages, systematically and saving the economy," he stressed.
Against this backdrop, Tengku Zafrul is hopeful that Malaysia's economy will show signs of positive economic growth this year, and post stronger growth next year as predicted by the IMF and the World Bank.
Tengku Zafrul said the government will progressively update the National Recovery Plan (NRP) to prepare Malaysia for the next normal of living with Covid-19 as an endemic disease.
"Without a doubt, Covid-19 has shown that public healthcare is an important foundation to enable other sectors to operate.
"As such, we will not compromise on what is required to place our public healthcare on a stronger footing, through the NRP, and later through Budget 2022," he said.
Beyond the pandemic, Tengku Zafrul said the government is studying efforts to strengthen the healthcare system's resilience and preparedness for future pandemics while meeting the longer-term challenges of an ageing population and non-communicable diseases.
Policy measures being studied include putting in place an "always on" system during pandemics and the strengthening of mechanisms to detect infectious diseases to stop transmissions at an early stage, he said.
"Such reforms will ensure the protection of lives and livelihoods while keeping the economy open for business," Tengku Zafrul said.
Get the latest news @ www.EdgeProp.my
Subscribe to our Telegram channel for the latest stories and updates