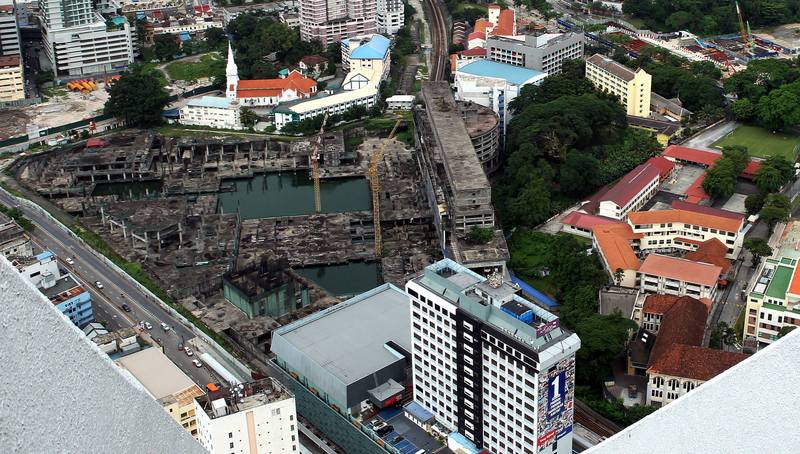 PETALNG JAYA (Nov 25): Plaza Rakyat unit buyers have expressed that they wish to meet with Federal Territories Minister Khalid Abdul Samad in order to find an amicable solution to issues, which includes compensation for late delivery of the project.
The Star reports that the meeting was proposed in the wake of reports of revival of the Plaza Rakyat project.
The group spokesman for the Plaza Rakyat purchasers Ng Peng Wah was quoted as saying: "We still want our units back and also a better compensation package because we purchased the property 20 years ago.
"The value is not the same.
"We would also like to have a new copy of the sales and purchase agreement from Kuala Lumpur mayor Datuk Nor Hisham Ahmad Dahlan and the developer due to some new criteria for the project.".
Abandoned after Plaza Rakyat was 30% completed in 1997 when Plaza Rakyat Sdn Bhd (PRSB) ran into financial difficulties during the 1997/1998 Asian financial crisis, the government terminated PRSB's contract in 2010.
Following this, Profit Consortium Sdn Bhd applied for planning permission for the RM1.4bil mixed-development project, the plan for which includes a 96-storey tower comprising 10 storeys of office space, 50 storeys for service apartments and a 26-storey hotel.
Another Plaza Rakyat buyer spoke about compensation.
"We have been waiting for so long and we want compensation to cover lost opportunity costs.
"The project has dragged on for so long and it has affected our investment, " he said.
Construction is expected to restart once DBKL issues a Development Order.
Khalid is quoted saying that the project will restart this year. "For Plaza Rakyat, we were able to help get a new contractor to resume the project, which now has more than 200 buyers for its apartment units.
"Meanwhile, the Hyatt Hotel had several amendments to its DO in 1998,2003 and 2013, but construction is also expected to start this year."
Multiple incentives like a 50% discount on development charges were set in place to ake the project more attractive to developers, he said.
"For Plaza Rakyat, the developer will only be clearing the site in the meantime as they have to settle a fee of RM5mil for the DO to be issued."
The time taken to complete the project is estimated to be three to four years, he said.