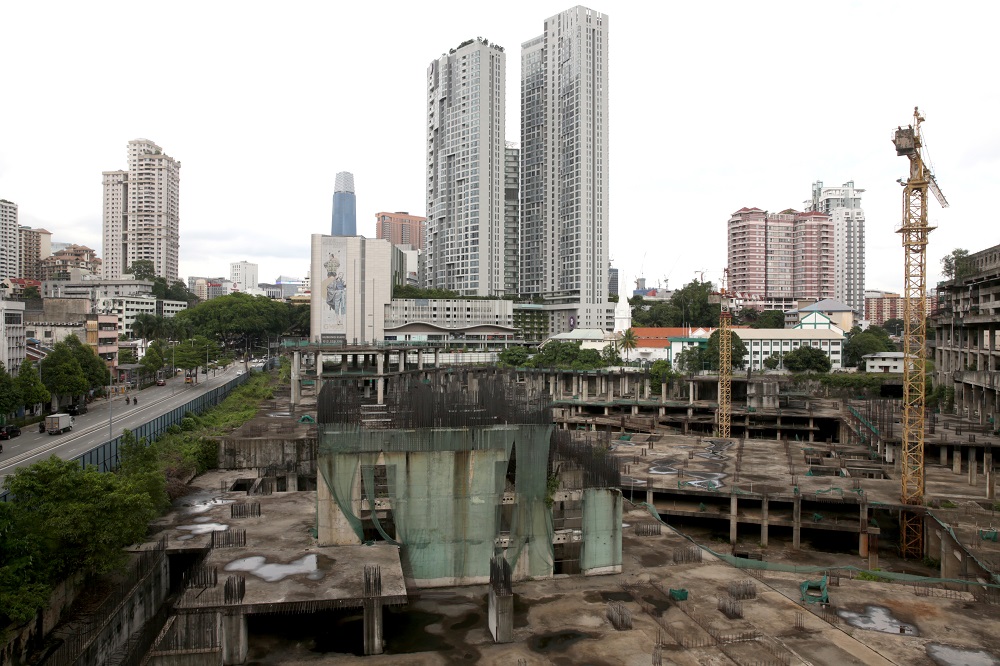 KUALA LUMPUR (Jan 4): It was supposed to be among the country's first projects be integrated with a light rail transit (LRT) station and be a major landmark in the city.
But the Asian Financial Crisis of 1997 meant Plaza Rakyat in Jalan Pudu was halted by the developer when only 30% completed.
The Edge Malaysia in a recent report took a look at what could be in store for Plaza Rakyat.
The publication first asked Federal Territories Minister Khalid Abdul Samad about the matter and he said: "Wait and see. As of now, they (Profit Consortium) have paid a few tens of millions (to KL City Hall). The alternative is to leave the project as is, as no one else has made an offer [to acquire it]."
According to reports, Profit Consortium Sdn Bhd won the tender from KL City Hall to redevelop the site for RM740 million back in October 2015.
"While all parties are hoping that Profit Consortium will be able to resurrect Plaza Rakyat for the benefit of the unit owners as well as the surrounding community, there are signs that its original promoter is exiting the company," wrote the business publication.
Meanwhile, the weekly also touched on how the office space segment in KL has changed significantly since the mid 1990s.
"Over the next three years, an estimated 14 million sq ft of office space will come onto the market.
"This does not include four million sq ft of office space coming on stream in Greater KL, such as in Petaling Jaya and Cyberjaya," wrote the publication.
In the city itself, The Exchange 106 has pumped in 2.65 million sq ft of office space, "which totalled 92.6 million sq ft as at the end of the third quarter last year".
Will planned mega developments in the city worsen the oversupply?
"I think the question of office oversupply is a problem that needs to be handled when the application for a development is being processed, not after agreements have been signed or commitments have been made and money spent.
"As you are aware, the projects mentioned had been approved a lot earlier and the problem of filling up the office space will be left to the owners as to how they will then navigate the market," said Khalid.
"The developer of Plaza Rakyat will have a big task on its hands as the project has not only been abandoned for two decades but must also ensure its marketability as a commercial centre for businesses in the city," wrote the weekly.
Read the full report in this week's The Edge Malaysia